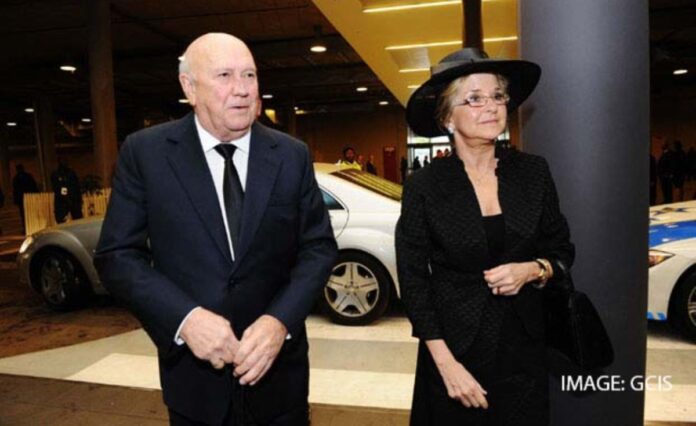 The FW de Klerk Foundation has announced that a private cremation and service for former SA President FW de Klerk will be held next Sunday – 21 November – for family members only. The funeral will not be open to the media.
De Klerk died on Thursday at the age of 85 from mesothelioma cancer. He had been diagnosed with the cancer in March this year. His family said:
"The FW de Klerk Foundation wishes to announce that FW de Klerk's cremation and funeral will take place on Sunday, November 21. It will be a private ceremony for family members and will not be open to media."
De Klerk is survived by his wife Elita (pictured above), his children Jan and Susan and his grandchildren. De Klerk's 53-year-old son Willem de Klerk died from cancer in October 2020.
John Webb, Executive Producer of Carte Blanche, says: "Credited with pulling (South Africa) from the brink of civil war, those who would valorise FW de Klerk argue his political contribution is under-appreciated. Others say his hand was forced by shifting global power dynamics.  Whatever his motives as its leader, is it possible to ignore the role he played in a National Party determined to see through its plan for grand apartheid?" 
Tonight, the current affairs show looks at the political figure who was feted by some and reviled by many… as was evidenced this weekend when some anti-De Klerk social media users hosted a live 'Twitter space' for a fake De Klerk memorial service, calling it a celebration of the former leader's death.
As a former president, De Klerk would have been entitled to a State Funeral Category 1 funeral.
De Klerk is the president who finally ordered the release of Nelson Mandela, won the Nobel Peace Prize with Mandela in 1993, and helped broker South Africa's transition to democracy in 1994. (See what Mandela said about de Klerk.) As South Africa continues grappling with the chequered legacy of apartheid's last president, Carte Blanche reflects on his place in history this Sunday. (Producers: Siniketiwe Hlanze and Sinethemba Nogude | Presenter: Claire Mawisa)
Watch Carte Blanche overseas on Showmax from Tuesday | Watch in SA on DStv Now