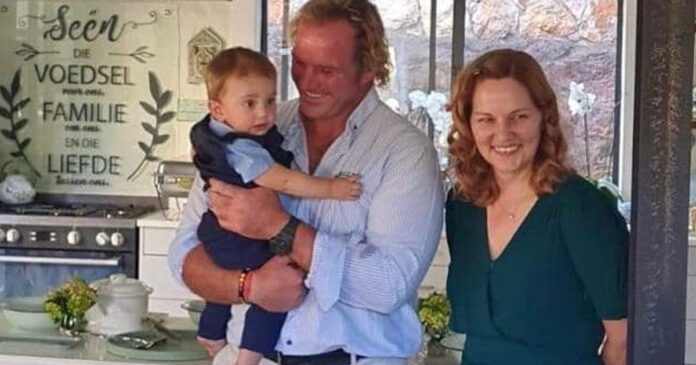 South African rugby legend Jannie du Plessis and his wife Ronel Malherbe du Plessis have tragically lost their 10-month-old son to a drowning incident at their home in Krugersdorp, near Johannesburg.
The little baby boy, who had been baptized on Sunday, reportedly drowned in the family swimming pool yesterday (Tuesday 16 November). It was Jannie's birthday – born in 1982 in Bloemfontein, the legendary SA rugby prop turned 39 yesterday.
Former Springbok player, Toks van der Linde (51), called for support for the family, saying (translated here from Afrikaans): "He drowned in their pool. It was also Jannie's birthday yesterday and he was still baptized on Sunday. My heart is breaking breaking breaking (for) their little boy of one who drowned PLEASE PRAY FOR JANNIE AND HIS FAMILY PLEASE."
Jannie – a medical doctor – won the Springbok jersey 70 times, sometimes playing with his younger brother Bismarck du Plessis. He also played for Montpelier in France from 2015 to 2019, and was still active this season with the Lions, based in Johannesburg. Lions chief executive Rudolf Straeuli told Sport24: "I can confirm that this tragedy took place. We are all devastated," .
SA Rugby President, Mark Alexander, said: "On behalf of the South African rugby family, our most sincere condolences go to Jannie, Ronel, their three children and family on this very sad day." Jannie and Ronel have two daughters Rosalie (8) and Helé (6) and a younger son.
In a press statement to Krugersdorp News, the South African Police Service confirmed they had been called to the scene of a drowning at around 19h00 on Tuesday evening. Captain Raymond Sebonyane said the one-year-old had fallen into the pool at a home in Kenmare. An investigation is taking place.
The Captain said police "appeal to parents and/ or guardians of younger children to be more careful when children play close to any hazard. Those with swimming pools should fence them off or cover them with safety nets when not being used."
Princess Charlene of Monaco – a former Olympic swimmer for South Africa and a patron of Lifesaving SA – says drowning is the third leading cause of unintentional injury deaths across the world, and insists "there must be a concerted and coordinated effort to prevent deaths by drowning". Her Foundation works in eight countries, including SA, to raise awareness and prevent drownings.
Springbok player Duane Vermeulen said today: "We woke up to the very sad news this morning, and their family are in our thought. It is a difficult time for them and we support them. I simply can't imagine what Jannie and his family must be going through. I can't begin to comprehend what one must feel after such a loss."
England Rugby tweeted: "The thoughts of everyone at England Rugby are with Jannie du Plessis and his family at this time."
The thoughts of everyone at England Rugby are with Jannie du Plessis and his family at this time. pic.twitter.com/XHkvnppbx3

— England Rugby (@EnglandRugby) November 17, 2021
Heartwarming to see rugby's brotherhood reaching out to comfort Jannie du Plessis. The incident renders rugby and its sideshows utterly irrelevant against the desperate sadness and loss suffered by the great prop and his family. Sending thoughts and prayers.

— Clinton van der Berg (@ClintonV) November 17, 2021