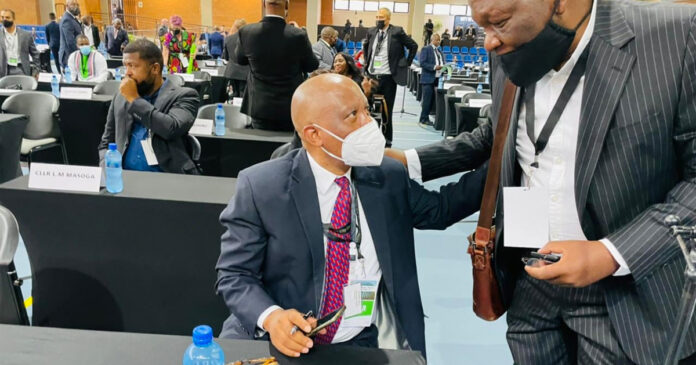 As the Johannesburg metro council meets today to swear in councillors and to elect a Mayor and Speaker, Helen Zille has explained in a statement why those urging the DA to support a multi-party minority coalition are misguided in her opinion. The coalition would include backing Action SA's Herman Mashaba as mayor. Mashaba, who yesterday on Twitter insinuated that Zille is a "habitual liar", was previously Joburg Mayor while still a member of the DA.
Mashaba today posted a photo at the meeting saying "it's good to  be back". He said: "Today, the City of Johannesburg sits for its inaugural council meeting. Councillors-elect will be officially sworn in. The Speaker of Council will then be elected, followed by the election of the Mayor, then finally the election of the whip."
UDM leader Bantu Holomisa has thrown his party's weight behind Mashaba, saying: "I am sure South Africans have seen how he worked hard in Johannesburg. He batted very well."
Helen Zille, DA Federal Council Chairperson, offered these three reasons for why the DA is not supporting the minority coalition:
"This minority coalition in Johannesburg will not be able to govern without the support of the EFF, that will remain outside the coalition but dictate its actions on the threat of bringing it down. The EFF will thus be able to direct the Mayor's actions on many issues, as the EFF did after 2016 when Herman Mashaba became the "EFF's mayor".  We do not intend to repeat that failed mission again."
"Even if the DA supported the coalition to form a minority government under Herman Mashaba in Johannesburg, it would still need the ANC or EFF to pass budgets and other critical mandatory council decisions."
"Throughout the election campaign, the DA has been steadfast in its position that we would rather be a strong opposition than being part of a shaky coalition that limps from meeting to meeting and depends on the support of the EFF."
Zille said on Monday morning: "The DA will remain true to its values and principles as promised to its voters before the election.
"The deadlock in many of the councils in South Africa is not as a result of anything the DA has done but rather the split in the opposition votes, and the decision by parties such as the Patriotic Alliance and the IFP to throw their weight behind the ANC.
"This decision made it impossible for opposition parties to form a majority coalition in Johannesburg and effectively gave the balance of power to the EFF.  We cannot allow the EFF in by the back door, where they pretend to be out of government but are actually the puppet masters behind a minority coalition led by Herman Mashaba.  We tried that before and it failed.  We learn from experience and we keep our promises."
DA MP Leon Schreiber also tweeted Monday morning: "Fully 84% of voters in Joburg did not vote for Mashaba's party. They did not win even a single ward. And some want the DA to not only put this party in government, but to also give the EFF veto power over the lives of the people of Joburg? Pull the other one."
The real reason they don't want "@HermanMashaba, Executive Mayor of @CityofJoburgZA". 🤌🏾 pic.twitter.com/iagtLHfT1Z

— Sabelo Chalufu (@SabeloChalufu) November 21, 2021
Habitual liar always remain a Habitual Liar. @helenzille forgets that she was not alone in the meeting https://t.co/hd1XKIFYGQ

— Herman Mashaba (@HermanMashaba) November 21, 2021
WATCH Joburg City Council Inaugural Meeting