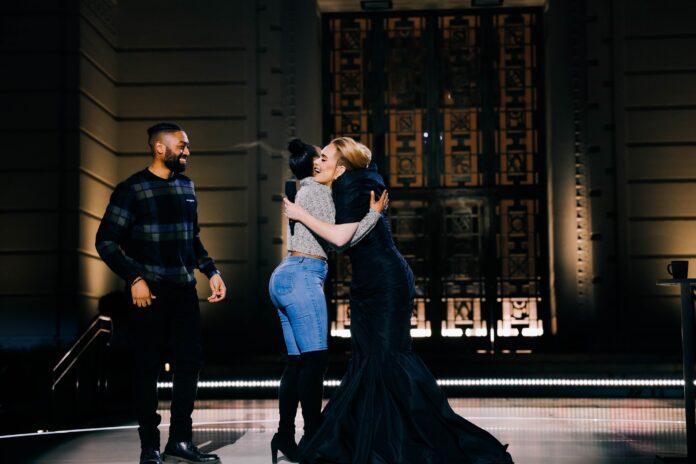 Adele's One Night Only special is beyond spectacular… but making it even more romantic is a surprise engagement. As M-Net said on Monday night, when the special aired exclusively on its channel (DStv channel 101), it was the best proposal ever.
M-Net tweeted: "'Will you marry me?' 'In real life?' 'Yes, in real life!' Best. Proposal. Ever."
KFM's Sibongile Mafu tweeted: "You get proposed to and then Adele emerges from the shadows to sing Make You Feel My Love as you're ushered to the front row where Lizzo asks to see your ring and Melissa McCarthy hands you a glass of champagne. Goated I'm afraid."
The couple – Quentin Brunson and Ashleigh Mann – had no idea that they were about to get engaged in front of Adele until it happened.
WATCH Couple get engaged in front of Adele at One Night Only show
New life goal: Get engaged in front of @adele. 💍 pic.twitter.com/ybfa922aHg

— CBS (@CBS) November 15, 2021
In an interview on FoxFM in the US, Quentin explained how he'd responded to an online ad looking for somebody would be "willing to propose to their girlfriend in an amazing, epic way, at one of the most beautiful places in Los Angeles". Nobody mentioned it would be at an Adele show at the iconic Griffith Observatory.
Quentin says he went into it "blindly", just wanting to do something "fun for Ashleigh… and it ended up being way bigger than I ever thought it would be."
For Ashleigh the entire evening was a surprise. Quentin prepped her by saying they were going on a surprise date, but when he brought out a blindfold she thought "'all right, things are getting weird', but I just went with it – and I guess it was all worth it."
Quentin and Ashleigh had been dating for seven years, until the special evening.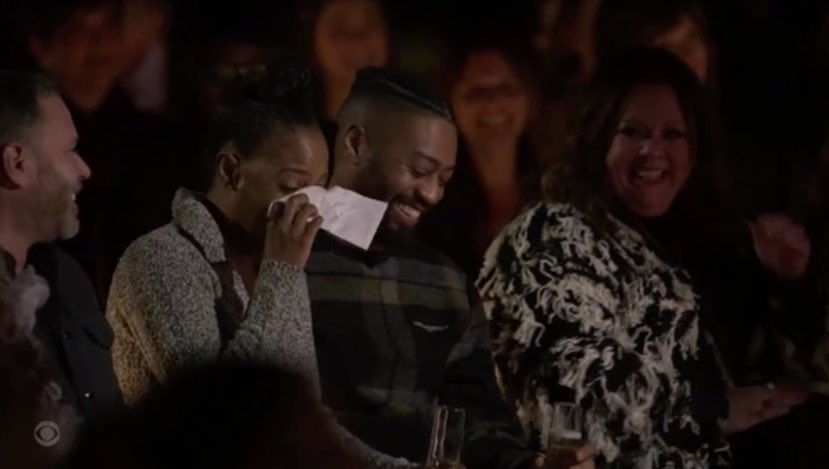 Adele ordered the A-list crowd – also including Oprah Winfrey, Ellen DeGeneres, Leonardo DiCaprio, Gordon Ramsay and Drake – to be "really quiet" or "I'm going to kill you".
Although it's not shown in the special, the couple did get to have a proper conversation with Adele.
Ashleigh says: "Literally, honestly, I thought I was going to throw up. I don't think we'll ever come down from this, it's insane."
As M-Net tweeted: "There wasn't a dry eye in sight."
If you missed it, the two-hour special will be broadcast again on Wednesday and Sunday. (Details below.)
The show has set social media alight – trending in SA at number one. It was filmed in Los Angeles at the stunning Griffith Observatory, and includes extraordinary performances of some of Adele's biggest hits, as well as several never-before-heard songs from her fourth album, 30, her first new material in six years.
M-Net says: "The multi-award-winning English musician also sits down with much-loved interviewer to the stars, Oprah Winfrey. The two women engage in a candid and energising conversation about Adele's music, divorce, single motherhood and her complicated relationship with her late father."
Adele tells the talk show queen about the struggles of reaching self-awareness after her split from her former husband, while juggling the running of a business, making new music and being a mother. "I felt like not doing it anymore. It made my feet hurt, walking through all that concrete," she says.
The 33-year-old does however give Konecki, the father of her nine-year-old son Angelo, credit for being a stable and positive influence in her life when she became hugely successful and famous following the release of her album 21 in 2011.
Adele is also making news this week for convincing Spotify to not make 'shuffle' the default, so that tracks will now automatically play in the order the artist had chosen.
Watch Adele: One Night Only… in South Africa
The special will be rebroadcast on Wednesday, 24 November at 10:00 and Sunday, 28 November at 16:00.
M-Net (DStv channel 101) is available exclusively on DStv Premium. To upgrade your existing package, click here. Or, if you'd like to Get DStv, find a service that suits your needs here.
Adele singing "Easy On Me" for the first time. #AdeleOneNightOnlypic.twitter.com/Uj6M79YVgi

— Adele Daily ³⁰ 😱 (@adeledailynet) November 15, 2021
Adele – One Night Only – @CBS pic.twitter.com/Tn2kLwz3eQ

— Sony Music (@sonymusic) November 15, 2021
Adele & that view at Griffith Observatory? Perfection! #Adele #AdeleOneNightOnly pic.twitter.com/aZbkKjyK4U

— WellTheTruthIs (@truth_well) November 15, 2021
There wasn't a dry eye in sight! #Adele #AdeleOneNightOnly https://t.co/J3ILt8r7Wg

— M-Net (@MNet) November 22, 2021
DON'T MISS SHOWMAX'S 2 FOR 1 BLACK FRIDAY DEAL.