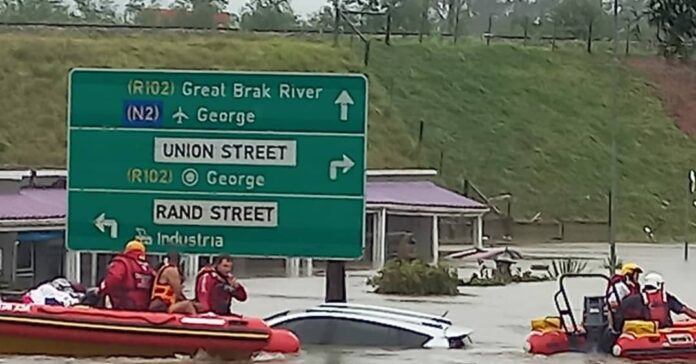 The Gift of the Givers says its teams are preparing for a "full intervention" as parts of the Southern Cape – including George, Mossel Bay, Oudtshoorn and surrounding areas – are facing severe flooding after a flash flood.
The Western Cape's Premier Alan Winde says: "The Western Cape Disaster Management Centre is supporting the response to the ongoing storm in the Southern Cape and the Garden Route JOC (Joint Operations Centre) was activated early this morning.
"We are urging people living and travelling in affected regions to be aware of the weather conditions and to limit travelling and being outdoors as much as possible. We will keep you updated."
The heavy rains in the southern Cape are predicted to continue with the South African Weather Service (SAWS) warning of widespread showers and thundershowers across most parts of South Africa until Tuesday.
WATCH VIDEO: Floods in George, Outeniqua Mountains, Southern Cape
Floods in #George #Outeniqua Mountains pic.twitter.com/XoO7gxLrAy

— elise tempelhoff (@elisetempelhoff) November 22, 2021
The George municipality is pleading with residents to stay indoors if possible:
George Municipality is pleading with residents to stay indoors where possible

🎥 Supplied #GeorgeFloods #sabcnews pic.twitter.com/x14YJsXRWQ

— Sphiwe Hobasi (@MrCow_man) November 22, 2021
The rain has also damaged the paving near the Labour Department offices. Bricks and sand washed onto the street.#GeorgeFloods #sabcnews pic.twitter.com/9qrWUI8V0r

— Sphiwe Hobasi (@MrCow_man) November 22, 2021
📣 Update: #George, #MosselBay, #Oudtshoorn and surrounding areas are facing severe flooding.

Our teams are preparing a full intervention.#GiftoftheGivers #MakeADifference #ForTheGreaterGood #DisasterResponse #Floods #WesternCape #SouthAfrica pic.twitter.com/YImxnJmJix

— Gift of the Givers (@GiftoftheGivers) November 22, 2021
Hope str in George…. Wonings heeltemal onder water.📸Giel Odendaal @peoples_weather @JoelGuy_ @SAWeatherServic @VoxWeatherZa @AgriWesKaap @_ArriveAlive @maroelamedia pic.twitter.com/h83TP6ilg7

— ReenvalSA (@ReenvalSA) November 22, 2021
What a fuckup… More heavy rain excepted for the whole day.. #George pic.twitter.com/Sf5tqkKZmh

— Johann met twee n'e 🇿🇦 (@JohannSmit88) November 22, 2021
UPDATE: Gift of the Givers partners with the SAPS to help flood victims on the Garden Route