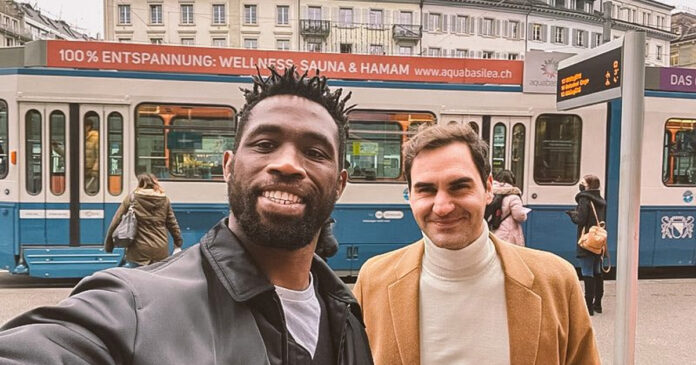 Tennis legend Roger Federer has delighted South African fans with photos of himself showing Springbok rugby Captain Siya Kolisi around Zurich, Switzerland.
Kolisi has stopped off in Switzerland on his way back to South Africa from the UK, where the Springboks played their final matches of the season, beating Wales and Scotland before falling to England.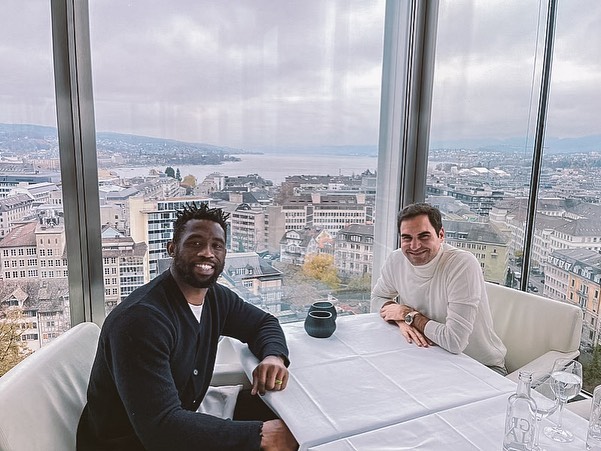 Swiss star Roger – who holds dual citizenship with South Africa because his mom Lynette is an SA expat – tweeted: "Anyone need a tourist guide? I found a Springbok roaming the streets of Zurich. What a pleasure to see you Siya."
Roger uploaded photos on all his social media channels showing him and the Bok captain at various famous Swiss sites, including that of delicious Lindt Chocolate, with Roger's mom and dad in tow as well.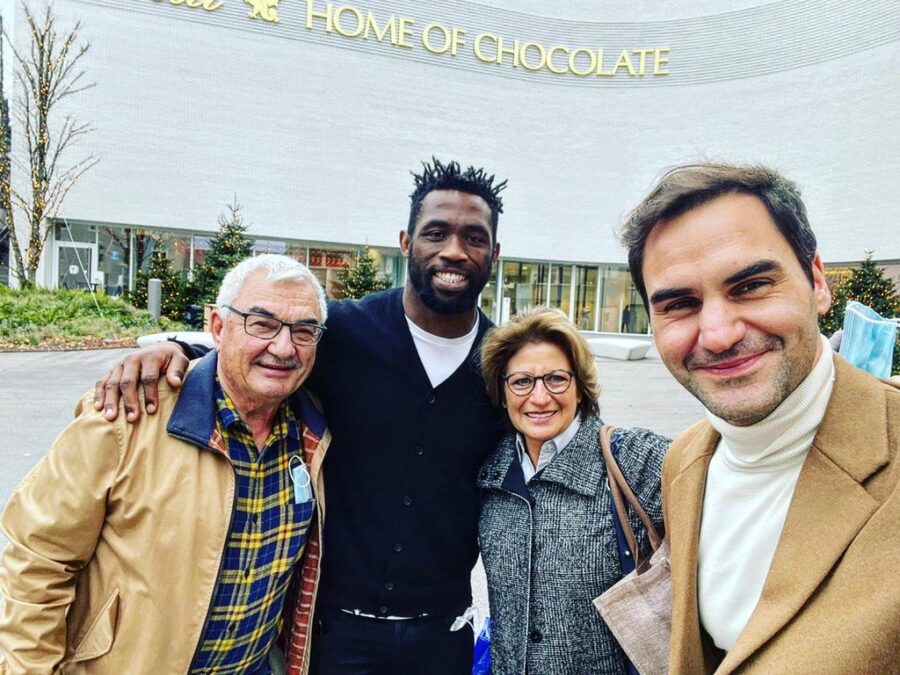 Siya was in Switzerland to attend a highly successful Charity Gala Dinner in Geneva last night on behalf of The Sharks (his team in KwaZulu-Natal), in support of the development and upliftment of communities in South Africa. The Sharks recently announced a partnership with the district of Servette in the business community of Geneva, that will focus on growing the sport in the region, according to the South African Permanent Mission to the United Nations in Geneva, and other International Organisations in Switzerland.
The SA mission posted a photo of Siya, along with Sharks CEO Eduardo Coetzee, Ambassador Nkosi and his wife.
Whilst in Switzerland, Siya missed his four-year-old daughter Kiki's birthday party yesterday… so he and Roger sent her a special message on Facebook from the Lindt shop. Siya said: "Birthday wish from Switzerland @lindt @rogerfederer for Kiki ❤️ Thanks @rogerfederer"
WATCH Siya Kolisi and Roger Federer wish Kiki a happy birthday from Lindt chocolate shop
Anyone need a tourist guide? I found a Springbok ???roaming the streets of Zurich ??? @SiyaKolisi
What a pleasure to see you Siya ?? pic.twitter.com/UWwnoxEGeS

— Roger Federer (@rogerfederer) November 23, 2021
Last night Ambassador and Mrs. Nkosi joined Springboks and Sharks Rugby captain, Siya Kolisi, the CEO of The Sharks, Eduardo Coetzee at a highly successful Charity Gala Dinner held in Geneva in support of the development and the upliftment of communities in South Africa. @DIRCO pic.twitter.com/NDkegmwWfi

— South African Mission – UN, Geneva (@SAfrPMUN_Geneva) November 24, 2021