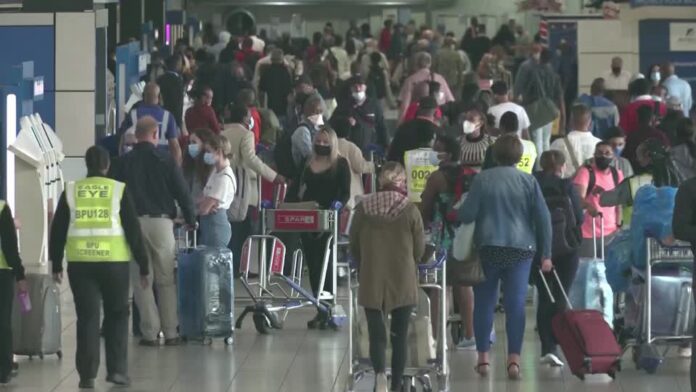 Belgium says it has detected its first cases of the new 'super-variant' B.1.1.529, which South African scientists yesterday announced they had identified in SA.
Guardian reporter Ben Quinn tweeted that it was identified in an "unvaccinated young woman who developed mild flu-like symptoms 11 days after traveling to Egypt via Turkey".
She did not report any links with South Africa or any other countries in southern Africa.
Virologist Marc van Ranst, whose lab works closely with Belgium's public health body, said the patient travelled on 11 November and her first symptom was on 22 November, implying an 11-day incubation period.
Belgium's Health Minister Frank Vandenbroucke confirmed in a news briefing on Friday that the case of variant B.1.1.529 had been found in an unvaccinated person. He said: "It is a suspicious variant. We do not know if it is a very dangerous variant."
The woman reportedly suffered only flu-like symptoms and nothing too severe. None of the people she lives with have developed any symptoms, but they are being tested.
Meanwhile Hong Kong has reported a potential "cross-transmission" of the variant. Hong Kong says they've identified the B.1.1.529 variant in two people now – a traveller from South Africa, and later in another man who was staying just across the hall from him, in the same quarantine hotel, which suggests airborne transmission, according to Hong Kong's Center for Health Protection. The first man who travelled from SA was only discovered to be positive with the variant on the fourth day of quarantine, on his second PCR test. The other guest only tested positive on their eighth day on their fourth PCR, suggesting the cross-infection. Both had been Pfizer vaccinated.
Dr @mvankerkhove gives an update on #COVID19 virus variant B.1.1.529, during the #AskWHO session on 25 November 2021 ⬇️ pic.twitter.com/ZpflfEYzW9

— World Health Organization (WHO) (@WHO) November 25, 2021