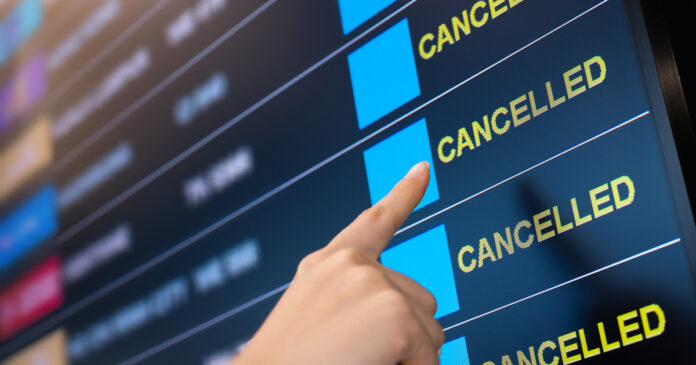 It was inevitable. Within hours of the South African Health Department and NICD confirming that a worrying new variant – B.1.1.529 – has been identified in South Africa, the UK (which only recently removed SA from its Red List) has announced that it is temporarily banning flights from South Africa. Israel has also put a ban on its residents travelling to SA.
The temporary ban in Britain will go into effect at midday on Friday, UK time. SA's neighbours Namibia, Botswana, Zimbabwe, Lesotho and Eswatini have also been placed on the temporary ban list. Any British travellers returning from those countries will need to quarantine now.
Israel has also put South Africa on its Red List, along with the above countries, as well as Mozambique. Israeli citizens are no longer allowed to travel to southern Africa, and entry for foreigners from those countries is banned. Israeli citizens are allowed to return home, but will have to spend 7 to 14 days in a quarantine hotel once they arrive.
British Health Secretary Sajid Javid said that "from midday tomorrow, we will be suspending all flights from six southern African countries and we will adding those countries to the travel red list. Those countries are South Africa, Namibia, Lesotho, Eswatini and Zimbabwe and Botswana.
"And we will be requiring anyone that arrives from those countries from 4am on Sunday to quarantine in hotels. If anyone arrives before then, they should self-isolate at home and take a PCR test on day two and day eight. And if anyone has arrived from any of those countries over the last 10 days, we would ask them to take PCR tests."
Javid said: "Our scientists are deeply concerned about this variant. I'm concerned, of course, and that's one of the reasons we've taken this action today. I will say we don't know enough about this variant. No one does. I think probably the UK knows more than most because of the excellent work we do on surveillance, but I think it is right that we take this approach and we remain cautious."
He said there's a "significant number of mutations, perhaps double the number of mutations that we have seen in the Delta variant". Renowned South African bioinformatician, Professor Tulio de Oliveira, told a media briefing in SA on Thursday that the new variant has more than 30 mutations.
South African scientists said today that the variant has also been identified in Botswana, and Hong Kong involving a traveller from South Africa.
With the new variant having a dramatically different spike protein to the original on which the vaccines are based, the UK said it "would suggest that it may well be more transmissible and the current vaccines that we have may well be less effective".
Prof de Oliveira said the latest variant's far larger number of mutations is "concerning for predicted immune evasion and transmissibility"… but that the full significance of it is not yet certain.
South African scientists confirmed on Thursday they're working around the clock to understand the new variant's implications.
There have been calls for mandatory vaccinations, as scientist say with such a low vaccination rate in South Africa, it was inevitable that mutations would occur.
Prof de Oliveira tonight sent out a plea to billionaires like SA expat Elon Musk, and to financial institutions, to help SA and Africa extinguish all variants.
Others have called for the wealthier countries to step in and help because while they're giving their citizens booster shots, mutations are happening in countries where not as many people are vaccinated yet. President Cyril Ramaphosa has called it 'vaccine apartheid', however the low vaccination rate in South Africa is also due to a hesitancy amongst the public – only about 35% of South Africans have been vaccinated.
Pfizer and Johnson & Johnson said this week that they have been asked by SA to delay their deliveries as the inoculation campaign in SA has slowed down.
The severity of the illness caused by this new variant has not been disclosed.