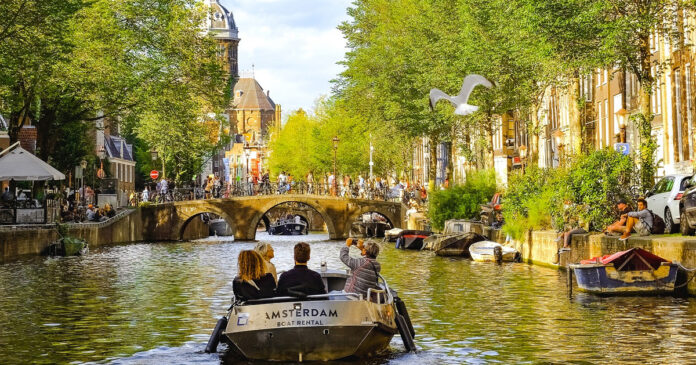 The Dutch National Institute for Public Health (RIVM) has confirmed that it has identified the Omicron variant in at least 13 of the 61 Covid-19 positive passengers who arrived in Amsterdam, from South Africa, on Friday.
RIVM said in a statement on its site on Sunday that of the 624 passengers who arrived on two KLM flights – one from Joburg, the other from Cape Town – 61 had tested positive for Covid-19. Their test samples were sent to RIVM to determine which corona variant they had.
"In this ongoing sequencing study, the omikron variant has so far been identified in 13 of the positive tests. The investigation has not yet been completed. The new variant may be found in more test samples."
A KLM spokesperson said all passengers had had to present proof of a negative PCR test result or double vaccination.
The omikron variant was first reported in South Africa, although according to some reports it was first identified in Botswana. South Africa shared its findings with the WHO on Wednesday before making a national and global announcement on Thursday. This variant has now appeared in various places in the world, in most cases being linked to travellers who had recently visited southern Africa.
South African passengers complain of KLM chaos
South Africans on the two KLM flights to Amsterdam complained that they were herded like sheep at Sciphol Airport and treated in an inhumane manner – they say nobody spoke to them until many hours later in the evening to tell them what was going on, and that without the help of a South African expat in the country, they would not have received blankets or extra food (sandwiches).
"There are human beings in here that are being treated like sheep… We have babies, we have old people, we have sick people… who need better care than this. This is inhumane," one passenger can be heard telling a KLM official in a recorded audio file. (Listen here.)
They also pointed out that they were confined in too small a space to be able to safely social distance from one another, and pointed out the danger that some of them may be infecting others without realising it. Later, at 4am, early Saturday morning, once authorities had identified which people tested positive, they apparently still kept the passengers together – ferrying them all on a crowded bus to another part of the airport. One female passenger, who had tested negative, told Reuters her shock at discovering that the man sitting next to her had tested positive! Watch below:
A passenger who arrived in the Netherlands from South Africa said the scene at Amsterdam's Schiphol Airport was 'chaotic' after her plane was held over fears that travelers may be carrying the newly identified COVID-19 variant https://t.co/LVKOFh28S7 pic.twitter.com/QdRHfl9k6w

— Reuters (@Reuters) November 27, 2021
The passengers who tested negative have been told to self-isolate at their own accommodation for 10 days, or test-to-release at five days. The infected passengers were taken to a hotel near the airport for quarantine.
The UK's FT Health and Science Reporter, Oliver Barnes, pointed out in a tweet that while 61 passengers from South Africa arrived in the Netherlands with Covid-19, at least three flights from South Africa (two from Joburg, one from Cape Town) arrived at the same time at London's Heathrow Airport before the flight ban came into effect. They were allowed straight in without any testing like at Schiphol.
On Sunday, the UK reported its third confirmed case of Omicron, with "dozens" of suspected cases.
Appeal to all travellers from South Africa and surrounding countries
The Dutch Government has issued an appeal from all travellers from Omicron-risk countries to please get tested asap. RIVM said: "People who have returned from: South Africa, Botswana, Malawi, Lesotho, Swaziland, Namibia, Mozambique and Zimbabwe on Monday 22 November 2021 or after are called upon to be tested, even if they have no complaints.
"A special telephone number has been opened for these people where they can make a test appointment. That number is 0800-5005."
The RIVM said it is important that anyone who has recently traveled to the Netherlands from one of the above risk countries to go into quarantine and stay at home, even if you don't feel ill, and even if you have been vaccinated or previously tested positive for Covid-19.
South Africa is engaging with countries who are imposing bans on travel from southern Africa. President Cyril Ramaphosa will address the country this evening. He is expected to encourage South Africans to vaccinate, rather than increase Lockdown measures.