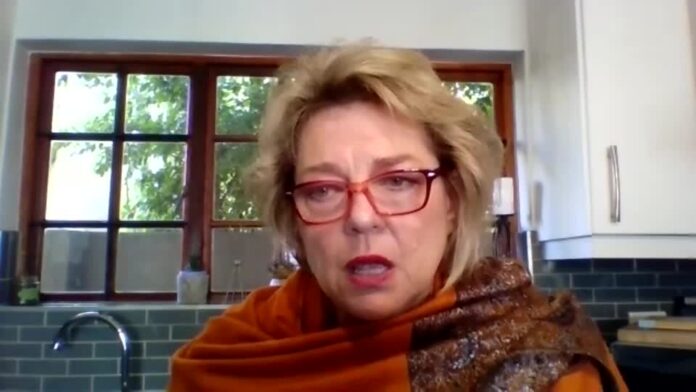 Dr Angelique Coetzee, who was one of the first South African doctors to suspect a new Covid-19 variant was in the country, says the "hype" around the variant – now known as Omicron – is out of proportion as the symptoms are mild.
Dr Coetzee, who is also the Chairperson of the South African Medical Association (SAMA) said: "So far, we've only seen breakthrough infections, not severe infections." She said this "might change, I'm not saying the virus is not going to give you severe infections, but the whole hype out there doesn't make any sense, medical sense, at this stage."
She said "looking at the mildness of the symptoms that we are seeing, currently there's no reason for panicking as we don't see severely ill patients".
The doctor said that in her area (Tshwane) one of the biggest hospitals only has one Covid-19 positive patient on a ventilator. It's unknown whether the patient has the Delta or Omicron variant.
She said the Steve Biko provincial hospital is also not seeing a lot of adult Covid-19 patients. "They do, however, see a higher index of children coming in with COVID-19. And, you know, these children have not been vaccinated. So, the clinical picture for us is extremely important and we acknowledge that it might change going forward," said Dr Coetzee in an interview with Reuters.
"But the hype that's been created currently out there in the media and worldwide doesn't correlate with the clinical picture. And it doesn't warrant to just cut us off from any travelling and ban South Africa, as if we are the variants in the whole process, it should not be like that."
Describing the spread and symptoms of the Omicron variant, Dr Coetzee said that "normally it will always start with younger people" and it has. She said with the Delta variant, symptoms included loss of smell and taste, oxygen requirements and fatigue. "But that is not what is now being experienced. The most dominant symptoms are a severe sore throat and respiratory tract infection symptoms."
She says "it started with a younger generation of 40 and less, and the most predominant clinical complaint is severe fatigue for one or two days with then the headache and the body aches and pain.
"Some of them will have what they call a scratchy throat, and some will have a cough, a dry cough. But it's not a constant cough. It comes and goes. And that's more or less the big symptoms that we have seen."
She added that she and her colleagues "haven't picked up anyone at this stage requiring oxygen; some of them would have a temperature, not a very high temperature. I only had one child that was severely ill with a temperature of what we call 40 degrees and with quite a fast pulse rate, but we managed to treat at home and within 48 hours she was dramatically better. I can't believe it was the same child that I have seen."
As far as the new variant being able to escape natural or vaccinated immunity, Dr Coetzee told Reuters: "We can't even say at this stage that the vaccine is escaping… (that) the virus is escaping vaccine immunity. We can't even say that at this stage because so far, it fits in with what the scientists have told us is going to happen. So when it's fully escaped the system, the vaccine immunity, I think that's when you would really see sick people, but not now. We're not there yet and I hope and I pray that we will never get there."
WATCH Dr Angelique Coetzee on Omicron and need to restrict large gatherings
As South Africa prepares for a "family meeting" tonight, Dr Coetzee shares her thoughts with the SABC:
I'm vaxxed+provax but @potus & @niaid #Fauci plz remove your heads from your rear ends. Y ban flights from RSA & not UK Israel & Holland? This is uncouth racist panic driven nonsense. Read Dr Coetzee's statement. RSA was honest. So why penalize them? Others will now withhold info pic.twitter.com/Rcp05AXDsd

— Stelio Savante (@StelioSavante) December 1, 2021