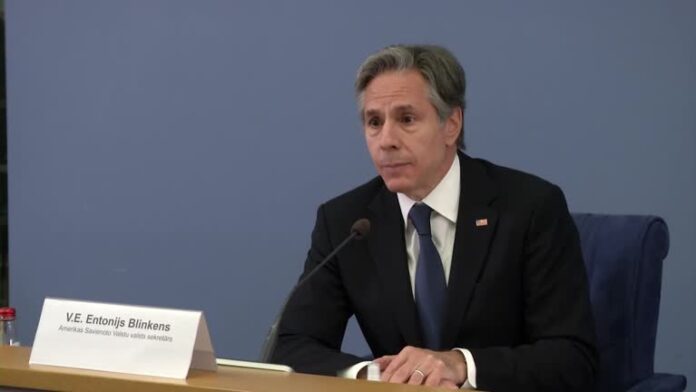 The United States Secretary of State, Antony Blinken, today (Tues 30 Nov) praised South Africa for identifying the new variant, Omicron, and the way in which the country shared the news with the world.
Blinken said: "I really want to applaud and express gratitude to South Africa and its government for its extraordinary transparency and also the very important work it did in detecting this new variant (of coronavirus) and making it known to the world.
"That's exactly, I think, a model of responsibility that South Africa has exhibited that we would hope everyone in the world would show because we are all in this together."
Blinken took the opportunity to announce his gratitude to South Africa during a news conference with Latvian Foreign Minister, Edgars Rinkevics.
His comments come in sharp contrast to those of Texas governor Greg Abbott who has complained that "50 illegal immigrants from South Africa and other South African countries under the Biden travel ban have been apprehended by CBP this year, with 18 being apprehended this month alone." Abbott is on a mission to prove "Biden's open border policies must end".
Over 50 illegal immigrants from South Africa and other South African countries under the Biden travel ban have been apprehended by CBP this year, with 18 being apprehended this month alone.

Biden's open border policies must end. pic.twitter.com/bGnhHRK0ui

— Greg Abbott (@GregAbbott_TX) November 29, 2021
Biden banned travel from South Africa because of the new Covid variant.

Immigrants have recently been apprehended crossing our border illegally from South Africa.

Biden is doing nothing to stop immigrants from South Africa entering illegally.

Pure politics and hypocrisy.

— Greg Abbott (@GregAbbott_TX) November 28, 2021
During the conference Blinken warned Russia of "serious consequences" if it renewed its "aggression" with the Ukraine. Blinken said: "We are very concerned about the movements we've seen along Ukraine's border. We know that Russia often combines those efforts with internal efforts to destabilise a country. That's part of the playbook and we're looking at it very closely." He said "any escalatory actions by Russia would be of great concern to the United States as they would to Latvia. And any renewed aggression would trigger serious consequences."