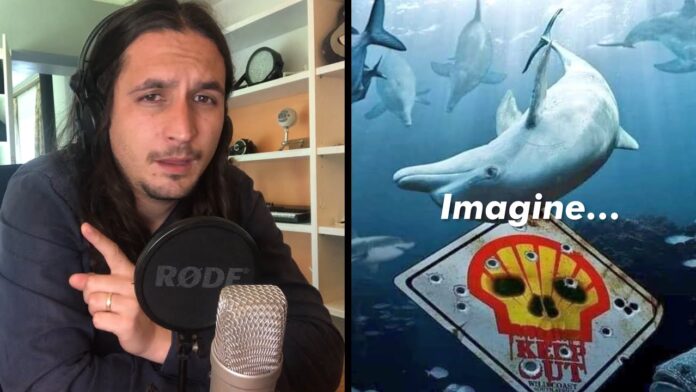 The Kiffness has come up with another kiff song – a cover of John Lennon's Imagine, but with his own words sending a strong message to Shell, who were scheduled today to start a controversial oil exploration expedition – known as 'seismic blasting – along South Africa's beautiful Wild Coast in the Eastern Cape.
The Kiffness (aka Dave Scott) says: "Every 10 seconds, 24 hrs a day, for the next 5 months straight, Shell will blast air guns into the Wild Coast sea at incredibly high decibel levels, which will likely disrupt, injure & kill many of the Wild Coast's rich sea animals. We can't allow this to happen."
The lyrics include "Imagine all the creatures / Dying for some grease / Shell may say that it's legal / But I'm not the only one…" (Full lyrics beneath the video.)
If you object to Shell's seismic survey of the Wild Coast, make your voice heard here: https://dearsouthafrica.co.za/shell/ and here on Change.org
WATCH THE KIFFNESS: A Song for Shell Oil (John Lennon – Imagine Reimagined) / Save South Africa's Wild Coast
Additional footage is courtesy of @Mark Roach, "Save The Wild Coast Transkei South Africa – Shell Oil face growing outrage". Artwork by Dave Edwards Art.
Lyrics for Dave Scott's re-imagined Imagine:
Imagine no seismic blasting
It's easy if you try
No Shell on the Wild Coast
And no government ties
Imagine all the creatures
Living in the sea
Imagine being a dolphin
It isn't hard to do
Then Shell start blasting for oil
And it ends up, killing you
Imagine all the creatures
Dying for some grease
Shell may say that it's legal
But I'm not the only one
Who think that Shell should go & f**k themselves
And the Wild Coast should be left alone
We cannot let this happen
And if Shell follows through
fill up at other stations
and then see what they do
Imagine all the creatures
That we could save today
Shell may say that it's legal
But I'm not the only one
Who think that Shell should go & f**k themselves
And the Wild Coast should be left alone
#ToHellWithShell #SaveTheWildCoast