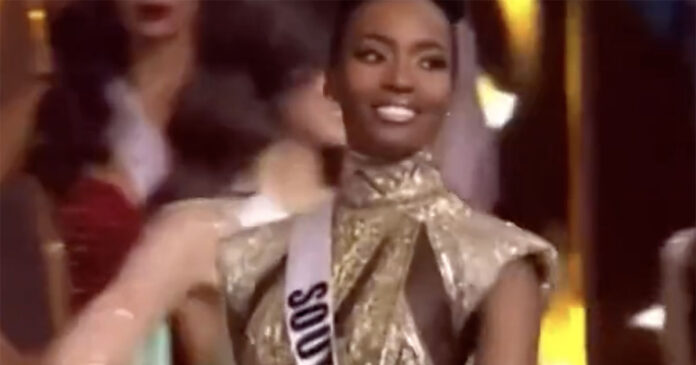 Miss South Africa, Lalela Mswane, has been named the second runner-up princess at the Miss Universe contest in Israel. South Africans were able to watch the finale live in the early hours of Monday morning on DStv. (If you missed it – see details below of repeats.) UPDATE 16 JULY 2022: Miss South Africa Lalela Mswane has won the Miss Supranational 2022 title in Poland.
"Our hearts are bursting with pride ✨" said the Miss South Africa organisation.
To 24-year-old Lalela – who is a law school graduate, model and dancer – the organisation said: "We are sooo proud of you for relentlessly pursuing what sets your heart on fire!"
Our hearts are bursting with pride ✨

?: @EZRACouture #MissUniverse #LalelaMswane pic.twitter.com/GLtIUIvel0

— Miss South Africa (@Official_MissSA) December 13, 2021
South Africa was the only African Country in the Top 16. The title was won by Miss India – Harnaaz Sandhu (21) – with Miss Paraguay as first runner-up.
After a controversial journey to get to Israel, that included the South African government withdrawing its support for the Miss SA organisation, Lalela Mswane wowed the audience on Friday night when she stepped out in ballerina shoes as a "dove of peace" – wearing a white national costume with feathers to represent "her nation, culture and its spirit of Ubuntu. A nation that has shown that lasting peace can be achieved."
Last night at the 70th Miss Universe pageant finale, at the Arena in Eilat, she shimmered in gold, in a costume designed by Middle East fashion house EZRA.
In an interview with the Jerusalem Post a couple of days ago, Lalela said: "If I had not come to Israel to compete in the Miss Universe pageant, I think I would have regretted it for the rest of my life." She added: "My soul would not have been at peace if I had skipped it." Lalela, who is reportedly a devout Catholic, told the Jerusalem Post that when visiting the Church of the Holy Sepulchre in the Old City of Jerusalem, with other contestants, she had felt "calmness and a sense of renewal".
As a child Lalela was bullied for being an 'outlier' and found that dance was one of the few reassuring constants in her life. She has since set up a foundation to help empower young women to have entrepreneurial skills.
How to watch the Miss Universe pageant in South Africa
The three-hour broadcast of the 70th Miss Universe pageant will have a primetime repeat on DStv tonight (Monday) at 22h00, with another repeat on M-Net's Me (DStv 115) on Sunday 19 December at 20h00.
She's taking it all the way ?✨⚜️@Lalela_lali #lalelamswane #southafrica #missuniversesouthafrica #lalelaformissuniverse pic.twitter.com/cXjbVe1W40

— Miss South Africa (@Official_MissSA) December 13, 2021
The moment @Lalela_lali made it to the TOP 5! ?

South Africa is the only African Country in the Top 16! ?? #missuniverse #lalela pic.twitter.com/v3rgPNJEPN

— Miss South Africa (@Official_MissSA) December 13, 2021
The winner crowned Miss Universe – Miss India
The new Miss Universe is…India!!!! #MISSUNIVERSE pic.twitter.com/DTiOKzTHl4

— Miss Universe (@MissUniverse) December 13, 2021
Miss India's powerful answer that impressed judges:
Her confidence will be her victory, we love you Harnaaz Sandhu! What a reply and what an amazing advice to the young women out there ?

@HarnaazSandhu03 #MissUniverse #MissUniverse2021 #HarnaazSandhu #india pic.twitter.com/PK4j500sqU

— ETimes (@etimes) December 13, 2021