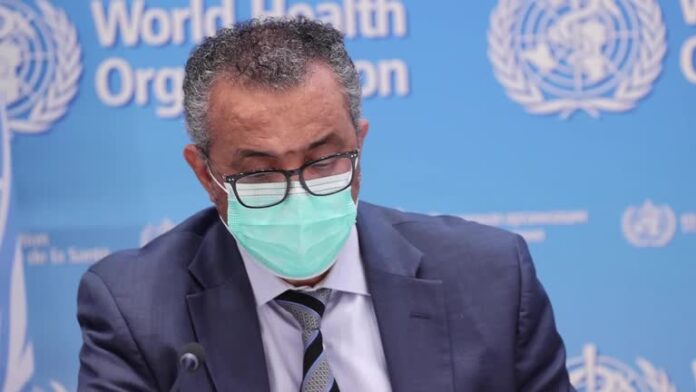 The Omicron variant of the coronavirus is spreading faster than the Delta variant and is causing infections in people already vaccinated or who have recovered from the COVID-19 disease, the head of the World Health Organization (WHO) said on Monday, 20 December 20. He also urged China to be more forthcoming on information about Covid-19's origin. Watch video below.
WHO director-general Tedros Adhanom Ghebreyesus said: "There is now consistent evidence that Omicron is spreading significantly faster than the Delta variant."
"And it is more likely people vaccinated or recovered from COVID-19 could be infected or re-infected." Tedros was speaking at a news briefing for Geneva-based journalists, held at the WHO's new headquarters building.
WHO chief scientist Soumya Swaminathan said that the variant was successfully evading some immune responses, meaning that the booster programs being rolled out in many countries ought to be targeted towards people with weaker immune systems.
Omicron appears to be better at evading antibodies generated by some COVID-19 vaccines but there are other forms of immunity that may prevent infection and disease, WHO officials said.
"It would be very dangerous to jump to the conclusion that the vaccines are not working," Swaminathan said
'Please don't panic over Omicron Covid variant', urges Dr Angelique Coetzee
Last week, the South African Medical Association's Dr Angelique Coetzee, who first spotted the new Omicron variant, said there has been an overreaction to the variant, and while it is highly transmissible and can give you the "mother of all headaches" she reassured people: "please don't panic".
Too early to conclude Omicron is milder
However, Swaminathan today warned it was too early to conclude the Omicron variant was milder than other coronavirus strains, saying it could still make enough people sick to "overburden" healthcare systems.
"I think with the numbers going up all health systems are going to be under strain," she said.
She added that this perception appeared to be based on initial data out of parts of South Africa which might give a misleading impression due to high levels of existing natural immunity (following the country's battle with the Delta variant) among the population.
WHO urges China to be 'forthcoming' with data related to Covid's origin
Tedros also urged China, where the SARS-CoV-2 coronavirus was first detected at the end of 2019, to be forthcoming with data and information related to its origin to help the response going forward.
"We need to continue until we know the origins, we need to push harder because we should learn from what happened this time in order to (do) better in the future," Tedros said.
He said "I hope some of the challenges we have faced with regard to the origin study, especially in sharing information, information sharing data from China's side, will improve because it will help. Without transparency and sharing of data, I don't think the origins could reach a successful conclusion, so we're hoping that this time they will cooperate better."
WHO's Executive Direcor of the Emergencies Programme, Mike Ryan, said via a videolink: "We do need to make progress there, and we would rather make faster progress than we're necessarily making at the moment. But we will continue as a secretariat to create the platforms and create and maintain the dialogue that's needed in order for us to better understand the origins of this disease because, mark my words, it will be important to understand, if we can, the origin of SARS-CoV-2."
The Russian maker of the COVID-19 Sputnik V vaccine is due to submit its latest data by the end of December, with manufacturing site inspections expected to follow in February, Rogerio Gaspar, WHO regulation director said.
WATCH WHO says Omicron Spreading 'Significantly Faster', Urges China to be More Forthcoming on Covid-19 Origin
Source: Reuters