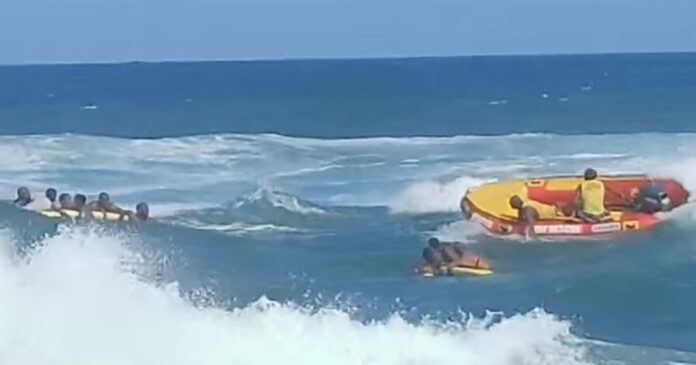 Lifesavers in South Africa have been praised for pulling off a large rescue of swimmers off an Amanzimtoti beach in KwaZulu-Natal.
The incident took place on New Year's Day, when families flock to the beach in what has long been an annual tradition to celebrate the new year.
KZN resident Jace Govender uploaded a video of the rescue, saying: "Mass rescue at Pipeline Beach; mind blowing work by lifeguards in the dangerous sea conditions."
Jace said at least 10 to 15 patients had been washed out from a crowd on the seashore; and pointed out that the conditions were "some of the worst you'll find in the world" – extremely dangerous with a massive shore break.
As a boat packed to capacity with patients came into shore, the relieved crowd erupted in cheering and applause.
Jace said the lifeguards were "just amazing, in a different class", and gave a shoutout to 'Peacemaker' who co-ordinated the rescue with his team and did an awesome job. "Well done guys!" said Jace.
WATCH Mass Rescue at Pipeline Beach, Amanzimtoti, South Africa
Beaches in Durban, just north of Pipeline were also packed yesterday.