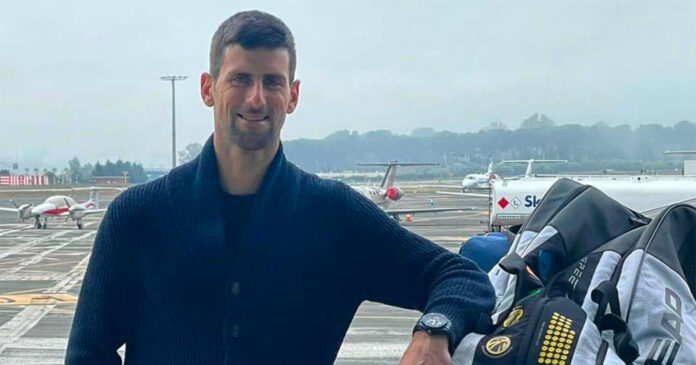 Tennis legend Novak Djokovic has been cleared by a judge to play in the Australian Open where he hopes to break a world record. The Federal Court today overturned the Australian Government's decision to cancel the Serbian sportsman's visa.
Judge Anthony Kelly ordered the immediate release within 30 minutes of Djokovic from immigration detention, finding that the government's decision to revoke his visa had been "unreasonable".
The judge also ordered that Djokovic's personal documents and passport be returned to him… making way for Djokovic to pursue his goal to break a record by winning his 21st Grand Slam title at the forthcoming Australian Open.
Djokovic's problems began on 4 January when he announced on social media: "Happy New Year, everybody! Wishing you all health, love, and happiness in every present moment and may you feel love & respect towards all beings on this wonderful planet. ❤️??
"I've spent fantastic quality time with my loved ones over the break and today I'm heading Down Under with an exemption permission. Let's go 2022 !! ??"
With Djokovic renowned as an anti-vaxxer, some Australians – who have experienced some of the world's most stringent Covid-19 regulations and travel restrictions – were outraged that different rules appeared to apply for the famous sports star and that he had been granted an exemption. (Although Djokovic has never publicly confirmed his vaccination status, 7News reports that a "partial transcript records Djokovic telling authorities he wasn't vaccinated against COVID-19".)
According to reports over the weekend, Djokovic had gained a visa due to testing positive for Covid-19 in mid-December (16 Dec). However photos surfaced of Djokovic at events on the day of the supposed test result, as well as the following two days, showing he was not self-isolating or even social distancing. Critics also pointed out that the test came after the 10 December deadline for submitting such a test for a medical exemption application.
Today Judge Kelly criticised the "unreasonable" treatment Djokovic had received at Melbourne's airport, where he landed on Wednesday and where he was subjected to questioning for a duration of many hours, and had his visa cancelled.
The judge said Djokovic had not been afforded enough time to speak to his lawyers and tennis organisers in order to respond fully after being informed his visa would be cancelled. The tennis star had been told he would have until 08h30 on Thursday to respond about the visa cancellation, but instead the Border Force made their final decision just after 07h40.
Judge Kelly said: "We all play by the same rules. Stated in other terms: those rules were not observed."
It may not yet be over though.
According to Reuters, federal government lawyers have told the court that the country's immigration minister is reserving the right to exercise his personal power to again revoke Djokovic's visa. If revoked, Djokovic wold be banned from entering Australia for three years.
The judge warned the government lawyers that "the stakes have now risen, rather than receded."
British tennis star Andy Murray has been one of the first to speak out on Djokovic being detained, telling reporters: "I think everyone is shocked by it to be honest. I'm going to say two things on it just now. The first thing is that I hope that Novak is okay. I know him well, and I've always had a good relationship with him.
"The second thing I'll say on it, is it's really not good for tennis at all, and I don't think it's good for anyone involved. I think it's really bad. Some stuff has come out that really doesn't look good, either. I want to hear all the facts first before giving all of my thoughts on it."
Australia's tennis star Nick Kyrgios added: "I'm feeling for (Djokovic) now. Like it's not really humane, is it, what's going on?"
The trial, which captured the world's attention, was delayed on Monday due to "technical issues" when too many people tried to stream the proceedings.