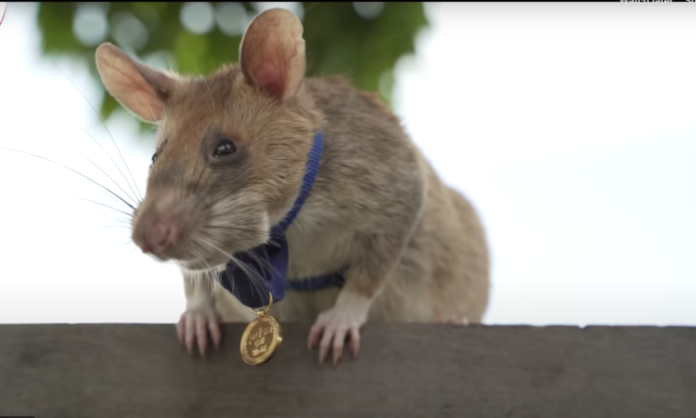 The African hero rat (HeroRAT) Magawa, who made the world a safer place by sniffing out over 100 landmines during his career in Cambodia, before retiring last year, sadly passed away over the weekend, at the age of eight.
In September 2020 the tiny, huge hero made international headlines when he became the first rat presented with a PDSA Gold Medal, the highest award for gallantry an animal can receive. (In 2016, the same medal, also known as the animals' George Cross, was awarded to the beloved German Shepherd – Killer – who tracked more than 100 rhino poachers in South Africa's Kruger National Park.)
With a heavy heart, APOPO – which specialises in detection animals for landmines and TB – posted a tribute in loving memory of Magawa.
The organisation said: "Magawa was in good health and spent most of last week playing with his usual enthusiasm, but towards the weekend he started to slow down, napping more and showing less interest in food in his last days. Magawa had recently celebrated his birthday in November, reaching the grand old age of 8."
Magawa – an African Giant Pouched rat (Cricetomys ansorgei) – was born in Tanzania at Sokoine University of Agriculture (SUA) in November 2013, where all APOPO's landmine detection rats are born and raised, and was trained to find explosives using his amazing sense of smell. Magawa moved to Siem Reap in Cambodia in 2016, where he began his career. After he retired last year, HeroRAT Ronin has taken up the baton as the new adoption rat.
"All of us at APOPO are feeling the loss of Magawa and we are grateful for the incredible work he's done," said APOPO. "During his career, Magawa found over 100 landmines and other explosives, making him APOPO's most successful HeroRAT to date.
"His contribution allows communities in Cambodia to live, work, and play; without fear of losing life or limb." Each discovery he made reduced the risk of injury or death for the people of Cambodia, helping APOPO clear more than 225,000 square meters of land.
APOPO said "over 60 million people living in 59 countries from Cambodia to Zimbabwe, do so in daily fear of landmines and other remnants of past conflict. Landmines are still inflicting pain and fear to a new generation of Cambodian people, a generation that wasn't even born when these mines were laid. Clearing minefields is intense, difficult, dangerous work and demands accuracy and time. This is where APOPO's animal detection systems can increase efficiency and cut costs.
No rat has died during the work, according to APOPO, because they are too light to trigger a mine. Cox said that the rats are well treated and loved by their handlers, and after they have retired go to a rat retirement home.
"It is thanks to all of you that Magawa will leave a lasting legacy in the lives that he saved as a landmine detection rat in Cambodia. Thank you all, from the bottom of our hearts, for your support during this difficult time," said APOPO.
WATCH Magawa, the hero rat dies at 8