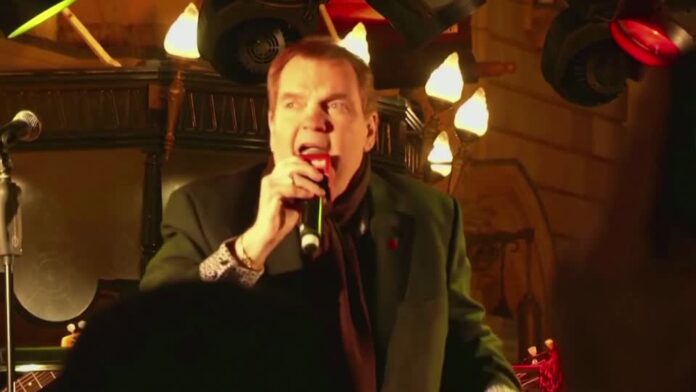 Tributes have poured in from fans around the world, following the death of legendary singer Meat Loaf (74) last night. From heavy metal enthusiasts to grandmothers, Meat Loaf appealed to so many. According to TMZ, the singer, whose real name was Marvin Lee Aday, was "seriously ill" with Covid-19.
Meat Loaf whose debut "Bat Out of Hell" became one of the best-selling albums of all time, died with his wife and two daughters by his side, said his manager Michael Greene.
TMZ reported that Meat Loaf had cancelled a business dinner earlier this week "because he became seriously ill with COVID. Sources tell us that condition quickly became critical."
TMZ added: "Our sources say Meat Loaf has been outspoken about COVID, railing with folks in Australia recently about vaccine mandates. We do not know if he was vaccinated." (A tiny, but very vocal, minority of Australians have protested… although in reality the vast majority – over 92% – are double-vaccinated.)
His family has not confirmed the cause of death. Meat Loaf had suffered several ailments over the past 20 years, including four back operations, asthma and collapsing twice on stage in the past decade. In a heartfelt post in November, Meat Loaf revealed: "Before the back surgeries I was still trying to do shows, that's when some of you saw or heard of me collapsing on stage and finally stopping the tour in the UK. I couldn't hit high notes because of back pain. Not a slight back pain. Pain that would bring you to your knees."
Greene said Meat Loaf passed away on Thursday night. The business dinner that was cancelled had been for a show he was working on called "I'd Do Anything for Love" (named after one of his most famous hit songs).
In a statement on his Facebook page, his family said:
"Our hearts are broken to announce that the incomparable Meat Loaf passed away tonight surrounded by his wife Deborah, daughters Pearl and Amanda and close friends.

"His amazing career spanned 6 decades that saw him sell over 100 Million albums worldwide and star in over 65 movies, including "Fight Club", "Focus", "Rocky Horror Picture Show" and "Wayne's World."

""Bat Out of Hell" remains one of the top 10 selling albums of all time.

"We know how much he meant to so many of you and we truly appreciate all of the love and support as we move through this time of grief in losing such an inspiring artist and beautiful man.

"We thank you for your understanding of our need for privacy at this time.
From his heart to your souls…don't ever stop rocking!"
He was one of the greatest rock singers of all time. During his lifetime he sold over 100 million albums worldwide – his 1977 "Bat Out of Hell" album sold an astounding 65 million copies.
His hits included the near 10-minute long title track from "Bat of Hell", "Paradise by the Dashboard Light" from the same album, and "I'd Do Anything for Love (But I Won't Do That)" from the 1993 follow-up "Bat Out of Hell II: Back into Hell".
Born in Dallas, Texas, in 1947, Meat Loaf found success on the stage in the 1970s, performing in the Broadway musicals "Hair" and "The Rocky Horror Show". His mother was an English teacher.
He switched focus to rock music in the early 1970s and collaborated with Jim Steinman on a debut album that showcased his powerful voice and established his long-haired, leather-clad, motorcycle-riding rock persona.
"Like a bat out of hell I'll be gone when the morning comes; When the night is over, like a bat out of hell, I'll be gone, gone, gone," Meat Loaf sang in "Bat of Hell", with an intensity bordering on melodrama that became his hallmark and established him as a rock icon.
Reuters music journalist Mark Sutherland said: "He was all in as a rock star, he didn't hold anything back when he hit the stage … you knew that he was going to give 110 percent. He would end his shows … drenched in sweat."
Delivering epic anthems about love, lust and motorcycles with an intensity bordering on melodrama, Meat Loaf became an enduring – and sometimes bombastic – rock icon in the late 1970s.
But beneath the bombastic glamour, he remained emotional, finding – for instance – a review in Rolling Stone in 1977 to be "the definition of scathing. Damaging; wounding; blasting; scorching,Harmful and painful." It was about 'Bat Out of Hell'. The pain remained for over 40 years. Last year Meat Loaf said it had been the hardest thing he'd ever done, and "the rejection was Overwhelming, then the success was also Overwhelming as well."
He also said he had an enemy at CBS who incorrectly reported artist record sales to the Billboard Charts, and there were "people who wanted us destroyed". He said after a year of "incredible drama, I had a nervous breakdown".
Meat Loaf said in a frank post on Facebook: "We had a huge success but at the same time there were people who wanted us destroyed. I know that sounds over the top but that's how it felt. They wanted us Dead, again that is how it felt to me, but I believe it to be true. That led to the nervous breakdown and left me out of the world for 4 years."
Today Adam Lambert said: "A gentle hearted powerhouse rockstar forever and ever. You were so kind. Your music will always be iconic. I'm sure you're singing concerts in the great beyond. Rest In Peace sir."
Boy George tweeted: "R.I.P Meatloaf. Love and prayers to all his family and close friends. He once turned me upside down in a Chinese Restaurant in St Johns Wood."
Cher said: "Had So Much Fun With Meatloaf When We Did "Dead Ringer". Am Very Sorry For His Family,Friends,& Fans. Am I imagining It, or Are Amazing Ppl In The Arts Dying every other Day⁉️ ?"
Bonnie Tyler, who collaborated with Meatloaf on Heaven & Hell (1989), said: "I am shocked & saddened by the sudden death of Meat Loaf. He was, as you might imagine, a larger than life character with a voice & stage presence to match & is one of those rare people who truly was a one off talent and personality. Rest In Peace"
Sources: Twitter, Reuters and Meat Loaf's posts on Facebook.
WATCH Meat Loaf: I'd do anything for love (but I won't do that)
WATCH Meatloaf – Bat Out Of Hell
Time to revisit one of my favourite memes of all time… #Meatloaf pic.twitter.com/YWzpUPUf4k

— Dr Owain Connors (@OwainConnors) January 21, 2022
It's such sad news to hear that Meatloaf has passed away. He was always larger than life and always good fun, he was a showman through and through. Godspeed Meatloaf, I'm sure you hit heaven like a bat out of hell.#Meatloaf #RIPMeatloaf pic.twitter.com/LN3U6KhOi5

— The Sting (@TSting18) January 21, 2022
(The 'journalist' in the above clip is Avid Merrion, a character played by Leigh Francis who would stalk celebrities.)