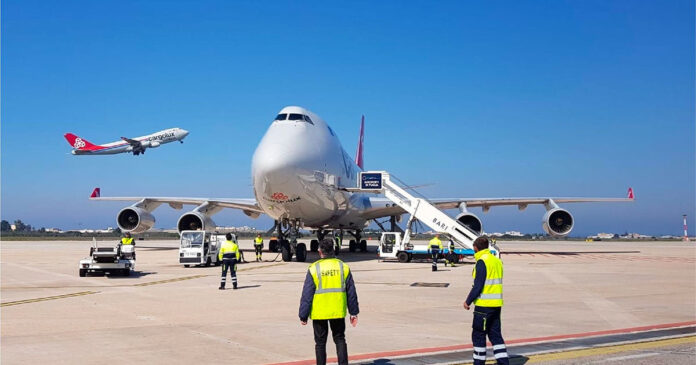 A stowaway who climbed aboard a cargo aircraft that took off in Johannesburg, South Africa, via Kenya, has miraculously survived the flight, and landed safely in the Netherlands.
The man squeezed into the front wheel section of a Cargolux freight plane. He was discovered at Schiphol Airport in Amsterdam by crew, hiding under the fuselage of the Boeing 747.
Dutch military police said it was "remarkable" that he survived as it was such a long flight. The 11-hour flight, which is already a long period to exist in the freezing cold conditions, was made even longer by its stop in Nairobi. However, it has not yet been ascertained if he got on in Joburg or Nairobi.
Police spokesperson Joanna Helmonds said: "Our first concern of course was for his health. This is definitely very unusual that someone was able to survive the cold at such a height – very, very unusual. It is quite remarkable that he is still alive."
With the plane flying at around 35,000 ft, the temperature can reach -54 degrees (celsius)! According to the Daily Mail, that's less than 25% oxygen than at sea level, and often leads to frostbite, hypothermia and other ailments which previous stowaways have suffered from (including a man from Nigeria who tragically died last year after being found hidden in the landing gear of a plane that landed at Schiphol.)
According to Dutch police: "The man is doing well considering the circumstances and has been taken to a hospital."
Cargolux confirmed the incident took place on a Cargolux Italia flight. An investigation is underway.
UPDATE MONDAY AFTERNOON: The stowaway has been identified as a 22-year-old male from Kenya. According to the BBC: "He plans to apply for asylum in the Netherlands. He is conscious and able to communicate, and currently receiving medical treatment in hospital." Dutch police are investigating whether he climbed on in South Africa or Kenya.