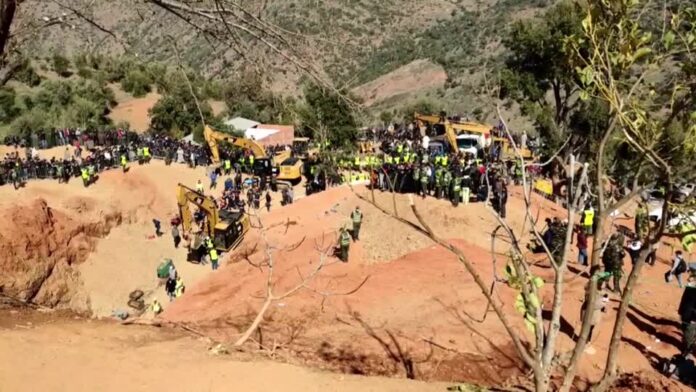 Rescuers – who have been working day and night for five days – say they are within three metres of saving a five-year-old child who fell down a well in Morocco, in North Africa… although they were held up by a small rock on Saturday.
Update 23h30 SA Time: Tragically, the small boy died before rescuers managed to reach him, Moroccan government officials have confirmed.
Reuters reports:
"The rescuers finally managed to retrieve his body late on Saturday after removing much of the adjacent hillside and delicately tunnelling a horizontal passage into the well.

"King Mohammed sent condolences to his parents, a statement carried by state media reported."
The young child's plight had attracted crowds of local people from the Chefchaouen region, and gripped the world, as people prayed for the safe rescue of the young boy who had fallen down a 32-metre deep well at noon on Tuesday. The child – Rayan Awram – had been playing near his mother when he disappeared down the dry well in the village of Igran.
On Saturday a member of a local rescue committee, Abdel-Hadi Al-Tamrani, told a news conference: "A small rock has delayed the process of reaching Rayan by 3 hours. It took three hours of work to remove this rock, as it was not possible to drill hard in order to prevent the well from collapsing."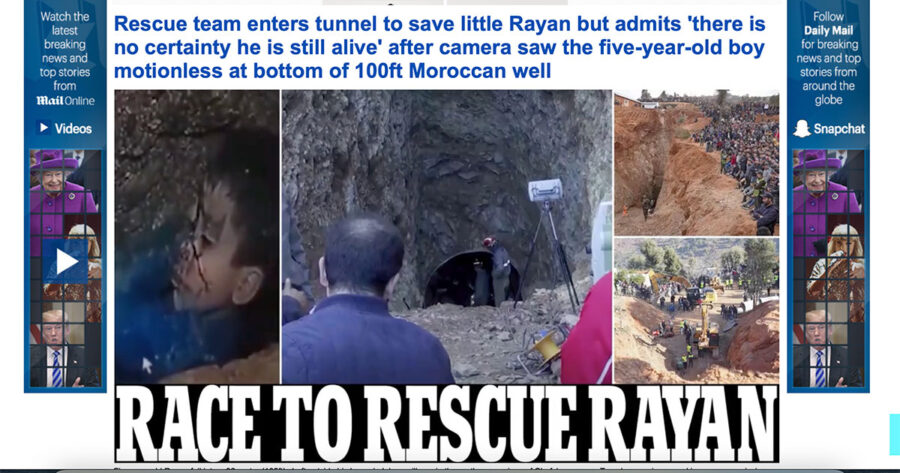 A metal tank of 1.5 metres diameter was moved into the area where they were excavating – using mechanical diggers – to prevent the rock collapsing.
The well is less than half a metre wide which made it too narrow to just pull Rayan out. Using ropes, oxygen and water was lowered to help the little boy survive, and a rescuer was able to communicate with him on Thursday after going down a newly dug parallel hole. The rescuers removed much of the adjacent hillside and built a horizontal tunnel into the well.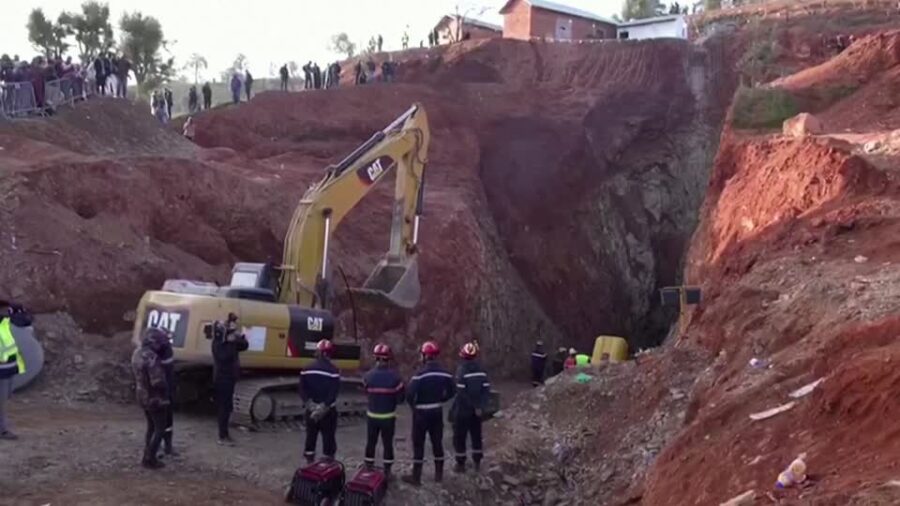 Earlier on Saturday, Al-Tamrani had said: "There is still hope that he will remain alive and we hope that the next few hours will carry good news." Sadly that was not to be.
Lead rescuer Thamrani Abdelhadi told the press on Saturday afternoon that they hoped to not encounter further rocks and that it was difficult to determine the child's health condition because a camera that had been dropped down the well was showing him lying on his side, but he added "we hope we will rescue him alive".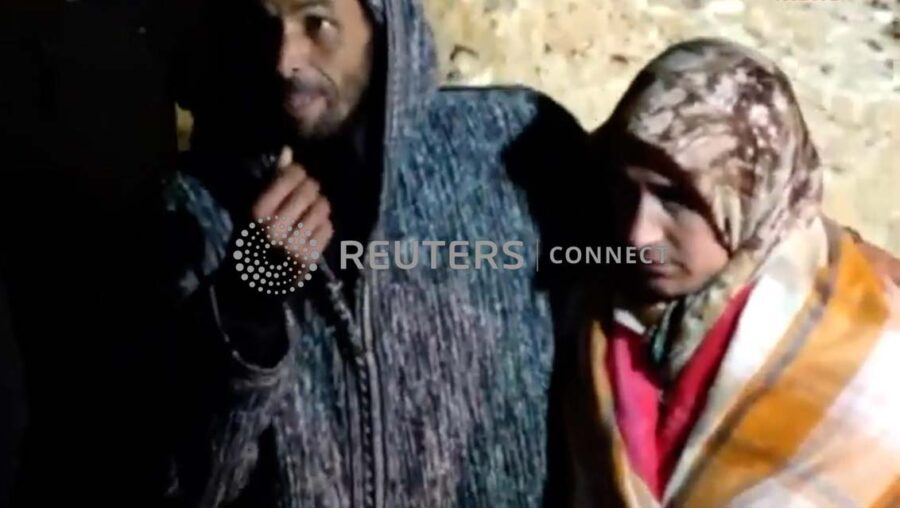 The country's Minister of Equipment and Water, Nizar Baraka, said authorities had "harnessed all possibilities" to save Rayan, and that the rescue operation had been complicated by fears of a landslide.
According to Reuters, a police / ambulance helicopter had been waiting at the site to immediately transfer Rayyan to hospital.
UPDATE SUNDAY: Rayan's family have spoken about their heartbreak. His grieving parents received a personal call from King Mohammed to express his condolences for the tragic loss of their son.
My heart is aching
Rayan's father's uncle said he could not put his feelings into words. "I was happy he was recovered. I can't express how I feel now," the devastated relative told journalists. Rayan's aunt Atiqua Awram added: "My heart is aching for my nephew, too much. My heart aches for him. May God be with him, just as God stood with us."
WATCH Morocco rescuers were in race against time to save boy trapped in well