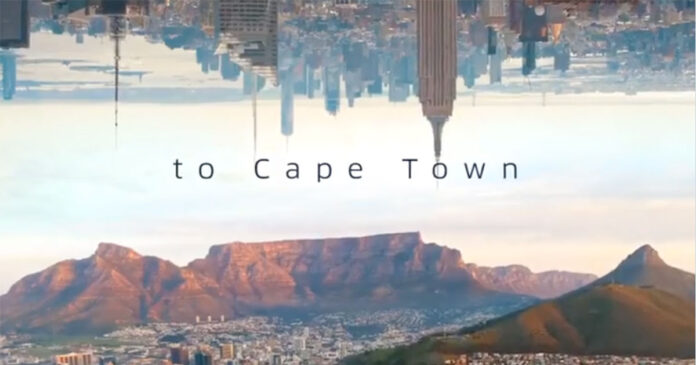 United Airlines today announced its plan to start flying non-stop from New York / Newark to Cape Town International Airport (and back) all year long! "Nonstop to Cape Town, now year-round!" tweeted the airline. The service will begin on 5 June, ahead of schedule, and will include three nonstop flights per week between the US and South Africa. Apart from the business implications and added tourism dollars, it's also great news for SA expats in the States, and their families.
The City of Cape Town welcomed the announcement, with Wesgro pointing out that UA's continuous services will add a big boost to the Western Cape economy. A projected R191 million worth of direct tourism spend will be generated by United's direct route to the Mother City for the current season ending in March 2022. With a year-round service, the route is expected to generate R523 million worth of direct tourism spend within its first year of operation, Wesgro said in a statement on Thursday.
Historically, the US has been Cape Town's third largest market for international travel, with two-way passenger volumes between the US and Cape Town equalling 213 000 passengers in 2019.
Apart from the nonstop flights, it also provides an easy one-stop connection to more than 85 US cities, providing international travellers with easy access to South Africa for the upcoming season.
"The economic benefits of the route also reach beyond tourism, as the added capacity on the route will further boost the total air cargo trade value between the US and Cape Town. In 2021 this value stood at R7.5 billion, making the US the top trading partner for air freight value in 2021," said the statement.
Western Cape Minister of Finance and Economic Opportunities, David Maynier said the announcement shows promise of continued expansion of international arrival numbers.
"Cape Town International Airport's international terminal performance statistics show an impressive 35% recovery rate for international passenger volumes achieved for the period of 1-30 January 2022, in comparison to the same figures in early 2021.
"The recovery of the Western Cape economy is dependent on international travellers visiting the province, both for business and leisure purposes, and especially during our peak tourism season in Summer. The resumption of United Airlines flights to Cape Town earlier than expected means that many more international visitors can enjoy the natural beauty, award-winning food and wine, rich cultural heritage and diverse and affordable travel options available to all in the Western Cape. This is good news for the Western Cape, good news for our tourism and hospitality sectors, and good news for our economy."
The City's Mayoral Committee Member for Economic Growth, James Vos said: "United Airlines' earlier-than-expected return signals that there is a great demand from American tourists to visit Cape Town. This direct route holds great opportunities for the Mother City with up to 24 000 potential inbound passengers from New York and numerous more travel and trade possibilities that will be of significant benefit to our economy."
Mark Maclean, Regional General Manager of the Cape Town International Airport Cluster said: "The Newark to Cape Town route is a very popular travel route which has recorded good growth. We are therefore very pleased that United Airlines has decided to return to CPT ahead of schedule."
Wesgro CEO and Official Spokesperson for Cape Town Air Access, Wrenelle Stander added: "This announcement provides much-needed relief to the tourism and hospitality sector in the Western Cape and will support economic recovery in the province through international business connectivity. The United States was South Africa's primary source market for tourists in the past year, with 72 000 Americans arriving in our country by December 2021. We welcome this news and encourage more airlines to expand their services to our world-class tourism destination."
Nonstop to Cape Town, now year-round!

Beginning June 5, we will fly 3x weekly between New York/Newark and Cape Town, South Africa all year long. https://t.co/W3sx4feWyi pic.twitter.com/bBlBg7Ghxb

— United Airlines (@united) February 10, 2022