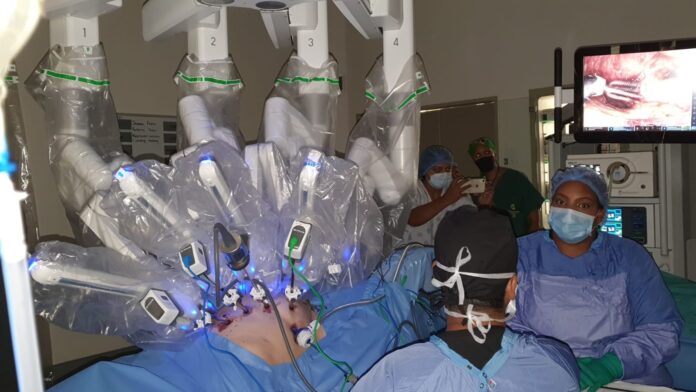 Tygerberg Hospital has become the first public hospital in South Africa to perform robotic surgery, as part of its newly launched da Vinci surgical robotic programme… which magnifies images up to ten times and enables more precise surgery with 3D, instead of 2D, images.
The first robotic-assisted operation was on a 62-year-old female patient, Lorraine Gys, who told the SABC she's feeling fine and in good spirits following the colorectal procedure in which a cancerous growth was removed. She said: "After the operation I felt quite good, because I was lying in bed and didn't really move; and now when I was moving I felt a little pain, but it's not that bad."
The Western Cape Government acquired the two da Vinci Xi systems in October 2021. The system is the most technologically advanced surgical robot currently available, the provincial Department of Health said in a statement this week.
The main diseases that the programme will focus on are colorectal, liver, prostate, kidney and bladder cancers, and women with severe endometriosis.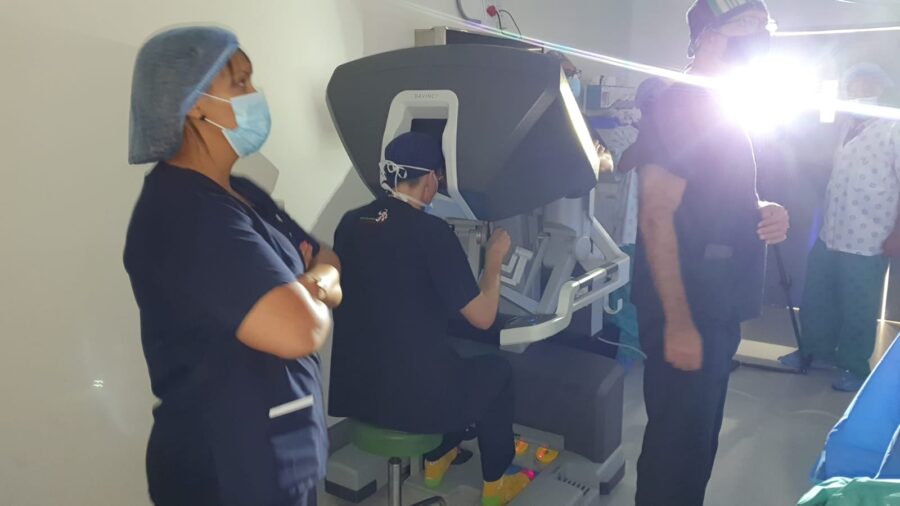 The da Vinci surgical system allows surgeons to perform robotic-assisted minimally invasive (keyhole) surgery. The operation is not performed by a robot alone; instead, the system gives surgeons an advanced set of tools that the surgeon guides from a dedicated console via fibre optic cables. The da Vinci system "translates" a surgeon's hand movements at the console in real time, bending and rotating the instruments while performing the procedure. The tiny surgical instruments move inside the patient like a human hand, but with far greater procession and with a significantly greater range of motion.
The Premier of the Western Cape, Alan Winde, said:
"It truly is an incredible feat that Tygerberg Hospital has become the first public hospital in South Africa to perform a robotic surgical procedure… It is going to make a big difference in helping us recover our comprehensive healthcare services, which were impacted by the pandemic. I applaud all those involved in this significant achievement for the Western Cape."
Congratulating the hospital, Western Cape Minister of Health Nomafrench Mbombo, said the ground-breaking technology at Tygerberg makes it "the first hospital on the continent to perform these types of surgeries."
Dr Matodzi Mukosi, Tygerberg Hospital CEO, said: "We see this as an opportunity to use state of the art medical technology to improve patient experience and ensure good clinical outcomes. This will also be a good morale booster for our surgeons and theatre staff who will be able to showcase their skills and capabilities in the field."
Dr Tim Forgan, Tygerberg Hospital Head of Colorectal Surgery and Robotics Coordinator said: "To use this surgical system (that has been shown to decrease the chance of complications, while allowing for successful major surgery through small incisions) at Tygerberg Hospital is exciting and inspirational."
The surgeons who are being trained in using the da Vinci are already accomplished laparoscopic surgeons and are considered national experts in their respective fields. They are all lecturers at Stellenbosch University's Faculty of Medicine and Health Sciences.
WATCH Tygerberg Hospital first state hospital to use robotic assisted surgery