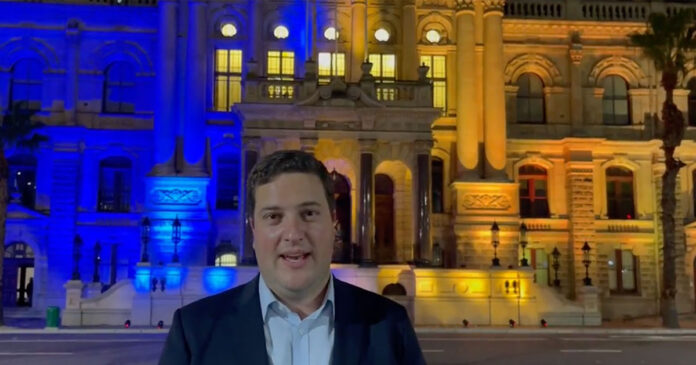 Whilst South Africa's national (ANC) government chose on Wednesday to abstain from voting to condemn Russia's invasion of Ukraine, the DA-led City of Cape Town decided to light up its City Hall, and stand in solidarity with the people of Ukraine. Cities around the world have been lighting up to show their country's support, but in the case of SA, it's only Cape Town's.
Despite SA and 34 others abstaining to vote in the United Nations emergency session, an overwhelming 141 of the 193 member states showed their united outrage for Russia's attack, and voted for the resolution… which calls for the immediate withdrawal of Russian forces from Ukraine.
Other BRICS countries – India and China also abstained… while Brazil was the only one brave enough to confirm it's in favour of an immediate ceasefire, although the country's Ambassador to the UN did say Brazil doesn't believe indiscriminate sanctions are constructive.
Russia and four other countries (Belarus, North Korea, Eritrea and Syria) voted 'no' to the resolution.
News 24's Assistant Editor, Pieter Du Toit, tweeted: "South Africa's decision to effectively side with Russia, while her tanks and armoured vehicles crunch across the sovereign territory of another country, is disgrace, shameful and cowardly. We don't learn from history, we just repeat it."
Cape Town's Mayor Geordin Hill-Lewis said: "While national government refuses to condemn this illegal war, Cape Town has chosen to stand for peace."
This evening Cape Town City Hall was illuminated in blue and yellow — the colours of the flag of Kyiv — as a symbol of solidarity with the people of the city of Kyiv and Ukraine.
Hill-Lewis said: "Today, I wrote to Mr Vitali Klitschko, the Mayor of Kyiv, to express the City of Cape Town's solidarity with the struggle Ukraine's capital city and indeed the whole of Ukraine is facing.
"I informed Mr Klitschko that the City of Cape Town stands alongside other nations and cities around the free world in calling for peace in Ukraine and an end to Russian imperialist aggression.
"The people of Kyiv are a proud, patriotic and resilient people who have endured a long history of conflict. They have built their city into a prosperous economic and cultural hub, one that faces destruction at this very moment.
"The gesture of illuminating Cape Town's City Hall in Kyiv's colours will serve as a reminder of the torment the city and its residents are facing. Through this small gesture, we are also calling on our national government — and other governments around the world — to do more for peace to be restored and for the unprovoked and illegal aggression against the Ukrainian people to be halted.
"As leaders and human beings, we must always take a firm stand against imperialism and the violence that brings, and I will not hesitate to continue to spread the message of peace and solidarity as far and as wide as possible."
Ukraine's President Volodymyr Zelensky said in a tweet after the UN resolution was announced: "I'm grateful to everyone and every state that voted in favour. You have chosen the right side of history." He said the results "convincingly show that a global anti-Putin coalition has been formed and is functioning. The world is with us. The truth is on our side."
Cape Town lights up in solidarity with the people of Ukraine
Tonight, the City of Cape Town is united with governments across the free democratic world in calling for an immediate end to Russia's aggression in Kyiv and Ukraine.

While national government refuses to condemn this illegal war, Cape Town has chosen to stand for peace. pic.twitter.com/5lksEWhfGt

— Geordin Hill-Lewis (@geordinhl) March 2, 2022
US Ambassador at UN mentions Cape Town:
Shortly before the ANC refused to vote to condemn Putin's war at the UN yesterday, the US Ambassador singled out DA-led Cape Town for joining the rest of the free world in its support for peace and for the people of Ukraine. pic.twitter.com/fIlrsUuuw9

— Leon Schreiber (@Leon_Schreib) March 3, 2022
How did the rest of southern Africa vote in the UN resolution?
While Lesotho, Botswana, Zambia and Democratic Republic of Congo voted yes to the Resolution, some other southern African countries joined SA in abstaining – Angola, Zimbabwe, Madagascar, Tanzania, Mozambique.
South Africa's statement in explanation of vote on #Ukraine at the UN General Assembly Emergency Special Session, 2 March 2022. @UbuntuRadioZA @SAMissionNY @SAfrPMUN_Geneva pic.twitter.com/vezJT9Zf8S

— DIRCO South Africa (@DIRCO_ZA) March 2, 2022