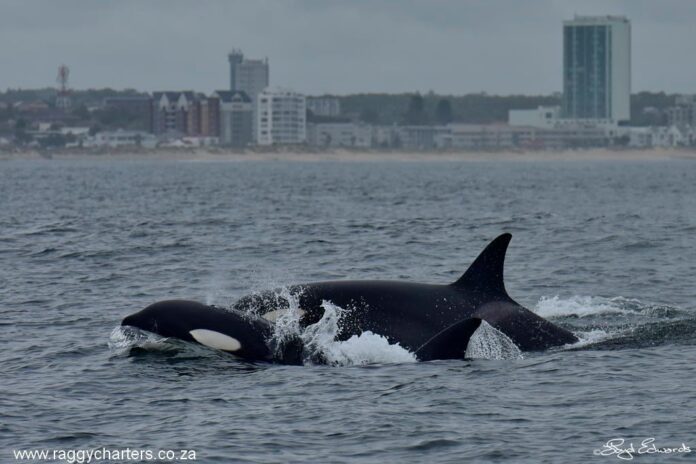 You don't often see killer whales in Algoa Bay (in the Eastern Cape, South Africa), so you can imagine the excitement when Raggy Charters – Marine-Eco Cruises spotted TWELVE of them this week!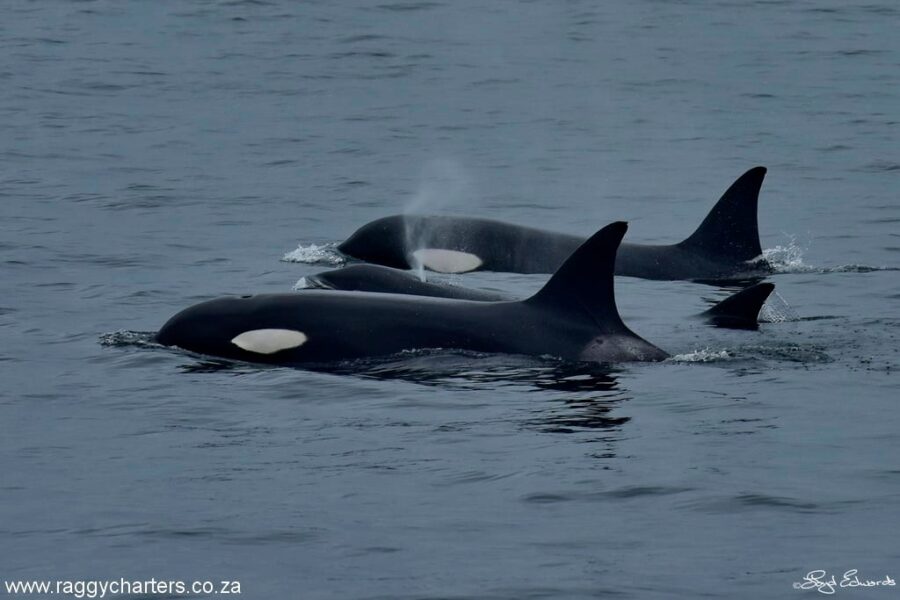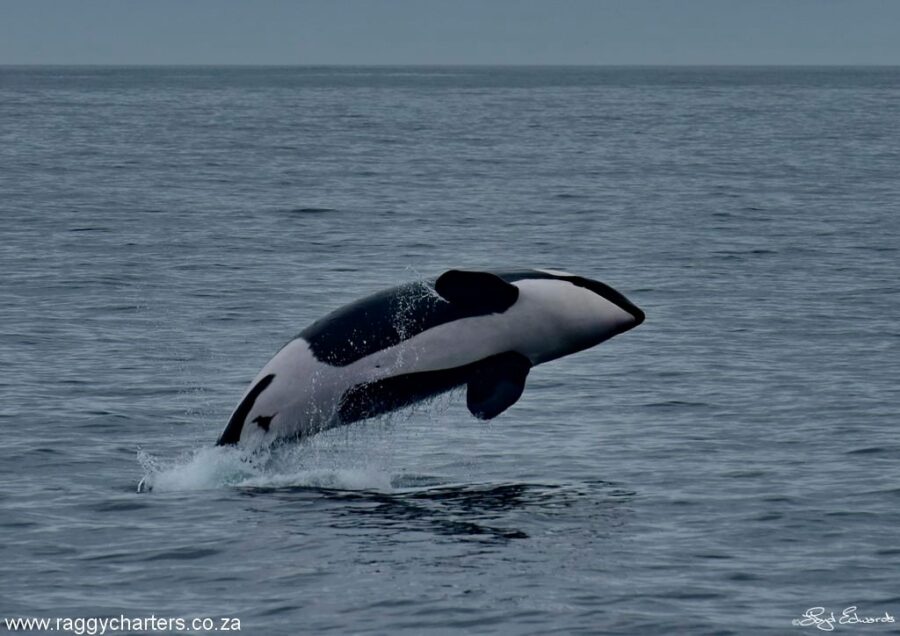 "Initially we saw two males with their tall dorsal fins breaking the surface," says Raggy Charters. "As we looked around our catamaran "My Bru", they started popping up all over the bay. We followed them around and watched all kinds of interesting behaviour as can be seen in the photos.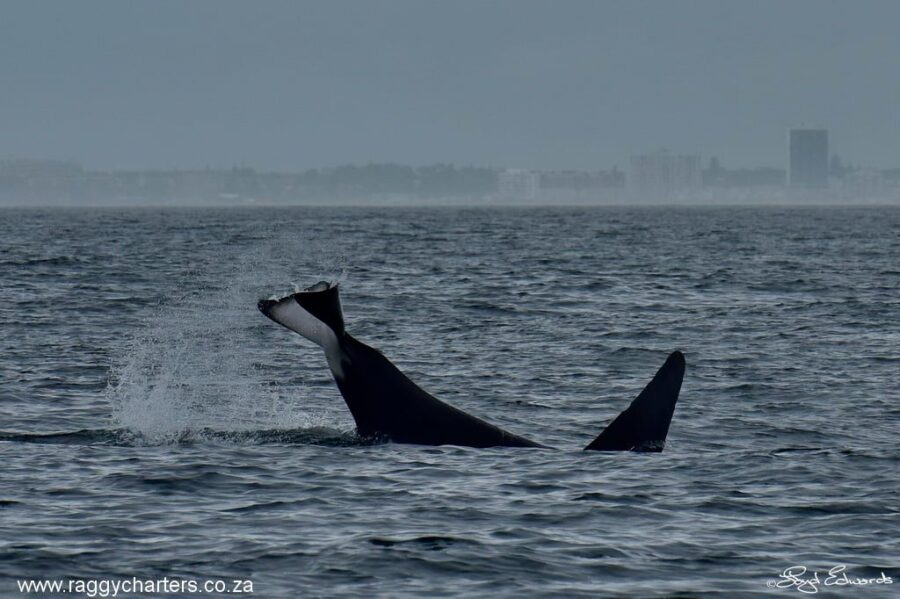 "They eventually came together as a group just off Cape Recife before leaving Algoa Bay."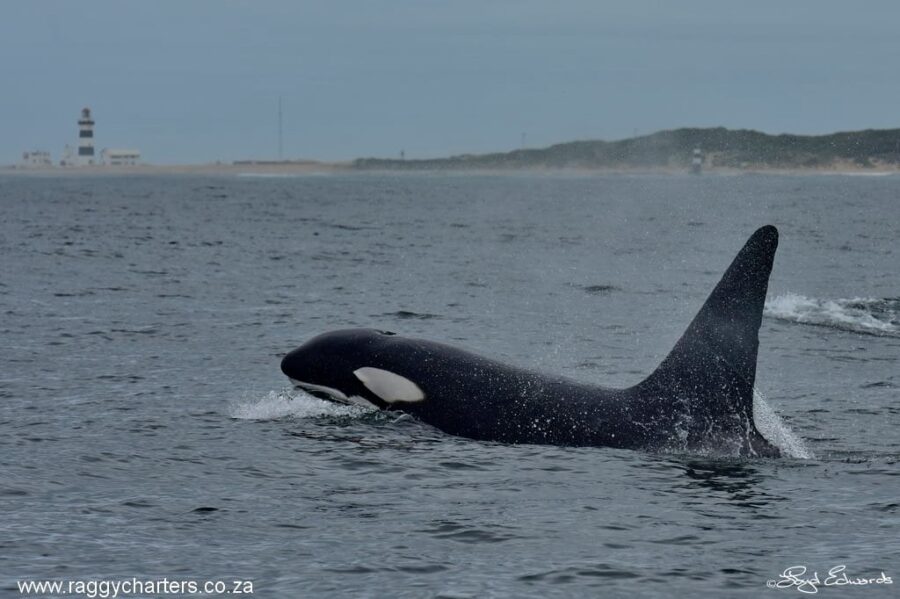 The pod comprised of at least 4 males, 2 calves and 6 females, says Raggy Charters… which offers expertly guided whale watching, dolphin watching and African penguin watching sea cruises in Algoa Bay, Port Elizabeth. (Book here.)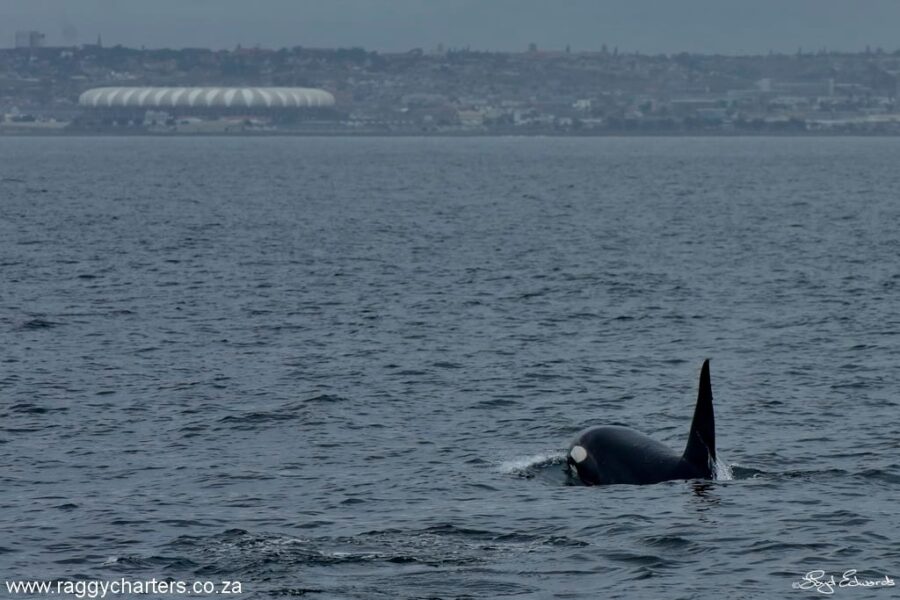 Unfortunately Tuesday's sighting was marred by the killer whales being first observed "slap bang in the middle of where ship-to-ship bunkering takes place in Algoa Bay". Raggy Charters says it is busy with legal action to fight this "unacceptable state of affairs".
What are killer whales?
According to National Geographic, Orcas (or killer whales) are the largest of the dolphins and one of the world's most powerful predators. They're instantly recognisable by their black-and-white colouring.
Algoa Bay is visited by the largest, Type A transient variety. "There are another 3 types in the Southern Ocean, namely type B, C and D," says Raggy Charters.
"Most killer whales from around the planet are transient, which means they move around in no set pattern. Their group size is smaller (1 to 7), target mammals, dive for five to 15 minutes and vocalize less frequently. The other grouping, the residents, obviously have much shorter home ranges, target fish, dive for four minutes and vocalize frequently.
"Studies conducted off Washington and British Columbia revealed that these populations had the most stable groupings of non-human mammals. From birth they spend their entire lives in these matriarch dominated societies.
Killer whales are the second most widely distributed vertebrate on the planet after humans. Animals examined on whaling boats operating out of Donkergat and Durban measured greatest length for males at 8,8m and for females 7,9 m.
According to Raggy Charters, females in the groups in Algoa Bay area usually stay with the pod until maturity when they may leave and form bonds with several other pods, but "it is a little different with the males. The first born stays with the pod and becomes mommies big baby boy! Later born will leave at maturity and may become solitary animals."
Read more about orca whales on Raggy Charters' website here. 
FOLLOW RAGGY CHARTERS: