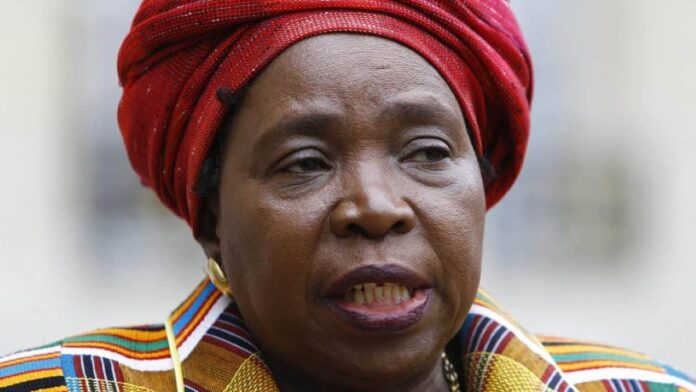 Western Cape Premier Alan Winde is one of many South Africans today who have condemned the government's decision to extend the State of Disaster, which has already been in place for two years.
Cooperative Governance and Traditional Affairs (CoGTA) Minister, Dr Nkosazana Dlamini Zuma, yesterday gazetted a further extension of the National State of Disaster on COVID-19, until 15 April 2022.
Former DA Leader Mmusi Maimane tweeted: "This government is now overreaching and over extending its powers. End the national state of disaster."
Minister Dlamini-Zuma said the extension took into consideration the "need to continue augmenting the existing legislation and contingency arrangements undertaken by organs of state to address the impact of the disaster".
South Africa has been under regulations of the National State of Disaster on COVID-19 since March 2020 when South Africa recorded its first cases of the virus.
President Cyril Ramaphosa, during his State of the Nation Address in February, said government planned to scrap the National State of Disaster as the country entered a new phase in the management of the COVID-19 pandemic.
Later, Health Minister, Dr Joe Phaahla, said various departments were "working on alternative measures" to replace regulations related to the National State of Disaster which could be presented to the National Coronavirus Comand Council (NCCC).
DearSA and AfriForum going to court over State of Disaster extension
Today DearSA and AfriForum said they are embarking on legal action. (See tweet below for full statement from DearSA.) DearSA said its campaign regarding Legal Action to end the state of disaster and mandatory vaccinations has so far received over 270,000 public comments "which is an indication that this is a critical issue for many citizens".
They say while other countries have returned to normal, SA's restrictions are having an "unacceptable adverse impact on our economy, livelihoods, and wellbeing".
AfriForum accused the government of being "power hungry" and said it will continue their fight, which started in February, to end the state of disaster in court.
DearSA and AfriForum said the government's indications that they will oppose the actions prove that "the government has no plans of ever giving up the powers they have grabbed under the guise of an emergency over the last two years".
Jacques Broodryk, AfriForum's Campaigns Manager, says: "There is no reason to continue the state of disaster, unless you're a power hungry politician or the countless corrupt individuals who are profiting from emergency procurement irregularities."
In its arguments, AfriForum states that there is currently no disaster and hence no need for a state of disaster. The organisation says that when the current hospitalisation and death rates for Covid-19 is taken into consideration, there is no justification for the continued clamp down on citizens' freedoms.
Premier Winde: "President Cyril Ramaphosa owes South African an explanation"
Premier Alan Winde said in a statement on Tuesday: "I condemn the extension of the National State of Disaster… which was set to expire today.
"Despite having months to prepare alternative public health measures that would normalize our response while enabling us to focus on creating jobs, it seems that the National Government has not yet finished the job. This is unacceptable, and President Cyril Ramaphosa owes South Africa an explanation.
"It is also concerning that the extension took place without a President's Coordinating Council (PCC) meeting, which meant that provinces were unable to engage with the National Government on this matter.
"This is also despite Minister Dlamini-Zuma herself indicating that the PCC would be the appropriate platform for engagement on this issue, after my correspondence to President Ramaphosa in February, following his State of the Nation Address commitment to end the declaration.
"Then on 11 March, my office received a further letter from Minister Dlamini-Zuma effectively saying the disaster will end once "adequate measures are introduced". No details of when were provided.
"What is equally concerning is that a PCC was, in fact, scheduled for this past weekend but then suddenly cancelled. Why did this meeting not happen? There are many unanswered questions which now need a response.
"The bottom line is that we cannot be in a state of disaster indefinitely. The provincial budget, which we tabled yesterday, makes clear that we remain fully prepared to respond to further COVID-19 waves, and that we will continue to invest in our vaccination programme to save lives. But the scientific evidence is clear: we no longer need a disaster act declaration to manage the pandemic, and we instead need to normalize our response through existing health legislation.
"We cannot keep on kicking this important issue down the line, month after month. We need an answer now."
Sources: FB/Alan Winde, Twitter/Mmusi Maimane, AfriForum, DearSA, SAnews.gov.za
The same Government who banned the sale of sandals to combat Covid have now extended their National State of Disaster based on what empirical evidence? ?‍♂️??

— Simon Grindrod (@SimonPGrindrod) March 15, 2022
We are looking into ending the State of National Disaster, but we must ensure that we have the necessary health measures in place to help us effectively manage the pandemic. pic.twitter.com/gNlh07VjpI

— Cyril Ramaphosa ?? (@CyrilRamaphosa) March 12, 2022
LEGAL ACTION TO END THE NATIONAL STATE OF DISASTER

DearSA received notice from the Minister of Cooperative Governance stating that the government intends to oppose our application.

This response indicates that the government has no intention of lifting the State of Disaster pic.twitter.com/Eqy7XoHlD1

— DearSAfrica (@DearSA_national) March 14, 2022