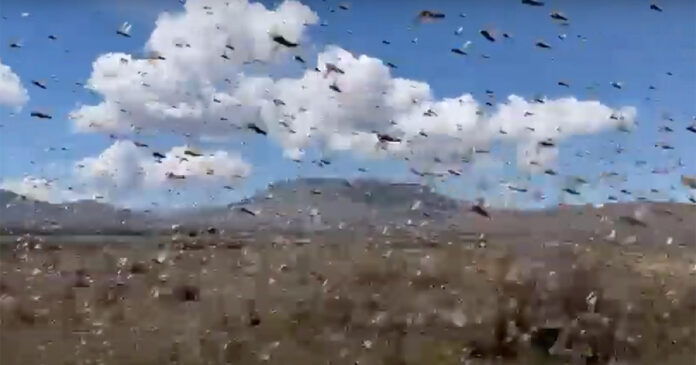 Last month Carte Blanche featured a segment on the 'Hoppers of Biblical Proportions' that have plagued parts of South Africa (watch below), and as the newer videos on this page show, these enormous swarms of locusts are not letting up. A local farmer estimates there are billions of them. And the government isn't doing anything (according to those affected).
The locusts have appeared in their masses as a result of the persistent rainfall that has transformed the usually arid Northern Cape and Karoo into a lush, green landscape (as seen in these photos below, taken at the weekend by Bruce Marais).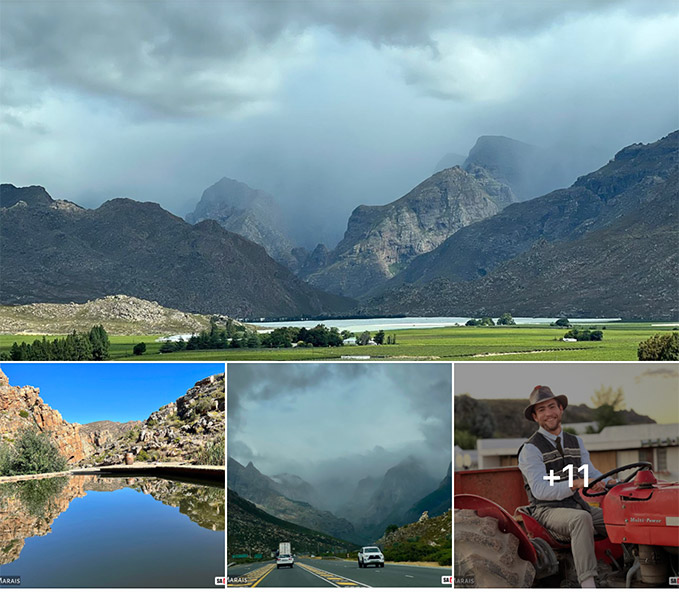 But while the gentle green valleys look gorgeous, as Carte Blanche explained, the fabulous rainfall also brought a two-year-long plague of brown locusts! Native to the Karoo and Southern Namibia, these hungry grasshoppers have been hatching in swarms dense enough to eclipse the sun and lay waste to entire crops. (You can watch Carte Blanche on Showmax International in most countries overseas or in SA on DStv Now).
Linda van den Berg, who farms in the Murraysburg district (Western Cape), estimates there are billions of locusts. "You can't imagine how many there are," she told SAPeople. "We had a swarm fly over the house for more than an hour!"
WATCH Locusts fly over Beeldhouersfontein farm
This video was filmed on Linda's farm on 8 March, by Martin Venter, a day after the hour-long swarm.
WATCH Locusts fly over Rooipoort Farm in Murraysburg
This video was taken nearby, by Rooiport farmer Willem-Schalk Pienaar on 8 March:
Locust damage is severe
The locusts are unfortunately destroying and grazing anything in their path.
"I read that a 1km x 1km swarm eats the same amount as 35 000 people in one day! And these swarms are huge… 12km x 5km and bigger. The damage is severe!" says Linda.
Last week AgriSA funded a plane to try and help… but unfortunately it couldn't spray the whole area due to bad weather and wind, Linda says.
She adds that unfortunately "we have no idea when they will leave, as they have been around for the past three years. It's the Brown Karoo Locust and they lay millions of eggs before they die. So when the next rain comes, they hatch again…"
According to Linda, the correct way to exterminate them is to spray them while they're still small wingless nymphs and cannot fly yet (as seen below)."But unfortunately Murraysburg is only allowed four sprayers that have zero impact on these swarms," she says.
#LocustInvasion #SouthAfrica! Video by Janine Larkins on February 11 – "Baby locust plague outside of Victoria West. Not something you see every day…" MORE: https://t.co/oPKTs3PMvx pic.twitter.com/8MD8Rmi6yB

— South Africa People – SAPeople.com (@sapeople) February 15, 2022
No help (or not enough) from Department of Agriculture
Local farmers say there has been no help from the Department of Agriculture, and so the locust numbers are continuing to grow in large numbers. The government has been urged to scale up its locust combatting efforts to better mitigate the impact.
SAPeople follower Mariet Van Wyk, who lives near Fraserburg in the Northern Cape says: "We've been busy since November last year, but the government doesn't even give us the necessary equipment. Some of us have bought our own mist blowers just to prevent a disaster in our area."
For now, scenes like the videos above will continue unabated. As a shocked Prince Albert resident said a couple of days ago: "We have a dark cloud approaching town. It's an enormous swarm of locusts. I've never seen anything quite like it. ?"
WATCH Prince Albert 'Locust Report'
WATCH Carte Blanche: Hoppers of Biblical Proportions
To stay up-to-date with what's happening in South Africa, and watch in-depth investigations into stories like this, you can watch Carte Blanche on Showmax International in most countries overseas (or in SA on DStv Now).