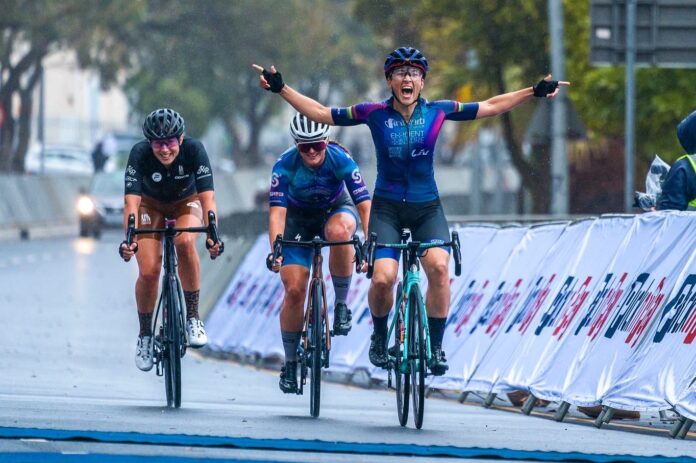 Cape Town Women's Cycle Tour winner, Kim Le Court De Billot, was celebrating just days ago after winning the famous race for the third time. But today, according to her Facebook page, she is feeling shocked. All the bikes belonging to her Mauritius team mates have been stolen in Paarl, South Africa. UPDATE Fri 18 March: Kim said today that fortunately her own bike was safe at her home "but sadly all my team mates bikes have been stolen and not recovered yet ?"
Taking to her Kim le Court page on Facebook on Thursday morning, Kim said: "URGENT !! 12 Bikes STOLEN."
She explained that "all 12 bikes of the Mauritian National Team (have) been stolen in the early hours of today from Picardi Guest Farm in Paarl."
Kim asked all her South African friends to share her post and this information.
"Please do contact me or anyone from the team if you can help us," she asked.
The team is flying to Egypt tomorrow afternoon (Friday) for the All African Championships.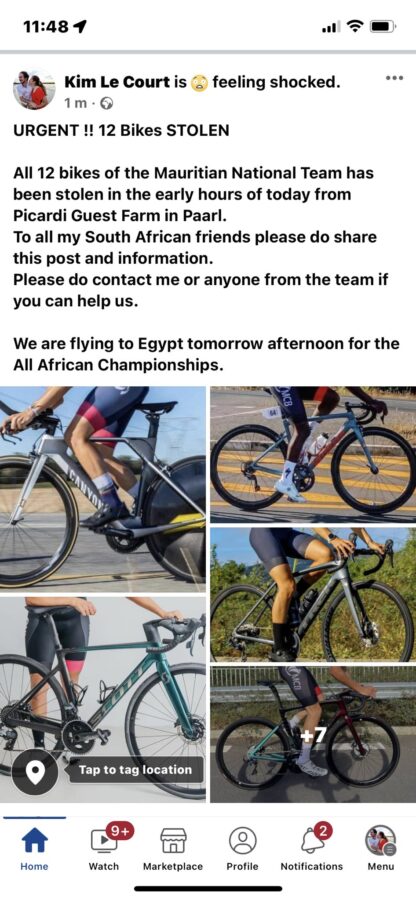 Paarl Police have also issued a plea for assistance. The South African Police Service (SAPS) said the bikes are worth an estimated value of R1 million, and that they were stolen between Wed and thurs from the storage facility on the guest farm.
Anyone with information is kindly requested to contact Paarl SAPS on 021 807 4009 or Crime Stop on 08600 10111. And / or contact Kim on her FB page here.
The joy at winning the Cape Town Cycle Tour this weekend:
1/2

No words can describe the feeling I had crossing that line in first position.
What a day at the 2022 Cape Town Cycle Tour

Pictures can show how happy I was/am to have defended my title. Especially being in a 3 woman break, in tremendous weather conditions. pic.twitter.com/9mfZZlCgcs

— Kim Le Court (@KimLeCourt) March 15, 2022