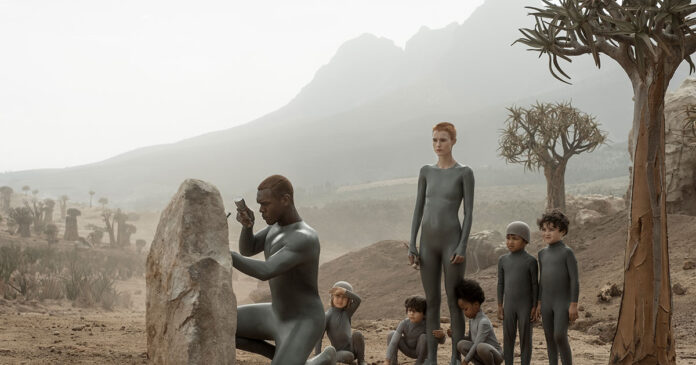 Having won over TV critics around the world, Raised by Wolves – which was filmed in Cape Town, South Africa – is now also being praised for pioneering a more sustainable approach to filmmaking. The production recently received a Gold Environmental Media Association Seal for Sustainability. (See details below of how SA production company Film Afrika achieved this.)
• 92% critics' rating for Season 2 of Raised by Wolves
• Cape Town doubles as virgin planet Kepler 22-b
• Groundbreaking sustainability approach earns Gold rating and international recognition
• "One of the most entrancing series TV currently has on offer – The New York Times
The New York Times calls Raised by Wolves "this strange but transfixing HBO Max sci-fi series" and hails it as "TV's wildest hallucination" and "one of the most entrancing series TV currently has on offer".
Season 2 of Raised by Wolves is now available to binge on Showmax. One of Rotten Tomatoes' most anticipated shows of 2022, Raised by Wolves more than lived up to expectations, with a 92% critics' rating for its second season.
Cape Town as an alien planet
Despite being set on another planet, both seasons of Raised by Wolves were filmed in Cape Town. South Africa's distinctive succulents and rock formations all add to the alien feeling, as do the clouds coming in low over the Stellenbosch mountains. As South African actress Kim Englbrecht, who plays Decima in Season 2, says, "Cape Town does have some element of being otherworldly, so it 100% lends itself to this genre. The beauty is so magnificent that it doesn't seem real."
An award-winning approach to sustainable filmmaking
Raised by Wolves is set after Earth has become uninhabitable, but HBO Max, Scott Free and South African production company Film Afrika deliberately made production choices that would contribute towards a more positive future.
"We're the first generation that's really felt the impact of climate change," says Film Afrika line producer Cheryl Eatock, paraphrasing Barack Obama. "We're also the last generation that can really do something about it. Every single thing we do makes a difference; it just depends on how much a difference you want to make."
Season 1 kick-started sustainability in the South African film industry by funding the GreenSet training programme for eco stewards and green production assistants, as well as the creation of the GreenSet carbon calculator. Developed in partnership with Credible Carbon, the GreenSet carbon calculator used 46 key film-industry specific environmental indicators to measure Season 2's carbon footprint.
This was supported by HBO and HBO Max's sustainability production programme, HBOGreen, and the use of the Green Production Guide to outline the sustainability approach for the various departments, in conjunction with the GreenSet Action Plan. HBO Max, under WarnerMedia, is a member of the Sustainable Production Alliance, which co-created and utilises the Green Production Guide tools to reduce the carbon footprint and environmental impacts on all its productions.
"The move to sustainability on set has only been possible through the support of our international production partners, to whom we owe a huge debt of gratitude," says Marisa Sonemann Turner, Film Afrika's head of production.
The GreenSet Action Plan included consultations with all departments; 90% of the crew signing a sustainability pledge; and five designated sustainable days of the week: Circular Mondays, Meat Free Tuesdays, Waste-less Wednesdays, the Green Wolf of the Week sustainability rewards programme on Thursdays, and Plug-out Fridays.
The results speak for themselves. Season 2 avoided more than 850 000 plastic bottles; decreased paper usage by over 80% compared to Season 1; diverted 681 tonnes of timber from landfill; served more than 15 000 meat-free meals; used 100% biodegradable and recyclable catering packaging and recycled 100% of the set polystyrene; and donated all extra set food and over 2 500 plants to community upliftment organisations and schools, among other breakthroughs.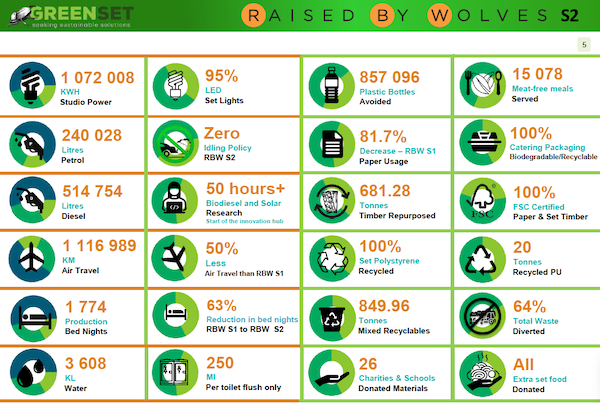 Season 2 also piloted a groundbreaking solution for polyurethane waste. Used extensively in the manufacture of props and sets, polyurethane was the third largest contributor to the carbon footprint of Raised by Wolves Season 1. For Season 2, the production commissioned a research report, which found that there was no option available in Cape Town for the recycling and upcycling of polyurethane. The problem was then presented to Hilton Cowie of Envirolite, a company that manufactures building blocks using recycled polystyrene. Envirolite agreed to design a machine to recycle polyurethane into building blocks. The prototype had to be rebuilt three times before it was finally a success – just in time to enable most of the polyurethane from the Raised by Wolves temple set to be diverted from landfill, a first for the South African film industry.
This kind of sustainability mindset has carried over from set into the cast and crew's everyday lives. As wardrobe buyer Gizelle Baumgart says, "Composting; green waste; ecobricking – we now implement this stuff at home. A lot of our team have taken it from the office and into homes, which is exactly where we need to be."
"We want to take what's been accomplished here and use that as an inspiration to other productions we do elsewhere," says Raised by Wolves executive producer David W. Zucker, a six-time Emmy nominee. "We want to point back to the success that's been achieved here and say: not only is it possible, but it is essential."
As Collin says, "All it takes is a greener choice every day. The future of the planet is in your hands, so what are you going to do about it?"
Watch a five-minute behind-the-scenes introduction to the sustainability approach on the set of Raised by Wolves Season 2 here:
Watch Raised by Wolves first on Showmax in Africa:
WATCH TRAILER: Raised By Wolves Season 2 | ON SHOWMAX IN AFRICA