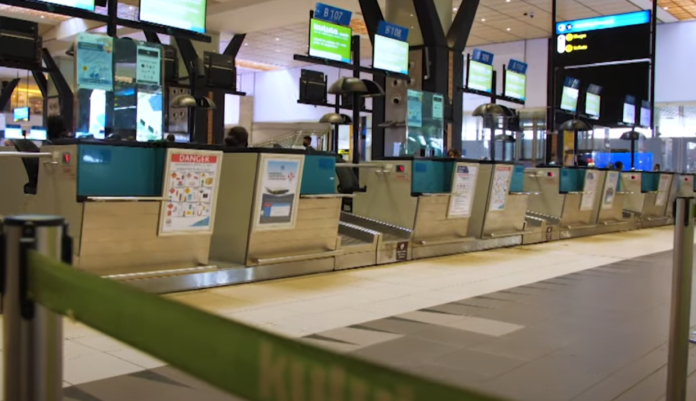 "This week, Carte Blanche heads to Ukraine where Russian air and ground forces continue attacking cities, causing significant civilian casualties and damage to infrastructure," says John Webb, Executive Producer of South Africa's top current affairs show.
"In response, Ukraine fights back, refusing to surrender or lay down arms. On Sunday night, our team takes you live to Ukraine as we try to make sense of the conflict and the extent of its human toll."
You can watch this episode of Carte Blanche on Sunday 27 March in South Africa on DStv Now or stream it overseas in most countries from 29 March if you live abroad.
For decades a trusted brand, airline operator Comair is going through a period of turbulence. Three emergency landings in one month and a series of other apparent glitches have raised passenger safety concerns and earned the wrath of the Civil Aviation Authority, with a temporary suspension as a precaution. Could customer jitters and a precarious financial position bring the end of the runway into premature sight? Carte Blanche takes a deeper look into what led to its crippling grounding and asks: what's really going on inside Comair? Producer: Stenette Grosskopf | Presenter: Macfarlane Moleli
Watch the show overseas | Watch in SA on DStv Now
For centuries, humankind has been on an endless hunt for the Fountain of Youth. But perhaps it wasn't a fountain we should have been looking for. A chance encounter with a remarkable plant with an ability to revitalise itself within a few hours of light rain brings hope. UCT Professor Jill Farrant is working to isolate the gene sequence of these plants to find out what secrets they could unlock. They're called the Resurrection Plants, a very rare species seemingly able to come back from the dead. These plants are known to lose up to 95 percent of their water capacity, only to bloom back to life in as little as 12 hours after rain. So, could these plants be the real Fountain of Youth or perhaps reveal how we might survive the impacts of climate change? Producer: Diana Lucas | Presenter: Derek Watts
Watch the show overseas | Watch in SA on DStv Now
Clowns, acrobats, trapeze acts and trained animals – traditionally, the circus is known as the "greatest show on earth". But as activists fight for the rights of animals, fewer circuses feature animals as part of their entertainment. But in South Africa, there's still one travelling circus refusing to abandon its traditions, transporting animals from city to city in a caravan, and having them perform night after night for weeks at a time. Having been on the road since March 2021, the McLaren travelling circus is known for its live animal performances. But with mounting pressure from animal rights activists, this could soon become a practice of the past. While the owner insists he has their welfare at heart, activists argue a circus is no place for animals and that it's time to put an end to this archaic way of life. Carte Blanche investigates. Producer: Tarryn Crossman | Presenter: Masa Kekana

Watch the show overseas | Watch in SA on DStv Now
Will the more than 750 000 schoolchildren who fell out of the education system during the pandemic ever return to the classroom? Carte Blanche investigates this unprecedented dropout rate.
"While working on this story, I realised that we need to be careful and not blame children for dropping out of school. When a young person chooses to drop out, it usually isn't an easy, overnight decision. Experts say it comes after years of that child struggling with school work and failing, combined with an unsupportive home environment that hasn't prioritised their education. The child feels like they're drowning, and no help is coming. By the time that life-altering decision is made to leave the classroom for good, that learner has been failed by the adults around them," says presenter Claire Mawisa.
As if South Africa's staggering unemployment rate wasn't bad enough, the crisis in the education sector is making matters worse. Young people are dropping out of school at alarming rates, simply to join the ranks of the unemployed and unemployable. It's a situation exacerbated by COVID-19, with closed schools leading to an alarming increase in the dropout rate. Government says parents are partly to blame but, at a time when support was needed most, some pupils feel let down by the Department of Basic Education and its teachers. Producer: Busisiwe Gumede-Chizhanje | Presenter: Claire Mawisa
Watch the show overseas | Watch in SA on DStv Now
If you're in SA – you can watch Carte Blanche on DStv Now.
If you're overseas – you can watch #CarteBlanche from Tuesdays, and thousands of other popular local South African shows & movies by subscribing to Showmax International now. You can try it FREE for 14 days. 
Carte Blanche is on M-Net & M-Net HD [101], 27  March 2022  at 19:00 & & again on M-Net Plus 1 [901] at 20:00
***
Please note: Carte Blanche is only available to international Showmax subscribers in Andorra, Australia, Austria, Belgium, Denmark, Finland, France, Germany, Greece, Iceland, Indonesia, Ireland, Italy, Liechtenstein, Luxembourg, Malta, Monaco, Netherlands, New Zealand, Norway, Portugal, San Marino, Spain, Sweden, Switzerland, United Kingdom. Not all titles are available in all territories. Showmax brings you the best South African series and movies, from the classics to the latest releases, from complete box sets to kids' favourites.