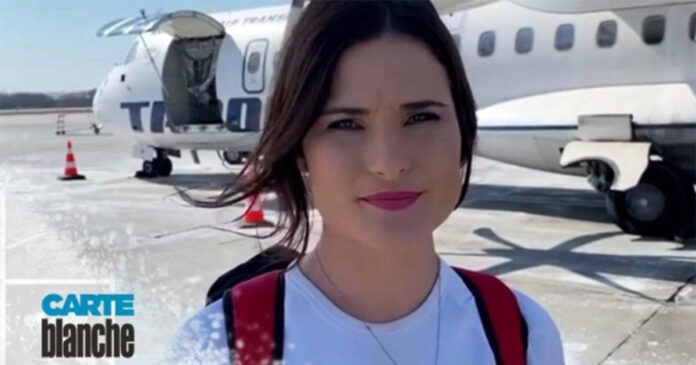 A Carte Blanche crew from South Africa has been extracted from Odesa, in Ukraine, after the port city was hit by several Russian missiles and/or rockets early Sunday morning.
Carte Blanche confirmed that the show's producer, Anina Peens, was in Odesa at the time. Along with footage of the sky being lit up by explosions, the current affairs programme reported that an oil refinery and fuel storage facilities were destroyed during the attack. (Watch below.)
This week, Carte Blanche headed to Ukraine where Russian air and ground forces continue attacking cities, causing significant civilian casualties and damage to infrastructure… and Ukraine continues to fight back, refusing to surrender or lay down arms.
As thousands of people continue to flee the war, the Carte Blanche crew went inside Ukraine – with Anina doubling as producer and presenter – to count the human and economic cost of Russia's invasion which will enter its sixth week next week.
With the United Nations estimating that almost 7 million citizens have been displaced within Ukraine, Anina has joined a group of volunteers that are trying to meet the urgent need for food, water, medicine, clothing, and other basic supplies.
Despite promises of peace and despite Ukraine's commitment not to join NATO, Carte Blanche reports that Russian air and ground attacks remain unrelenting, as they experienced this morning. Meanwhile, the African Development Bank has issued a warning of a large-scale food crisis as natural gas, wheat, and fertiliser prices skyrocket.
On Sunday night, Carte Blanche takes viewers live to Ukraine where Anina will provide updates and try to make sense of the conflict and the extent of its human toll.
John Webb, Carte Blanche Executive Producer, says: "We agonised over sending someone to Ukraine: why this war and not others? What access are we likely to get? Is it worth the risk? Do South Africans care? Some questions were easier to answer than others.
"But, having despatched a producer and cameraman to the region, our challenge now is to tell a compelling and relevant story. And, without losing sight of the immediate human cost, examining the catastrophic impact on global food and fuel pricing should bring home this war's many unexpected consequences."
IF YOU LIVE ABROAD, watch the show overseas on Showmax International, streaming from Tuesday | Watch in SA on DStv Now
1/2 The port city of Odesa in Ukraine was hit by several Russian missiles and/or rockets early this morning. An oil refinery and fuel storage facilities were destroyed. #CarteBlanche producer @PeensAnina was in Odesa at the time. Our crew has subsequently been extracted. pic.twitter.com/IDwvmCqpQq

— Carte Blanche (@carteblanchetv) April 3, 2022
MORE: On Carte Blanche tonight, 3 April 2022