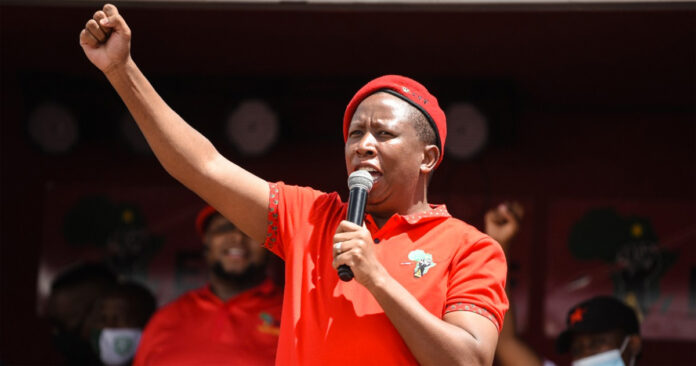 Julius Malema, leader of the EFF, and Mbuyiseni Ndlozi, EFF MP, will appear in court today facing charges for the alleged assault of the SAPS Colonel Johannes Venter. AfriForum's legal representative has obtained a watching brief in this case and will attend the court proceedings. The state's two eyewitnesses will be questioned during the court proceedings today as well as tomorrow.
Malema and Ndlozi allegedly assaulted Venter, a senior policeman in uniform, during an incident in April 2018 that was captured on CCTV. The National Prosecuting Authority (NPA) initially seemed hesitant to prosecute those involved in the 2018 incident which prompted AfriForum's Private Prosecution Unit to submit a mandamus application forcing the NPA to make a decision in the matter. The NPA announced thereafter that Malema and Ndlozi will be prosecuted.
Venter previously testified under oath that he had explained to the accused that they could enter the graveyard on foot and not in their vehicle since their vehicle had not been approved as part of the convoy. Malema then told Venter that he would drive into the graveyard and that no white man would stop him.
According to Venter's testimony he had been communicating with the graveyard's operating centre to obtain the necessary approval for the vehicle's entry when Malema and Ndlozi exited their vehicle and repeatedly pushed him. The accused then entered the graveyard in their vehicle without obtaining the necessary permission.
"We hope that justice will be served in this case. The public is fed-up with the EFF's blatant contempt for law and order. Malema is showing his true colours as he has already appeared in court on serious charges in three separate cases this year. Luckily, this will further decrease the EFF's already waning support base," says Reiner Duvenage, Campaign Officer for Strategy and Content at AfriForum.
Members of the public can follow the court proceedings live on Newzroom Africa's platforms.