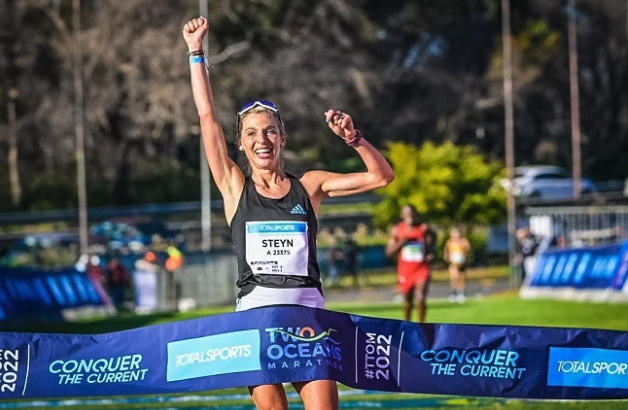 Tokyo marathon Olympian Gerda Steyn showed why she is queen of the South African roads when winning a third consecutive Two Oceans Marathon title in record time on an idyllic Easter Sunday morning in Cape Town.
The 32-year-old became the first athlete in 22 years to claim a hat-trick of victories in the 56km race and she became the first woman to dip under three-and-a-half hours. Her time of 3:29:42 was nearly a minute quicker than Frith van der Merwe's previous course record of 3:30:36.
"The record stays home. I'm really proud and humbled by that," she said. "It was very tactical. I've been focusing on marathons over the past few years so I didn't always feel so strong, but it worked out."
It's official – our TRIPLE CROWN QUEEN IS HOME! What a smart race from our #TTOM2022 Queen, @gerdarun who made good on her promise to DEFEND HER TITLE AT ALL COST! Yaaaaaaassss, Queen! 🥇🎉 pic.twitter.com/pAUlFq1jdi

— Totalsports Two Oceans Marathon (@2OceansMarathon) April 17, 2022
Irvette van Zyl, who held the lead for a big part, was 49 seconds behind Steyn in 3:30:31, which was also under Van der Merwe's record from 1989. In that year Van der Merwe finished 22nd overall.
In the men's race, Ethiopia's Edndale Belachew fought off a brave challenge from Nkosikhona Mhlakwana. The KwaZulu-Natalian looked to have the race in his keeping, but a late surge from Belachew saw him finishing three seconds behind the visitor, who triumphed in 3:09:08.
POST-RACE PRESS CONFERENCE: Ethiopian Edndale BELACHEW – TTOM2022 CHAMP: I'm extremely happy, because due to coronavirus I haven't had much opportunity to run, and it's my first time ever to run in an Ultra. Since the start I was feeling relaxed and confident; pic.twitter.com/KyqjuFSy65

— Totalsports Two Oceans Marathon (@2OceansMarathon) April 17, 2022
After a thrilling 2KM shoulder-to-shoulder chase to the finish line, it was Belachew who CONQUERED THE CURRENT after 56 km in the Totalsports Two Oceans Marathon 2022! #TTOM2022 pic.twitter.com/UAkVMaPD0E

— Totalsports Two Oceans Marathon (@2OceansMarathon) April 17, 2022
Source: TeamSA