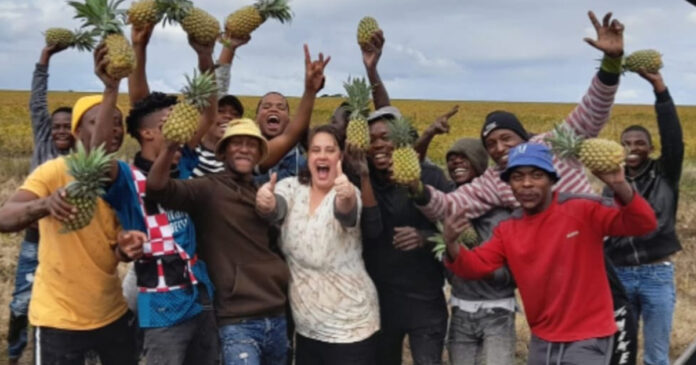 South Africans are going crazy for a wonderful story of uBuntu in action that's contributing some hope and joy in a time of sadness and loss, as KwaZulu-Natal (KZN) residents rebuild and recover from the floods.
Monique Michelle Gottschalk and her husband Ernst Gottschalk, who moved to Hluhluwe in KwaZulu-Natal (KZN) last year, were on their way to visit her family in Potchefstroom in SA's North West province when "Google Maps made us take a 'shortcut' via a farm road".
Like many parts of KZN, the area had received a LOT of rain. (According to Cogta, the province experienced 300 and 400 millimetres of rain within 24 hours… compared to the usual 102 millimetres in the whole month!)
Monique says: "We decided to turn around back to the gravel road and BOOM! We got stuck in mud. We tried everything."
They were stuck for hours, she says. "The mud was like quicksand and soon we were shin-deep in it trying to get our car out with wood pieces, rocks and straw we found next to the road. NO luck."
The couple ("happily married for two years ? ? ?" she told SAPeople) called roadside assistance, but assistance couldn't reach them because of an overflowing river. And then the angels arrived!
"In the distance my husband sees a taxi… he runs to them barefoot and dirty to ask for help. The taxi drives to where we are and parks. Like the exodus in the Bible, everyone got out of the taxi and heaved our car out of a metre of wet mud.
"We were so overjoyed we opened our boot and gave everyone pineapples from Hluhluwe for a kind deed we can't really repay. Thank you guys for being our angels and brothers (yesterday)!!!"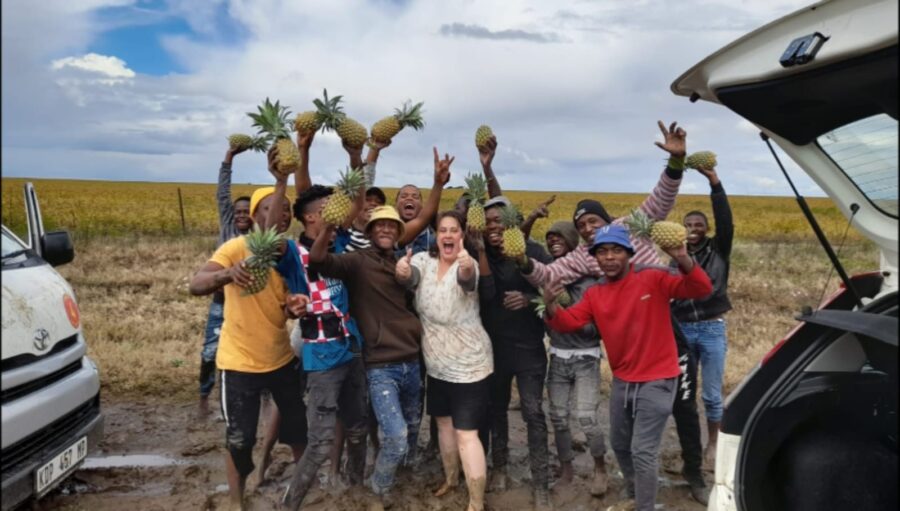 Monique posted the above fabulous photo, packed with pineapples, mud and so much happiness. "This was us, full of joy and covered in mud. We love you South Africa!!!! #imstaying" said Monique.
On reading her post, many South Africans have shared their own stories about the kindness and compassion of taxi drivers (and their passengers!). Monique says: "They really were our angels right there, and we were so privileged to receive such kindness ??? they are a wonderful example to us all!!!!"
One social media user quipped: "With all the goodwill, I still have a lot of hope for SA. Not much hope for Google maps though?"
And those beautiful pineapples that the couple gave to their taxi angels meant so much more than meets the eye. Monique says: "Of course we would have given (the Taxi angels) cash if we had any. At that moment all we had were the pineapples. We were on a dirt road in the middle of nowhere… The pineapples were Gwanzi Queens from our new home in Hluhluwe, a special type of pineapple that you only get from that area. They were supposed to be gifts for my mom, dad and sister. They may be mere pineapples to yourselves, but this is the first time my husband and I could afford to bring any gifts home; and those special pineapples represented our new life in Hluhluwe. My hubby was a student up until now and my salary never allowed us to buy gifts before. Those pineapples, however meagre to others, meant something to my husband and me and that was why I joyfully gave them to those wonderful guys (yesterday) ❤"
Monique shared her story with SAPeople, saying: "?❤  if the story can inspire others to personify Ubuntu we will be delighted… ❤ ❤?????? long live RSA!"