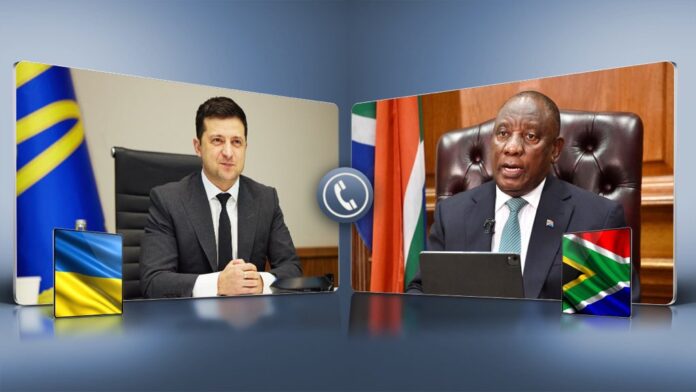 Ukraine's President Volodymyr Oleksandrovych Zelenskyy announced last night that he had a phone call with South Africa's President Cyril Ramaphosa, in which they discussed Russia's "aggression" and other matters.
The 20-minute phone call comes seven weeks after the SA President chatted on the phone to Russia's President Vladimir Putin.
Zelenskyy said: "Had a phone conversation with @CyrilRamaphosa. Told about our resistance to Russian aggression. Discussed the threat of a global food crisis, deepening relations with the Republic of South Africa and cooperation within international organizations."
Today, at around midday, Ramaphosa confirmed the call in a tweet that did not mention Russia or its aggression, and instead referred to the "conflict in Ukraine".
The South African president tweeted: "I had a telephone conversation with President @ZelenskyyUa of Ukraine to discuss the conflict in Ukraine and its tragic human cost, as well its global ramifications.
"We agree on the need for a negotiated end to the conflict which has impacted Ukraine's place in global supply chains, including its position as a major exporter of food to our continent. President Zelenskyy anticipates closer relations with Africa in future."
South Africans' reaction to Zelenskyy Ramaphosa phone call is mixed
Not all South Africans were impressed with the news. One social media follower with over 1,000 followers said in a tweet to President Zelenskyy: "As a South African. I would like to remind you and the people of Ukraine that we are already in a relationship with Russia through BRICS and not interest in Isithembu. You have to stop flirting with NATO if you want to mingle with us. I am giving it to you straight. Thank you."
However, many others celebrated the news. One said: "Took @CyrilRamaphosa long enough, but finally! As a South African, I stand with Ukraine and hope for your victory and glory to be the peaceful, democratic and sovereign country you have been. #SlavaUkrayini #WeStandWithUkraine 🇺🇦🇿🇦"
Another said: "🇿🇦 🇺🇦 I hope this is the first step for our country to be on the right side of history, I stand with Ukraine."
But for as many South Africans who said they stood with Ukraine, there was an equal number who said: "I'm South African, I stand with Russia."
Had a phone conversation with @CyrilRamaphosa. Told about our resistance to Russian aggression. Discussed the threat of a global food crisis, deepening relations with the Republic of South Africa and cooperation within international organizations.

— Володимир Зеленський (@ZelenskyyUa) April 20, 2022
I had a telephone conversation with President @ZelenskyyUa of Ukraine to discuss the conflict in Ukraine and its tragic human cost, as well its global ramifications. pic.twitter.com/hDtGOJ56DU

— Cyril Ramaphosa 🇿🇦 (@CyrilRamaphosa) April 21, 2022