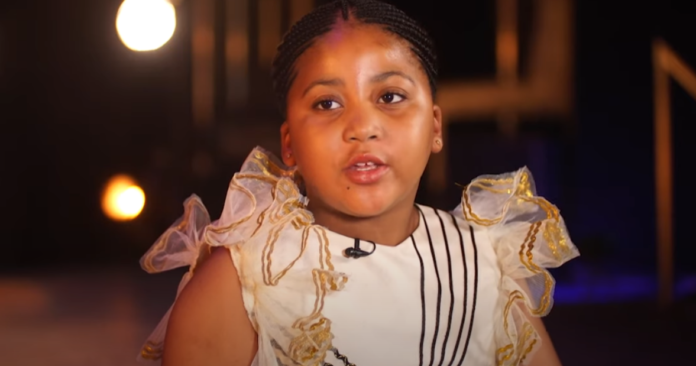 Remember that amazing video that went viral at the end of last year, of a nine-year-old Eastern Cape schoolgirl performing Franz Schubert's classic Ave Maria? The nation fell in love with her and she caught even President Cyril Ramaphosa's attention. Tonight Carte Blanche meets Gugulethu Ndzendze, who is fast becoming one of South Africa's rising stars.
You can watch the show on Sunday 24 April in South Africa on DStv Now or stream it overseas in most countries from 26 April if you're abroad.
It started as nothing more than proud parents posting a video of their daughter online. But as more people started listening to the little girl with a very big voice, it soon became clear that Gugulethu (nicknamed Gugu) is no ordinary nine-year-old.
With the confidence of an accomplished maestro, and an extraordinary command of the stage, Gugulethu is hitting the high notes and claiming her place as the country's next opera sensation. (Producer: Sinethemba Nogude | Presenter: Claire Mawisa)
Also coming up on Carte Blanche this Sunday
"'We've been invited on a police raid', we were told.  'Should be an action-packed story.'  That, or something like it, is what we were pitched by one of our ace producers.  Well, that 'police raid' turned out to be a carefully planned, multi-agency sting operation to shut down an illegal chrome mining enterprise. Action-packed?  You'd better believe it.  I don't think there's been a Carte Blanche story like it, » says John Webb, Executive Producer.
In the North West, some major mining operations have been overrun by sophisticated criminal enterprises. They've become more brazen, using heavy-duty equipment to move the stolen minerals by truck along national highways. They've operated with impunity, unfazed by mine security, and law enforcement officials seemingly powerless to step in – until now.  Through the combined efforts of the South African Air Force, SAPS, Hawks, and private security, a months-long, intelligence-driven operation has been launched to take down one such syndicate.  And Carte Blanche has been granted a rare opportunity to film this high-octane, drama-filled bust. (Producer: Nicky Troll | Presenter: Macfarlane Moleli)
Watch the show overseas | Watch in SA on DStv Now
The Master's Office – probably one of the most powerful institutions in the country that you rarely, if ever, think of.  It's here that deceased, insolvent estates and trusts are processed. But something has been amiss in the liquidations division, and recently two high-ranking officials were suspended in the Master's Office in Pretoria. Simply doing their jobs, they say their suspensions are based on trumped-up charges and allege there are powerful political forces that want them gone. Carte Blanche goes in search of answers as more high-profile state capture companies fold. (Producer: Joy Summers | Presenter: Bongani Bingwa)
Watch the show overseas | Watch in SA on DStv Now
Carte Blanche has chased down many crooks over the years. But this Sunday, the show brings you a chase of epic proportions involving helicopters, motorbikes, SANDF soldiers, and Macfarlane Moleli in a bulletproof vest… Watch the trailer below and be sure to join Carte Blanche this Sunday at 7pm for this two-part special.
Watch the show overseas | Watch in SA on DStv Now
If you're in SA – you can watch Carte Blanche on DStv Now.
If you're overseas – you can watch #CarteBlanche from Tuesdays, and thousands of other popular local South African shows & movies by subscribing to Showmax International now. You can try it FREE for 14 days. 
Carte Blanche is on M-Net & M-Net HD [101], 24 April 2022  at 19:00 & & again on M-Net Plus 1 [901] at 20:00
***
Please note: Carte Blanche is only available to international Showmax subscribers in Andorra, Australia, Austria, Belgium, Denmark, Finland, France, Germany, Greece, Iceland, Indonesia, Ireland, Italy, Liechtenstein, Luxembourg, Malta, Monaco, Netherlands, New Zealand, Norway, Portugal, San Marino, Spain, Sweden, Switzerland, United Kingdom. Not all titles are available in all territories. Showmax brings you the best South African series and movies, from the classics to the latest releases, from complete box sets to kids' favourites.