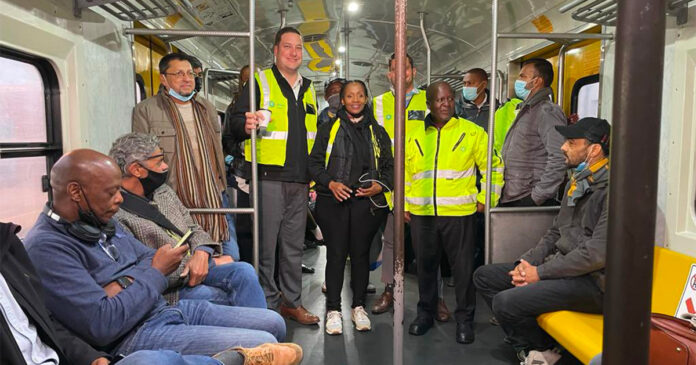 Cape Town Mayor Geordin Hill-Lewis has announced that the City of Cape Town "is now ready to proceed with a detailed feasibility study for the devolution of the metropolitan rail function to this metro."
In other words, Cape Town has finally been given the green light by SA's National Treasury  to look at localising its passenger rail in the city. Cape Town Mayor Geordin Hill-Lewis said today: "This is a big deal, because up until now, the national government had tried to block the feasibility study. There is a new wind blowing, we hope. I want to thank (Finance) Minister Godongwana for the national government's encouraging and supportive letter."
Financial Times correspondent Joseph Cotterill tweeted: "A feasibility study on this (may) not sound like much, but it is a big deal given the scale of the decline under national management."
The decline includes a drop from 33 operational train sets in 2020 to 95 train sets in 1995.
Hill-Lewis said the government's rail service – Passenger Rail Agency of SA (Prasa) – has reached crisis point in Cape Town.
In June 2019, Prasa was operating 444 train trips on a weekday in Cape Town, whereas in early 2020, (pre-pandemic) this had dropped to 270 daily trips, and this year there are no more than 153 train trips across the city on a weekday, a 66% reduction in availability of the service.
The DA has welcomed the announcement that will put the "crucial transition" into motion.
Tertuis Simmers – DA Interim Provincial Leader, Western Cape – said in a statement on Thursday that the metro railway system in Cape Town has fallen in decay and has not been functioning optimally for many years.
Fighting for the devolution had been one of the DA's 2019 election promises, believing that "our railway system would perform better if it is locally managed".
He said "we are delighted at this announcement and look forward to the work that will soon begin to get our trains up and running again, so that residents are presented with alternative transport.
"We wish to thank the Mayor of Cape Town, Geordin Hill-Lewis, and his team, together with Mayco member for Urban Mobility, Rob Quintas, for the hard work they have done to bring better services to the people."
On Twitter, when asked to reinstate transport police to address vandalism and cable theft, Hill-Lewis replied: "The railway police was a unit under the SAPS but they were disbanded and combined with the general SAPS. We have been fighting for them to be brought back."
The mayor said: "As with ending load-shedding, projects of this ambition take time, and so it is essential that we start immediately. We have already issued the tender and the work will begin as soon as the new financial year begins on 1 July this year. I do not think this first part of the project needs to take a long time and I know that our Mayoral Committee Member for Urban Mobility, Cllr Rob Quintas and his team will ensure not a second is wasted here. Let's get it done as quickly as possible, so we can move on with getting the trains working."
He added: "I am a huge believer in this beautiful country of ours. I know that we face many challenges as a nation but I am convinced that, if we work hard, we can fix any problem.
"It starts here at local level. I want Cape Town to become the standard-bearer for good government in South Africa; a place where things work and every citizen is given a fair chance to live a better life.
"That does not mean we are in competition with other spheres of government. We are all South Africans, and we should all want our country to succeed.
"It is my hope that Cape Town is given the space and the resources to show South Africa what good governance looks like. We will do this by collaborating with our colleagues in national and provincial government, and sharing knowledge and expertise with other cities.
"I fully intend for this City to take greater control of its own destiny as envisaged in the Constitution. Let us be a beacon of hope for every citizen of this magnificent country."
🚨[BREAKING] City of Cape Town's Mayor, Geordin Hill-Lewis, announces first steps for taking over the metro rail system. This is great news for residents that need alternative transport to their places of work #DAdifference #DAatWork pic.twitter.com/N6RXM7hmnV

— DA Western Cape (@WesternCapeDA) April 28, 2022
Cape Town announces the first steps to take over the rail network in the city. Treasury gave the go-ahead for a feasibility study to take over the rail function. #eNCA's @MoniqueMortlock spoke to the mayor, Geordin Hill-Lewis. #DStv403 pic.twitter.com/GU5Q7rX6cz

— eNCA (@eNCA) April 28, 2022