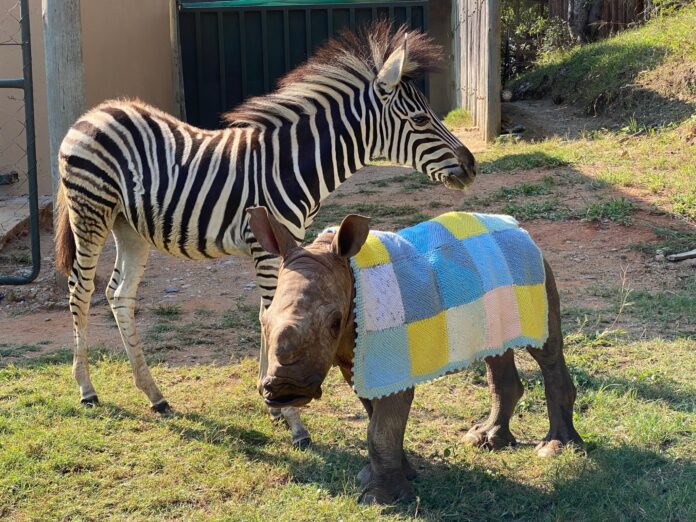 This afternoon, two of South Africa's most famous best friends will be appearing live on Facebook… to the delight of their fans around the planet, and in a bid to raise funds for the world's largest orphaned rhino sanctuary, Care for Wild Rhino Sanctuary in SA.
The BFFs are baby zebra Modjadji and baby rhino Daisy, whose story of friendship and survival has captured the hearts of animal lovers worldwide. They've been featured in Newsweek, and during a live broadcast on ABC's wildly popular Good Morning America show this week.
This afternoon fans around the world are invited to join Care for Wild Rhino Sanctuary's first LIVE event, hosted exclusively on Facebook.
Viewers will be able to join the sanctuary's amazing Petronel Nieuwoudt, along with Daisy and Modjadji, in the Intensive Care Unit for a glimpse of their late afternoon routine.
« Weather permitting, you will follow us on their afternoon walk and playtime as Petronel retells their rescue stories. You will then join us for their 17:00 feed before we tuck them into bed for the night, » says the sanctuary.
Their poignant story began when Modjadji was abandoned after heavy storms in November. (Modjadji means rain queen.) Although Care for Wild is a rhino sanctuary, the beautiful humans couldn't bear to ignore the little zebra – who was just a few days old, and so they rescued the animal who was « a little smaller and stripier » than their usual patients!
Modjadji met and befriended another little rhino in ICU, Aquazi, who became strong enough to leave ICU… leaving Modjadji alone… until Daisy was admitted. Daisy still had her umbilical cord attached (leading rescuers to believe she may have been orphaned after an intense period of poaching in the area, where dozens of rhino were horrifically killed to satisfy a market in countries like China and Vietnam where rhinoceros horn is mistakenly believed to have medicinal value, and where the horn is also regarded as a status symbol rather than proof of the shocking murder of an innocent animal).
Modjadji and Daisy became inseparable friends – giving each other the comfort and companionship they each needed to survive and thrive.
Care for Wild Rhino told Newsweek: "Modjadji is amazing company for Daisy and very affectionate towards her. She is a friend that can be with her 24/7 and this in turn helps to prevent too much human contact with Daisy."
The baby rhino's remarkable recovery is in large part due to the kindness of her human caregivers and her BFF… although, hopefully, they will not be best friends forever. In approximately three years' time, Daisy should be ready to join a rewilding programme and return, like Mogli, to where she belongs; and Modjadji to a herd of zebra.
For now though, Daisy belongs beside Modjadji, the perfect playmate. The other orphaned rhinos are too boisterous for her at this stage in her recovery. Now at 4-months-old, she will remain in ICU where she needs to drink milk for at least 17 months.
Funds raised from today's Facebook event will go towards Care for Wild Rhino Sanctuary's winter food drive as they urgently need to purchase teff, lucerne, pellets and milk for the orphans for the coming months.
Every orphan's survival is paramount in the survival of the species. White rhino are 'near threatened' and black rhino 'critically endangered'.
Join the live event today:
https://www.facebook.com/events/686650032598079/
« We hope that you will join us and we look forward to seeing you there! » say Daisy and Modjadji's caretakers!
4 months old today! ?

Today Daisy is 4 months old! What a crazy few months it has been with this little sample sized rhino baby.
Since her arrival on 9th December, she has made certain that the Intensive Care Unit staff understand the concept of 24/7 care!#rhino#careforwild pic.twitter.com/PriMlV5TxL

— Care For Wild Rhino Sanctuary (@CareforWild) April 12, 2022
The videos from Live broadcast on the ABC Good Morning America show https://t.co/zeEOfnE44j https://t.co/sPA7hBqZRd

— Care For Wild Rhino Sanctuary (@CareforWild) April 26, 2022
?️The #Rhino Man #Podcast Ep 9: Petronel Nieuwoudt – @CareforWild and the collective passion for saving the rhinos.

Subscribe, Like, and Review on #Spotify and #ApplePodcast today!https://t.co/T8DmfQh5ys

#rhinos #rhinoorphanage #rangers #rhinoman #conservation #wildlife pic.twitter.com/kRZGnl2m4Y

— RHINO MAN (@Rhinomanmovie) April 6, 2022