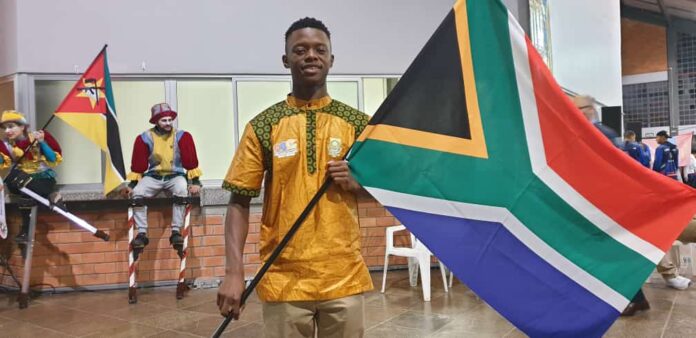 Amkele Qamrana, who carried the flag for Team SA at the opening ceremony of the Deaflympics in Caxias do Sol in Brazil, is in the water again on day 3 of the Games today.
Yesterday the teenager placed 24th overall in the 50m butterfly in a personal best 32.44 seconds. Today he competes in the 50m breaststroke, his favourite event.
The Games were originally scheduled to take place in December 2021 but were postponed due to the Covid-19 pandemic. Qamrana also carried the country's flag in the opening ceremony.
Team SA's Deaflympics representation is: Aobakwe Mphahlele (athletics), Obakeng Tlhako (athletics), Amkele Qamrana (swimming), Nirmal Kanjee (swimming), Charles Williams (golf), Jay-Jay Botha (golf), Cedric Touzard (golf). Tadhg Slattery (Chef de Mission and Manager Swimming), Amos Mashele (Manager Athletics)
Source: TeamSA