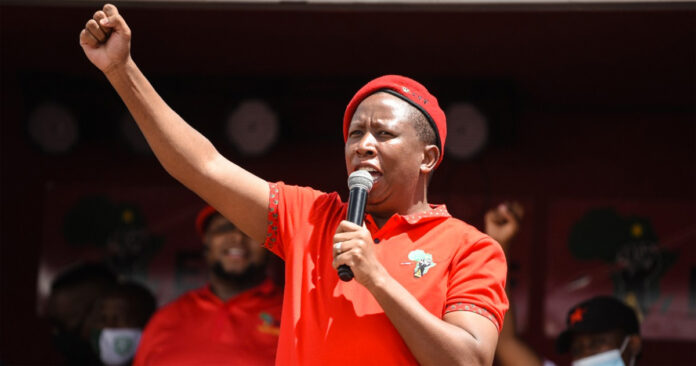 The case of assault against EFF leader Julius Malema and EFF MP Mbuyiseni Ndlozi was once again plagued by peculiar events today, according to AfriForum.
The alleged assault of SAPS Colonel Johannes Venter took place at Winnie Mandela's funeral in 2018. After the state's final witness could not testify due to illness in April 2022, the case was postponed until today.
However, the final witness was again unable to attend court and submitted a medical certificate. The state applied for further postponement of the case.
AfriForum said that during a judgment of the Criminal Procedure Act, the magistrate remarked that because the original charge sheet was unavailable and apparently lost that it was impossible for the court to ascertain who delayed the process in the past. Therefore, the magistrate had to make a decision based on the arguments before him today and refused any further postponement, despite mentioning suspicious factors with regard to the medical certificate.
After the state closed its case in line with the court's ruling, the court on application of the defence postponed the matter for purposes of an application for a discharge until 3 June 2022.
AfriForum became involved in the case after the National Prosecuting Authority (NPA) seemed initially hesitant to prosecute the involved individuals. Thereafter, the civil rights organisation's Private Prosecution Unit involved itself in the investigation and was able to provide a copy of the case docket, as the original case docket and the original charge sheet were lost or disappeared, AfriForum explained in a media statement on Friday.
Following this, the state announced that it would indeed be prosecuting and AfriForum's legal representatives accepted a watching brief in the case.
"AfriForum is concerned that the EFF held political rallies throughout the trial on the court premises. Members of the EFF were also spotted with golf clubs while attending the rally today. This can be interpreted as an intimidation tactic. Furthermore, we find it remarkable that the defence indicated to the court that due to the unreasonable delay in the case it was ready to proceed with an oral application in terms of Section 174 to acquit the accused without having to testify. Yet, after the state closed its case, the defence indicated it was suddenly not ready to proceed with the oral application and postponement was granted to submit heads of argument," says Reiner Duvenage Campaign Officer for strategy and content at AfriForum.
"Through its own actions the EFF continues to expose itself as a hateful and dangerous phenomenon in the political landscape. Malema and Ndlozi should be held accountable for their actions like any other member of society. AfriForum will continue to fight against politicians who see themselves as above the law," said Duvenage.