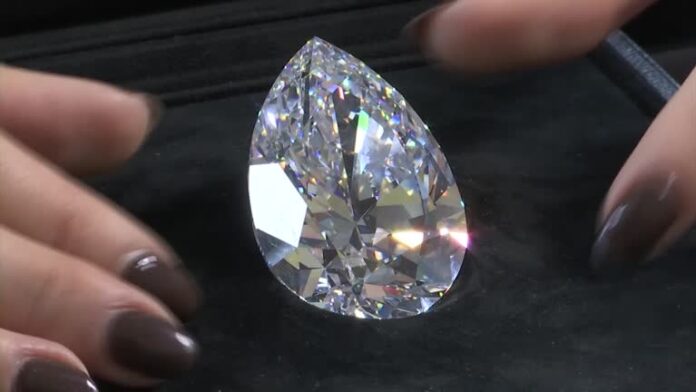 A 228.31-carat white diamond called 'The Rock' – that was discovered in South Africa 20 years ago – has sold for a whopping $21.8-million at a Christies auction in Geneva, Switzerland, today (Wednesday, 11 May 2022). The Rock is the largest white diamond ever seen throughout auction market history.
The white gemstone was mined and polished in SA over two decades ago, and it had been estimated that it would sell for somewhere between $20-m and $30-m.
The sale began at 14 million Swiss francs ($14.1 million) to quickly reach 18.6 Swiss francs. With the auction house commission, the successful bidder bought the stone for a total of $21.863.033.
Rahul Kadakia, international head of jewelry at Christie's told Reuters before the auction: "I've been here 25 years. Christie's has been here 256 years. And in all this time, this is the largest stone in this shade that we have for sale."
Another remarkable diamond, the 'Red Cross' – also from South Africa – was also sold during the auction, The Red Cross is a historically important fancy intense yellow, cushion-shaped 205.07 carat diamond, which went off for 14.2 Swiss francs ($14.3 million), way above its estimated selling price of between $7 to $10 million.
Part of the proceeds from the sale of the 'Red Cross' will go to the International Red Cross.
"The Red Cross Diamond… was mined in 1901, at the DeBeers mine also in South Africa and sold in 1918 at Christie's London at the Red Cross auction during the war," Kadakia said, adding it "achieved £10,000 ($12,500) when the entire auction achieved £50,000 ($62,500). It then came back for sale at Christie's in Geneva, this time in 1973, where it achieved 1.8 million Swiss Francs ($1.8 million)." Today was the third time in 104 years it has come up for auction.
The fancy brilliant-cut diamond gets its yellow color from nitrogen atoms.
It is rare to have two such large diamonds – both over 200 carats – at an auction, and both from South Africa.
Source: Reuters