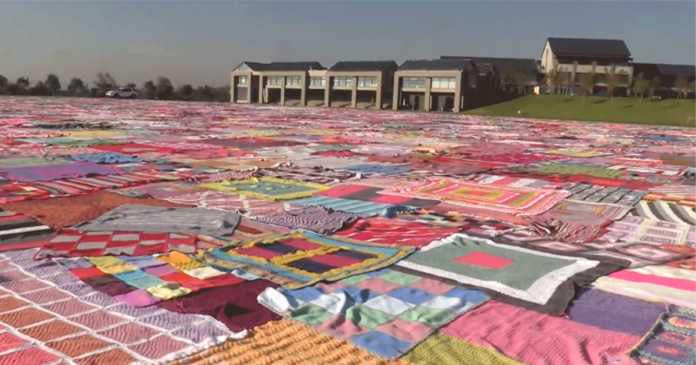 67 Blankets for Nelson Mandela Day had its big Rainbow Nation Blanket of Hope reveal today at Steyn City School in Gauteng… and it sure was BIG.
Thanks to just over 4,500 pieces of fabric woven with love by volunteer 'KnitWits' around South Africa, and donated in solidarity, the South African NGO today deployed a multi-coloured knitted and crocheted blanket of 6 square kilometres that will soon give shelter to the neediest people in the country as the winter months approach.
67 Blankets was founded in 2015 by Carolyn Steyn as a tribute to South Africa's former President, the late Nelson Mandela, with each blanket comprising knitted and crocheted squares of hope.
Footage in the video below of the reveal includes soundbites from Carolyn Steyn – who was recently honoured with the French National Order of Merit – and Amany Asfour who is President of the International Federation of Business and Professional Women and the African Alliance for the Empowerment of Women.
The beautiful 67 Blankets project is undertaken in partnership with Gift of the Givers who will distribute to people ahead of what's expected to be a bitterly cold winter. Also on board as partners are Médicins Sans Frontières (Doctors Without Borders), Stuttaford Van Lines (which collected the blankets from around the country and transported them to Johannesburg for today's laying-out event) and the Nelson Mandela Foundation.
Carolyn said the massive, colourful 'combined' blanket that was laid out today symbolises the resilience and irrepressible spirit of the South African people during a difficult two years of Covid-19 and lockdowns.
"This year, we look forward to honouring all our frontline workers, who have worked so tirelessly and selflessly through the pandemic," says Steyn.
The 67 Blankets initiative has received a number of accolades over the years, including holding a Guinness World Record. JOIN 67 BLANKETS. 
WATCH 67 Blankets' Rainbow Nation Blanket of Hope Reveal, May 2022
Video Source: Reuters / EFE/EPA, Camera: Kim Ludbrook
WATCH Carolyn Steyn awarded Knight of the French National Order of Merit
At the end of March, Carolyn, its founder and champion, was awarded the Chevalier de l'Ordre national du Mérite (Knight of the French National Order of Merit) by the French ambassador to South Africa, Aurélien Lechevalier, for her contribution to the deepening of cultural ties between France and South Africa. Her dedication to improving the lives of others, in the form of her cherished 67 Blankets initiative, was also recognised.