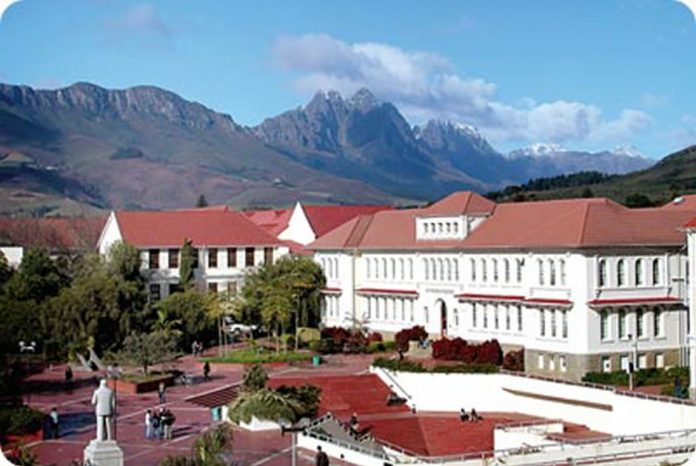 A white student at Stellenbosch University in the Western Cape, South Africa, has allegedly urinated over a black student's room, claiming this is what 'they' do to black students.
The white student has reportedly apologised to the black first-year student, but the video of the repulsive incident has gone viral, and many outraged South Africans are calling for the white student to be expelled, and for parents to raise their children to behave better than this.
The incident took place at Huis Marais on the Tygerberg campus yesterday (15 May) at 4am. According to social media users, the white student was drunk, although – as many pointed out – that is no excuse. The victim was allegedly sleeping.
Ian Cameron, Director: Community Safety at Action Society, said: "The #StellenboschUniversity student that urinated on another student's belongings is barbaric to say the least. He should not only be expelled but also be formally charged for whatever possible. It disgusts me that we share this earth with people like that."
The Tygerberg Students' Representative Council (TSRC) said in a post on Facebook on Monday afternoon, that following the SRC's preliminary statement, it "would like to assure Tygerberg students of its solidarity against acts of racism and discrimination and will collaborate with the SRC to ensure that this is dealt with institutionally.
"Subsequently, this matter will be critically engaged on with the Tygerberg Student Union to thoroughly discuss issues of racism and discrimination within the Tygerberg Context and further promulgate a zero-tolerance environment for all Tygerberg students.
A white student urinates all over a black first year students room, claims this what 'they' do to black boys. I cannot keep quiet about this, justice need to be served. I urge you to play your part so this cannot be covered up pic.twitter.com/kbPVZuP6YT

— Simangaliso (@Wanda_Smash) May 15, 2022
A protest was held this afternoon on campus grounds, and the perpetrator was asked to leave the premises, and has been suspended.
— awonke. (@awonke_nt) May 16, 2022