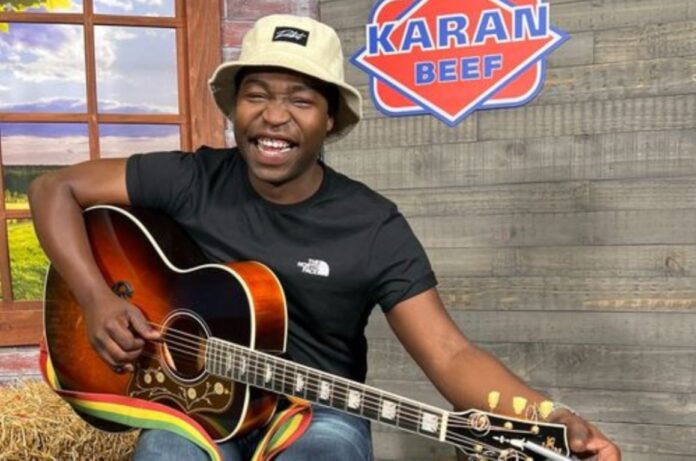 One day in 2015, wearing his PT vest and shorts, a young man named Refentse Morake stood on the pavement outside his parents' home in the suburb of Unitaspark in Vereeniging, the riverside town where a treaty was signed with the British Empire to end the Second Boer War in 1902… writes renowned SA writer Gus Silber.
Refentse was just 17, a matric student at Vereeniging Gimnasium (motto: "Strewe Na Sukses"/Strive for Success), and he was taking a break from studying for exams, unwinding in the way he knew best, by singing and playing his guitar.
His mother had told him to take his music outside, so he could enjoy some fresh air, and she could enjoy a little peace and quiet.
So there Refentse stood, caressing arpeggios from the quivering strings, as he sang a song invoking the spirit of a Boer War field commander whose name had become enshrined in legend for his exploits against the Khakis.
"De La Rey, De La Rey," sang Refentse, "Sal jy die Boere kom lei? De La Rey, De La Rey, Generaal, Generaal, Soos een man sal ons om jou val, Generaal De La Rey".\
His voice, rich and warm with vibrato, resonated on the quiet suburban street, catching the ear of a neighbour from five houses up, who was walking on her way to a neighbourhood watch meeting.
Cecilia Morchionna, better known as Tannie Kleintjie, stood and watched, captivated by Refentse's faithful rendition of the famous Bok van Blerk ballad. She lifted her phone to her face.
She asked Refentse if she could post the video on Facebook, and he smiled and nodded, thinking to himself, as he would later recall, it's no big deal, she's probably going to share it with five of her friends.
But Tannie Kleintjie's friends had friends, and their friends had friends, and by the end of the first day, the video had logged 30,000 views, and within four days, it had logged 160,000, landing him on the cover of Beeld, and earning him a spot at the Klein Karoo Nasionale Kunstefees in Oudtshoorn. (SAPeople was the first media outlet to report on the video and interview Cecilia on that first day – Videos go Viral of Teen with Heartbreaking Voice.)
WATCH Tannie Kleintjie's video of Refentse singing De La Rey:
Refentse Morake, to use a term that is often misused on social media, had gone viral.
Today, at the age of 24, signed to Sony Music Entertainment, Refentse is one of the brightest young stars on the South African music scene, a multiple Ghoema-award winner (the Ghoemas are like the Afrikaans Grammys) and a crowd favourite at festivals, where he introduces himself as, "Refentse, jou vriendelike swart Afrikaner" (Refentse, your friendly black Afrikaner).
I had the pleasure of meeting and chatting with Refentse today, on the set of Making the Cut, a talk show with a difference, the difference being that the interviewer is literally a talking bull, at least in puppet form.
I told Refentse how I had first heard his music on his biggest hit, Reisiger, and how just the opening lines, spoken over the whistle of the wind and an echoey guitar lick, had brought tears to my eyes.
"Ek sit op 'n hemel en dink aan die Hemele, weereens besef ek dat ons nie 'n clue het nie, alles is alles, en niks is niks, niks is op soek na alles, en alles is op reis na niks".
He thanked me and said how pleased he was to hear that, even though he probably hears it at least a dozen times a day.
Then I asked Refentse about his rainbow-coloured Puma sneakers, to match his rainbow-coloured guitar strap, and he chuckled deeply at the realisation that he has become a symbol of something bigger than himself.
As he would later tell Beef (the talking bull), Refentse grew up in Sebokeng, in a multilingual household, speaking isiZulu and Setswana in a mostly Sesotho-speaking neighbourhood, although he didn't speak a word of Afrikaans until the day he enrolled at Laerskool Voorwaarts in Meyerton.
His grandmother worked there as a janitor, which meant she could send a member of her family there on a scholarship. She chose Refentse.
He felt out of place at first, but he caught on to the language quickly, so much so that he would grow up to fall in love with it, its cadences, its rhythms, its saltiness, its earthiness, and when he speaks it and sings it, it is just one facet of who he is, a South African, making music that makes you feel good to be able to call this place home.
This post by Gus Silber is republished on SAPeople.com with kind permission.
GUS SILBER is a fantastic South African journalist, author, scriptwriter, speechwriter and tweeter. He "plays with words and sometimes works with them too".
Follow Gus on Twitter: @gussilber, Facebook or Instagram.
To find out more about Making the Cut, visit https://www.facebook.com/makingthecutbeef