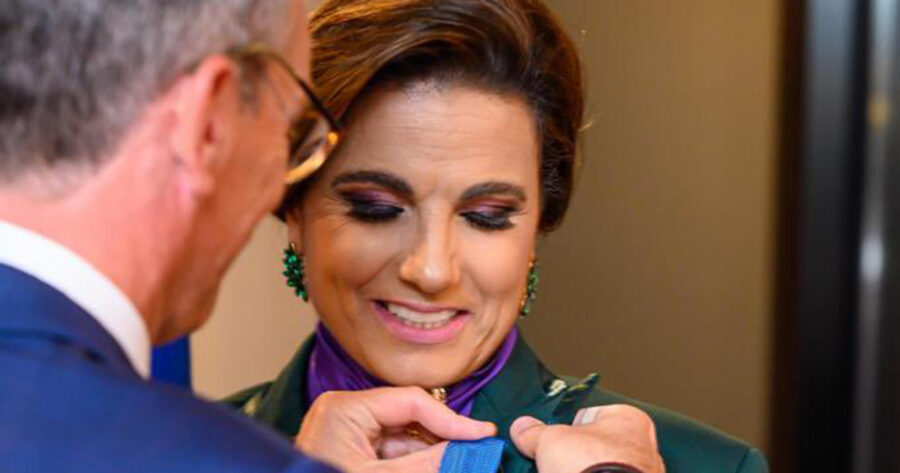 'My Lady' Leanne Manas Receives French Knighthood, and Congrats from Ramaphosa and Government
President Cyril Ramaphosa has sent his "warmest congratulations" to SABC news presenter Leanne Manas who was this week honoured as a Knight of the French National Order of Merit for her immense contribution to journalism, media and charitable causes. The South African president said: "We look forward to many more informative and inspirational mornings with you […]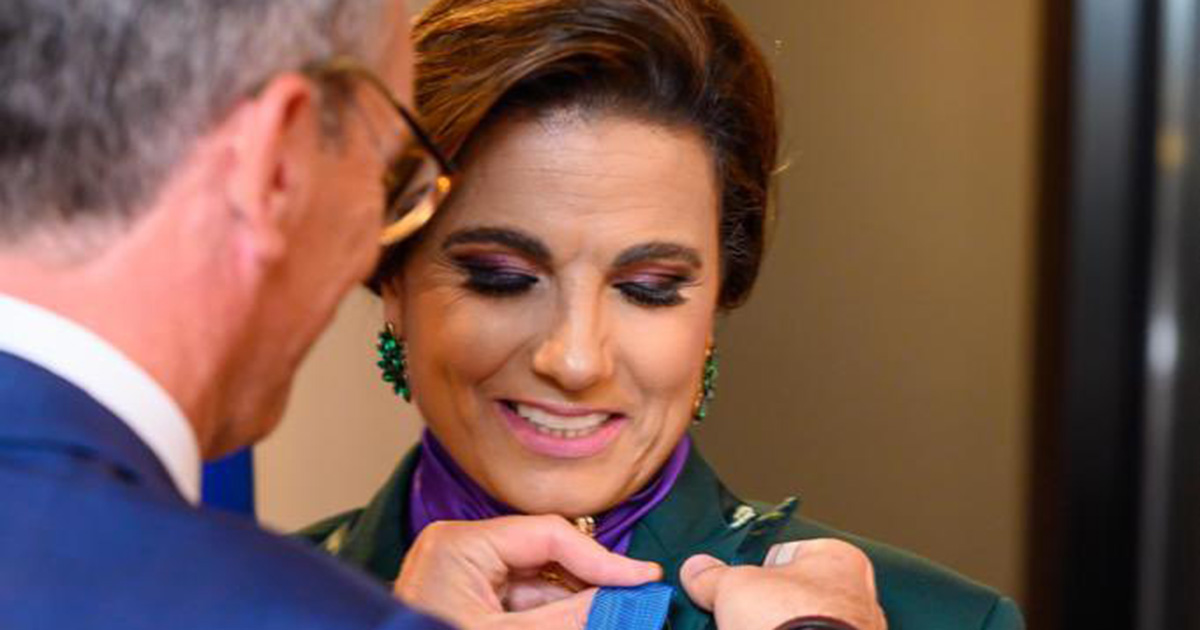 President Cyril Ramaphosa has sent his "warmest congratulations" to SABC news presenter Leanne Manas who was this week honoured as a Knight of the French National Order of Merit for her immense contribution to journalism, media and charitable causes.
The South African president said: "We look forward to many more informative and inspirational mornings with you and your team."
Warmest congratulations to @LeanneManas on being honoured as a Knight of the French National Order of Merit for her immense contribution to journalism, media and charitable causes. We look forward to many more informative and inspirational mornings with you and your team. pic.twitter.com/oWBgIcWhtp

— Cyril Ramaphosa 🇿🇦 (@CyrilRamaphosa) May 19, 2022
The Government Communication and Information System (GCIS) has also congratulated the South African Broadcasting Corporation (SABC) Morning live presenter, who has been hosting the show for almost two decades.
The award, from the French government, recognises Manas's stellar contribution to journalism, media and various important charitable projects that she has worked on.
Ambassador of France to South Africa, Aurélien Lechevallier bestowed the award upon Manas on behalf of President Emmanuel Macron.
When asked how we should now address Leanne Manas, the French Ambassador said: "She's now a knight of the French Republic, you can say 'My Lady' if you want…"
On Friday, GCIS Director-General Phumla Williams said: "We are pleased to see one of our own being recognised internationally, it means that the great work that she does also impacts other people outside of our borders.
"When one of us is recognised by a global audience, we all become very proud because the South African flag is flown high. We acknowledge and appreciate Mana's enormous contribution to the media industry. We have seen her passion coming through every time we watch her on our television screens."
The SA Government said it is pleased with Manas' recognition as it also highlights the key role that the media plays in a democratic society, and in promoting social change.
The SA government said it also notes with appreciation the work that the South African media in general has been doing in covering some of the most important stories in our country, especially during the COVID-19 pandemic.
Manas tweeted a thank you to the French Ambassador and the French President, saying "I am truly humbled by this incredible accolade."
During a television interview with the ambassador, Manas was quick to deflect attention off of herself, and to highlight that the award is for the team and to encourage new journalists to bravely bring the news to people, and to continue the fight for the truth to be told.
The National Order of Merit recognises services and contributions rendered to France by nationals as well as foreigners who have distinguished themselves by their merits.
The French Ambassador said: "Leanne Manas' passion for news and truth is evident. At a time when fake news are becoming more prevalent and journalists who cover important stories in conflict torn countries lose their lives, it is a vital contribution to our vibrant democracies. As such, the government and people of France want to recognize her contributions to the field of journalism and beyond.
"Leanne is also an astute businesswoman, motivational speaker and philanthropist who has a number of charity projects that she is involved in. She was appointed as one of the first UNHCR Ambassadors on the African continent, advocating for refugees and displaced people."
Lechevallier said Leanne has been several times to Paris and has bonds with the French people, including her origins being in Lebanon.
The event took place at Sanctuary Mandela in Johannesburg, the former residence of the late President (who himself was awarded France's highest honour), in memory of the icon and the work Leanne Manas had done for causes that were dear to him.
"To bestow this award to someone who has excelled in their field is a privilege of mine," said Ambassador Aurélien Lechevallier. "Leanne Manas exemplifies what it means to be a true South African who is at the forefront of news and journalism. South Africans wake up with her daily because they trust the news source. They have placed their trust in her as she has anchored some of the most important milestones in this country's history."
Other recent recipients of this prestigious award in South Africa include Aspen CEO Stephen Saad (2019), former youth activist and CEO of the Nelson Mandela Children's Fund, Sibongile Mkhabela (2020), journalist Michelle Constant (2021) and philanthrophist Carolyn Steyn (2022).
WATCH Leanne Manas on being Honoured by France
Thank you Ambassador for the honour and to President @EmmanuelMacron. I am truly humbled by this incredible accolade 🙏🇫🇷🇿🇦 https://t.co/OXz5JTdhnb

— Leanne Manas (@LeanneManas) May 18, 2022
Having all you amazing colleagues there meant so much my friend! https://t.co/xPH0ZbWsiU

— Leanne Manas (@LeanneManas) May 18, 2022
Sources include SABC, SAnews.gov.za and French govt website