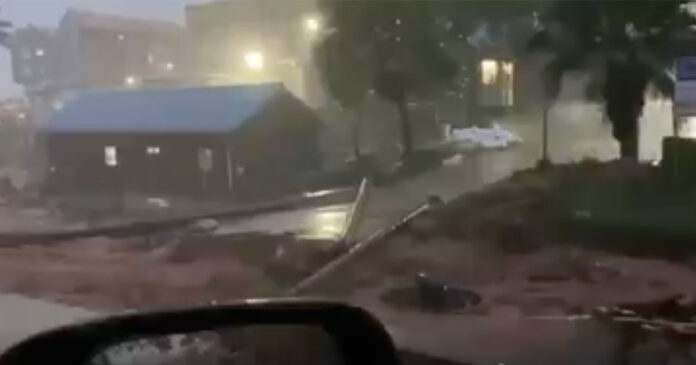 Durbanites have had another sleepless night as torrential rain and subsequent floods are ravaging the region yet again, with more heavy showers expected through Sunday. The KZN residents were still recovering from the devastating floods in April, that claimed the lives of over 300 people.
The South African Weather Service issued a flood warning for KZN on Friday. Late on Saturday this was upgraded from an Orange Level 5 Warning to Red Level 10.
At around 11pm on Saturday night, the KZN Premier issued the following urgent message:
"Fellow citizens, as predicted by the weather services the cold front has hit the Province KwaZulu-Natal. We are currently experiencing torrential rains and some areas are already in danger and flooding.
"We wish to sound warnings to all our communities especially in the Southern part of Durban, the Durban Basin which includes areas such as uMlazi, Wentworth, Isipingo, Amanzimtoti, Westbrook, as well as area in the Northern part including uMdloti, Tongaat.
"We are responding and evacuating 190 people from Tehuis to SJ Smith Hall. We are evacuating people from Othongathi Water ways with the help of SANDF.
WATCH Umdloti on Saturday evening
"We urge communities living near river banks to monitor the rivers and evacuate immediately if they notice the river rising. We urge anyone in risk zones at the moment to evacuate. We make a call to all our councillors to be on the ground and to feed information on any areas that need emergency response.
Snowfall warnings and delay travelling
"We are also being warned about the snowfalls and that this inclement weather will from tomorrow move towards the north coast affecting areas such as Richards Bay, Empangeni and others. We are monitoring the situation on the M7 and advise everyone to delay travelling on the roads at the moment.
"All disaster teams are on the ground and we urge all of us to play our part as disaster management is everybody's business.
SANDF assisting
"Fortunately the Defence force SANDF is here and will be able to assist us. Road closures have been effected and we are urging citizens to take heed and make sure you are safe. If you reside in a flood prone area and you are asked by Authorities to evacuate, please obey. We want you to be safe."
Pray for kzn #Road washed away in Umhloti Beach. #KZNFloods #KZNFloods2022

Videos belong to Judy van der Westhuizen pic.twitter.com/4zthlGloij

— vukosi baloyi ?? (@vkai27) May 21, 2022
Social media page What's on Durban said: "As we try and get some sleep our thoughts and prayers are with everybody in KZN? Stay safe and a massive thank you to all our emergency teams working through the night?"
"It's so scary being here right now…"
One resident, @Luvo_Zulu tweeted: "I'm at Umlazi and it's pouring, I am constantly going outside to check the damage, it's so scary being here right now and I'm alone ?"
The KZN Premier said: "All emergency systems are in place and ready to assist you once the need arises.
"You can contact the Disaster Operations Centre, by calling. 033 8973963 or 0664752308
Let's work together to get through this terrible situation which is adding salt to an open wound. We have lost many lives.
"Let us save lives and get through this disaster alive."
WATCH Video Latest Durban, KZN Floods, South Africa
We pray that we survive through the night #KZNFloods pic.twitter.com/gWaWOXhfv2

— XolanAfrika (@BenguXolan) May 21, 2022
?️The cut-off low system is still causing widespread rainfall in the east this afternoon and evening especially along the KZN coast where the Impact Based Warning was increased to a Level 10. Another cold and showery day in the east on Sunday (22 May 2022). pic.twitter.com/muEOPZCJgD

— SA Weather Service (@SAWeatherServic) May 21, 2022
You should have cleaned the f_cking drainage system soon after the floods in March 2022 … All that debris is still clogging the drains. F_CK YOU! #KZNFloods2022 https://t.co/IppquAFBZe

— S (@SunflowerSrina) May 21, 2022