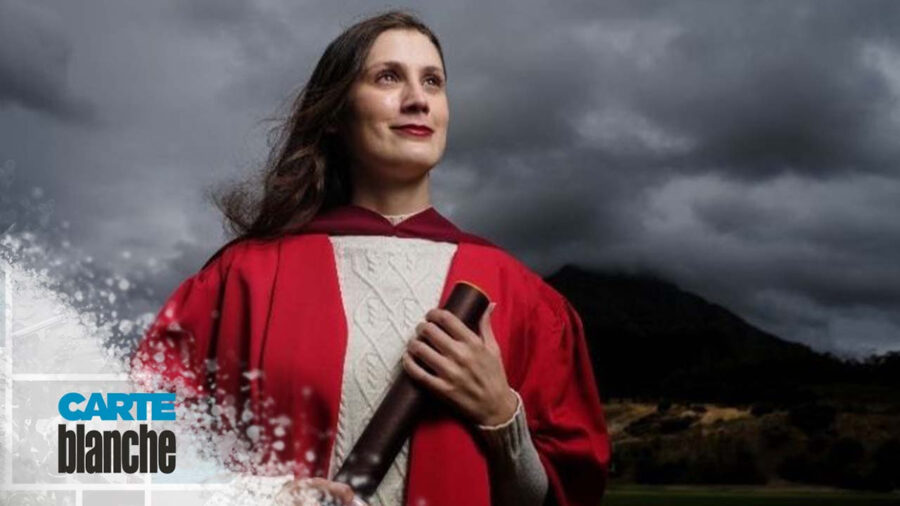 CARTE BLANCHE: Stellenbosch Student Graduates with Just 75 Percent of Her Brain
At 14 years old, Amy Martin began to experience weakness and difficulty moving the left side of her body. A neurologist confirmed a devastating diagnosis: Juvenile Pilocytic Astrocytoma – a rare brain tumour affecting children. Amy's inspiring story from a dreadful diagnosis to a PhD is featured on Carte Blanche tonight – you can watch on […]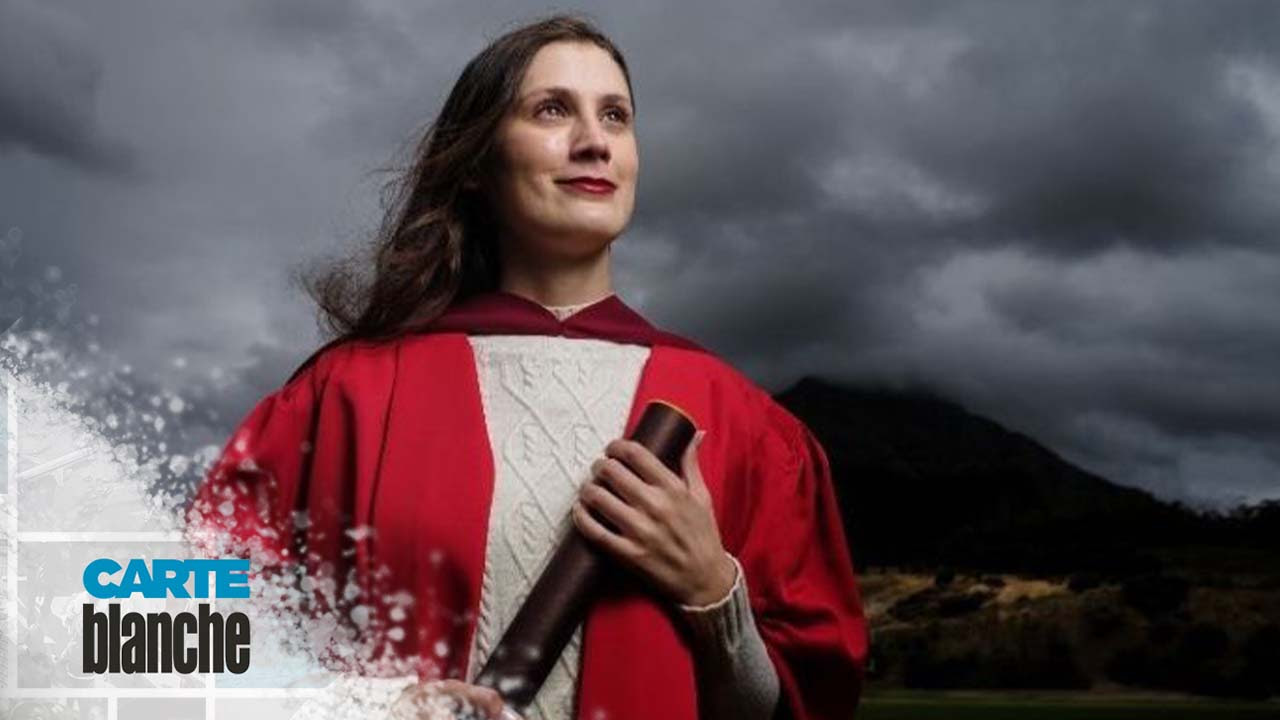 At 14 years old, Amy Martin began to experience weakness and difficulty moving the left side of her body. A neurologist confirmed a devastating diagnosis: Juvenile Pilocytic Astrocytoma – a rare brain tumour affecting children. Amy's inspiring story from a dreadful diagnosis to a PhD is featured on Carte Blanche tonight – you can watch on DStv Now or stream it overseas in most countries from Tuesday 24 May if you're abroad.
An operation to remove the tumour left her suffering from severe epilepsy and unsure whether she'd ever regain full mobility. By her early twenties, and after two more brain surgeries, Amy had four titanium plates and 16 titanium screws in her skull and was missing about a quarter of her brain.
Mind Over Matter
But she didn't give up, turning her gaze towards the future and enrolling at Stellenbosch University.
In April this year, Amy graduated with a PhD in ancient cultures – a thrilling climax for the woman with just 75 percent of her brain. (Producer: Laura Byrne | Presenter: Claire Mawisa)
Carte Blanche executive producer John Webb says: "It's been a troubling week; an incident of alleged racism at Stellenbosch University a sober reminder of how much work remains to be done. On top of everything else, enough to disillusion even the most optimistic among us. And then, amidst the madness, reminders of our resilience, our courage, our determination. Andy Kawa (see below) and Amy Martin should make you feel proud to be South African, and realise that whatever work is required of us, it's worth doing."
Watch on Showmax abroad | Watch in SA on DStv Now
Imagine losing a substantial part of your brain to tumours and multiple surgeries… @clairemawisa meets Dr Amy Martin who overcame incredible odds to earn her PhD. That's #CarteBlanche this Sunday at 7pm on @MNet channel 101. pic.twitter.com/1Z41Bk8sTZ

— Carte Blanche (@carteblanchetv) May 21, 2022
Also coming up on Carte Blanche this week
Justice Delayed
In December 2010, Andy Kawa went for a walk on a beach in her then-hometown, Port Elizabeth. She disappeared without a trace. Unable to contact her, her family raised the alarm, immediately reporting her missing. The police, though, were slow to follow up and all the while, Andy was in the fight of her life. For about fifteen hours, she was held at knifepoint and brutally gang raped by vagrants. She'd eventually be found, but the investigation that followed was so sloppy that it denied her justice and prolonged her trauma. So, she decided to take her fight against the police to court and, 12 years later, after a relentless battle, the Constitutional Court finally ruled the police had been negligent in their handling of her case. A victory for Andy and a game-changer for survivors of violent crime. (Producer: Ntokozo Sindane | Presenter: Claire Mawisa)
Watch on Showmax abroad | Watch in SA on DStv Now
While enduring a savage attack for nearly 15 hours, Andy Kawa came to terms with death. But her fighting spirit kept her alive and has now changed the lives of future victims of crime. Find out more this Sunday at 7pm on #CarteBlanche on @MNet channel 101. pic.twitter.com/RrVV7g5xFi

— Carte Blanche (@carteblanchetv) May 21, 2022
Watch on Showmax abroad | Watch in SA on DStv Now
The War on Buses
Long-distance bus travel is a lucrative business in South Africa, with thousands of passengers transported across the country each day. But, in the Eastern Cape, regional roads are highly prized and, for some minibus taxi drivers, not for sharing. When buses "stray" onto their turf, the consequences are often violent, sometimes deadly. A Carte Blanche investigation lays bare the extreme hazards associated with bus travel, and discovers the problem extends into other provinces, too. (Producer: Jana Marx | Presenter: Masa Kekana)
Watch on Showmax abroad | Watch in SA on DStv Now
Roads near the N2 in the Eastern Cape are prime real estate for long-distance bus companies. But for months, buses have come under attack. @MasaKekana asks Minister @MbalulaFikile what's being done to keep bus drivers and passengers safe… Tonight 7pm on #CarteBlanche. pic.twitter.com/KrFaZih3Xj

— Carte Blanche (@carteblanchetv) May 22, 2022
Watch on Showmax abroad | Watch in SA on DStv Now
City Power(less)
Embattled City of Johannesburg residents face another imminent rates increase. But are residents getting bang for their buck? Or is the city increasingly self-serving, losing sight of its purpose? Revenue from electricity sales has always been the backbone of Jo'burg's finances, but City Power itself faces massive debt and a R26 billion infrastructure backlog. With substations crumbling, and thieves repeatedly attacking what little is left, Carte Blanche gets answers on whether the City of Gold can reinvent itself and start delivering to its frustrated residents.
(Producer: Joy Summers | Presenter: Bongani Bingwa)
If you're in SA – you can watch Carte Blanche on DStv Now.
If you're overseas – you can watch #CarteBlanche from Tuesdays, and thousands of other popular local South African shows & movies by subscribing to Showmax International now. You can try it FREE for 14 days. 
Carte Blanche is on M-Net & M-Net HD [101], 22  May 2022  at 19:00 & again on M-Net Plus 1 [901] at 20:00
***
Please note: Carte Blanche is only available to international Showmax subscribers in Andorra, Australia, Austria, Belgium, Denmark, Finland, France, Germany, Greece, Iceland, Indonesia, Ireland, Italy, Liechtenstein, Luxembourg, Malta, Monaco, Netherlands, New Zealand, Norway, Portugal, San Marino, Spain, Sweden, Switzerland, United Kingdom. Not all titles are available in all territories. Showmax brings you the best South African series and movies, from the classics to the latest releases, from complete box sets to kids' favourites.