International star Idris Elba's latest movie – BEAST – was filmed entirely in South Africa, with locations including the Northern Cape and Limpopo provinces, as well as the City of Cape Town in the Western Cape. Due for release in August, Beast has been touted as a survival thriller, pitting Elba and his family against a large, blood-thirsty lion. Like a safari-version of Jaws. This is what happens when your holidays goes very, very scarily wrong!
Beast tells the story of Dr Nate Samuels (Elba), a recently widowed husband who returns to South Africa, where he first met his wife. He's returning on a long-planned trip with their teenage daughters to reconnect on a game reserve managed by old family friend and wildlife biologist Martin Battles (played by South Africa's own Sharlto Copley from Maleficent and District 9 fame).
WATCH Beast trailer, starring Idris Elba… and fabulous South African scenery
But what begins as a journey of healing jolts into a fearsome fight for survival when a lion begins stalking and attacking them. The lion is a survivor of cruel poaching attempts, and subsequently views all humans as the enemy.
When they leave, they are attacked by a blood-thirsty lion and are trapped within their car. The rest of the trailer gives us snippets of the drama that will unfold, like Elba fighting to survive against the lion, a group of poachers coming across our heroes as they attempt to find their wounded prey, and seeing the lion make its way through the window of the car to close out the suspense-filled trailer.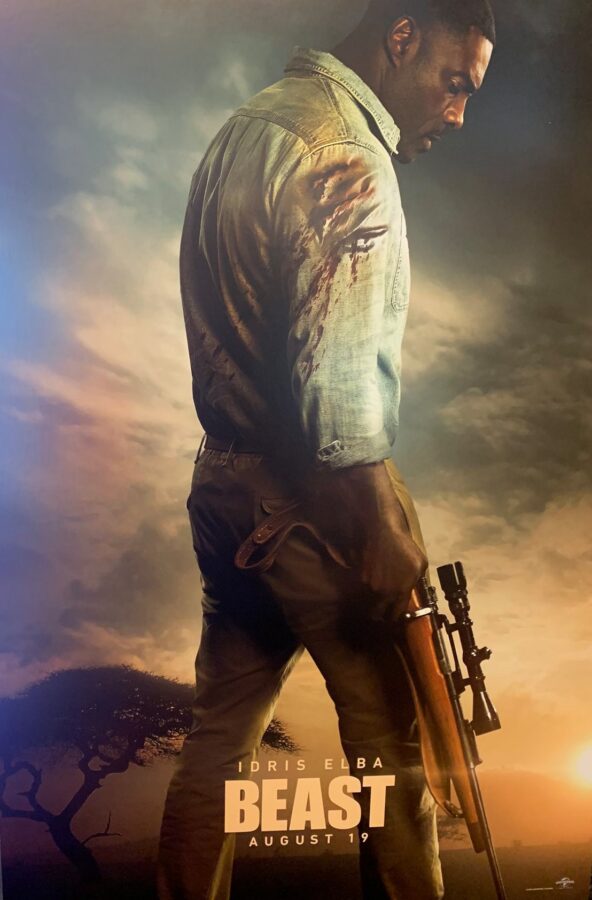 Directed by Icelandic director Baltasar Kormakur (Everest, Adrift, 2 Guns and Contraband) and produced by Will Packer, James Lopez and Baltasar Kormakur, BEAST opens in cinemas only on 12 August 2022. The film was based on an idea by Jamie Primak-Sullivan, and written by her husband, Rampage writer Ryan Engle.
"Beast" also co-stars Riley Keough, Melanie Jarson, Damon Burtley, Amara Miller, Robby Masclsaac, Billy Gallagher and Iyana Halley (The Hate U Give, This is Us and Leah Sava Jeffries (Empire, Percy Jackson) as Elba's daughters.
Idris – full name Idrissa Akuna Elba OBE – is no stranger to South Africa. He starred as Nelson Mandela in Mandela: Long Walk to Freedom, and was also one of many foreign travellers who had to cancel their trip to SA in 2015 due to confusing paperwork requirements for children (he was travelling with his daughter Isan, 14 at the time), during Malusi Gigaba's chaotic period as Home Affairs Minister.
Elba is also known for his role as Stringer Bell on Showmax's The Wire, and DCI John Luther in the BBC One series Luther, also available on Showmax.