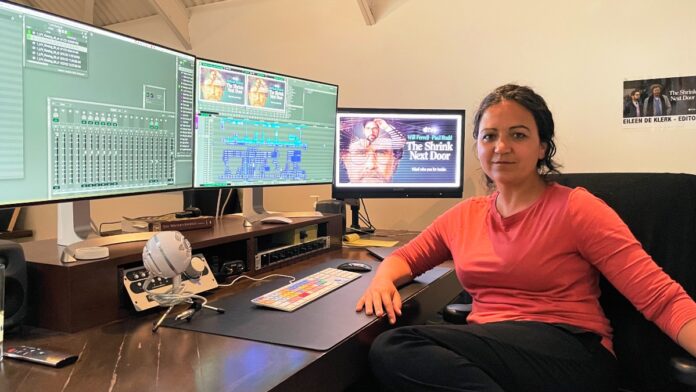 Since relocating to the US some years ago, noted South African film editor Eileen de Klerk (a Cape Town AFDA graduate) has continued to achieve considerable success, with a string of high-end TV series and other projects in Hollywood.
De Klerk's latest accomplishment is sure to boost her career trajectory even more. She has been working on one of the international film industry's most notable projects of 2021 – the dark comedy drama, The Shrink Next Door.
Starring Will Ferrell, Paul Rudd, Kathryn Hahn, Casey Wilson, and Cornell Womack, the eight-episode mini-series is inspired by the true story of Marty and the therapist who turned his life around… then took it over. When he first meets Dr Ike, Marty just wants to get better at boundaries; he then learns all about them and what happens when they are crossed.
Based on The Shrink Next Door podcast by investigative journalist Joe Nocera, the one-season series premiered on Apple TV Network in November 2021.
It's based on the extraordinary true story of how psychiatrist Dr Isaac 'Ike' Herschkopf had exploited the sacred therapist-patient relationship, stealing their money, mansions and lives.
The charismatic shrink – who ultimately was struck off the roll for extortion, corruption, and betrayal – had partied with A-list stars and celebrities as he took over his wealthy patient's whole life, hiring busses to transport groups of 70 to 170 guests to his appropriated luxury Hamptons abode on the US East Coast for weekend champagne lifestyle retreats.
Besides taking one of the Editor's chairs on The Shrink Next Door, Eileen de Klerk's filmography portfolio in the United States already includes an impressive line-up of editing credits. These include the following titles: Dark Cargo; Resident Evil: The Final Chapter; and Momentum, just to name a few.