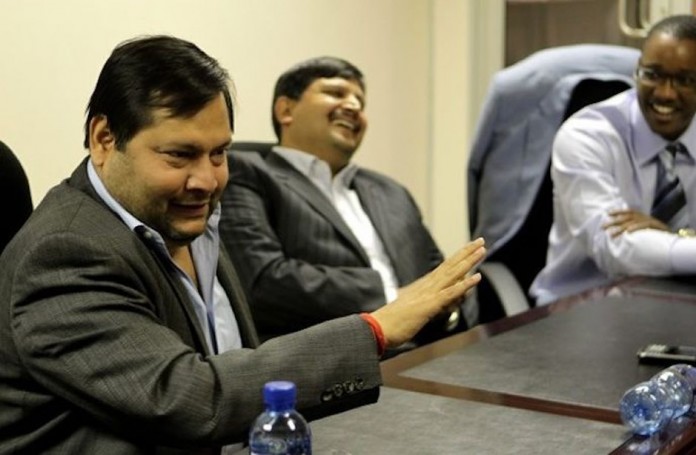 The DA – like many South Africans this evening – responded to reports of the arrests of the State Capture kingpins, Atul and Rajesh Gupta in Dubai… but resisted taking their attention off President Cyril Ramaphosa and the allegations he faces of a cover-up following a burglary at his Phala Phala wildlife farm, in February 2020.
DA spokesperson Siviwe Gwarube added in a statement in response to the Guptas arrest: "As President Cyril Ramaphosa faces serious questions about the dubious theft of millions of rands of cash from his farm in Limpopo, it is important that our law enforcement agencies are impartial and thorough."
Well known tweeter Man's NOT Barry Roux went a step further to allege: "Cyril Ramaphosa saw that the heat was too much on him so he made a few calls to Dubai to have the Guptas arrested. The Ramaphosa media houses are now distracting South Africans from the main scandal. Glencore and US Dollars is our main focus."
Not all agree. Both cases may involve cover-ups and alleged corruption. But one involves millions. The other billions. And one brought a country to its knees, a country that is still struggling to turn on the lights, let alone get trains and planes to take off. Award-winning editor Verashni Pillay tweeted: "The Guptas are arrested after putting our country through 13+ years of hell, and all people can say is: Don't distract us from Cyril. Two different issues guys – can we take a moment to appreciate how momentous this is?? They cost us R250 billion by some estimates and so much more."
The Guptas face charges of corruption and money laundering. South Africa's Department of Justice confirmed the Gupta brothers' arrests late on Monday.
The DA said tonight that it hopes "this is indeed the beginning of arrests and prosecution of those who have – locally and abroad – looted our country for years and are directly responsible for the hardships that millions of South Africans face today".
Ramaphosa faces allegations made by former Correctional Services Commissioner, Arthur Fraser, that at least $4 million was stolen from the President's farm, and that President Ramaphosa had "concealed the crime" from police and from the SA Revenue Service, and had had the culprits detained and interrogated and "thereafter paid (them) for their silence".
UDM's leader, General Bantu Holomisa, has asked the Speaker of the National Assembly, Nosiviwe Mapisa-Nqakula for an investigation into the Phala Phala incident. Holomisa also wants Ramaphosa to temporarily vacate his position as president of the country.
The SA President has reportedly informed the ANC's national working committee that he intends to appear before the integrity commission over the robbery cover-up allegations.
WATCH How to Steal a Country
The documentary follows the Gupta family's spectacular rise from flea market shoe salesmen to establishing a massive business empire in South Africa. It runs as a suspenseful detective story uncovering one huge bribery scandal after another, involving the top echelons of SA political power and several well-known multinational corporations. Watch on Showmax now.
In light of Phala Phala gate, I thought I should to go archives and invoke the first lady. Incidentally, it's the Namibian First Lady herself.#Phalaphala pic.twitter.com/1dRVW9BQLO

— Bra Hloni (@DimitryHlonisky) June 6, 2022