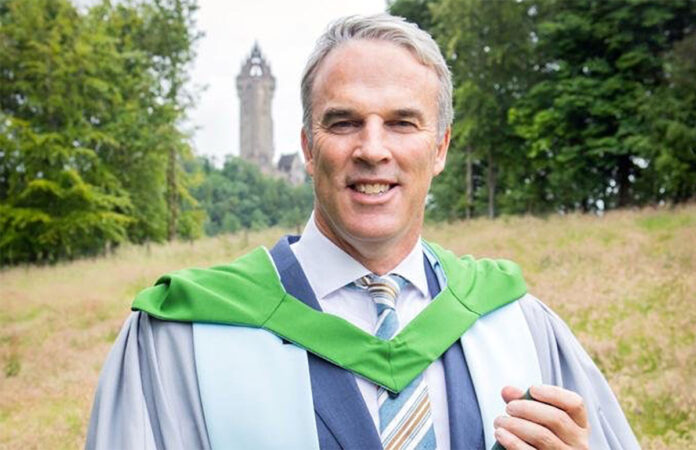 The University of Stirling yesterday bestowed a well-deserved honorary doctorate on South African (and British) endurance swimmer Lewis Pugh.
Lewis said on social media: « This year marks my 35th year of endurance swimming and ocean advocacy. So I'm especially delighted to be receiving (this) honorary doctorate from the University of Stirling 🏴󠁧󠁢󠁳󠁣󠁴󠁿👨‍🎓 »
He gave a « huge thank you » to the university, which is in Scotland, and said "learning and research are the basis of all our work to protect the planet and the oceans for future generations."
Lewis was granted the honorary doctorate along with Mike Robinson, CEO of the Royal Scottish Geographical Society. The University said it was honouring these "two public figures who have dedicated their lives to campaigning for the environment."
Stirling said: "Endurance swimmer and environmental diplomat, Mr Pugh – who has been instrumental in protecting more than two million square kilometres of vulnerable ocean – was recognised for his outstanding contribution to sport and international environmental issues."
The two climate champions received their honorary doctorates at graduation ceremonies on the University of Stirling campus on Wednesday.
After receiving the honorary degree, Lewis drew parallels between his environmental work and the world-leading research conducted by the University of Stirling, home to Scotland's International Environment Centre and the Institute of Aquaculture.
Pugh said: "I am delighted and humbled to receive this recognition and become a Doctor of the University of Stirling. I have enjoyed visiting the Stirling campus, and speaking with students and staff, including scientists conducting vital research into the climate crisis and its impacts.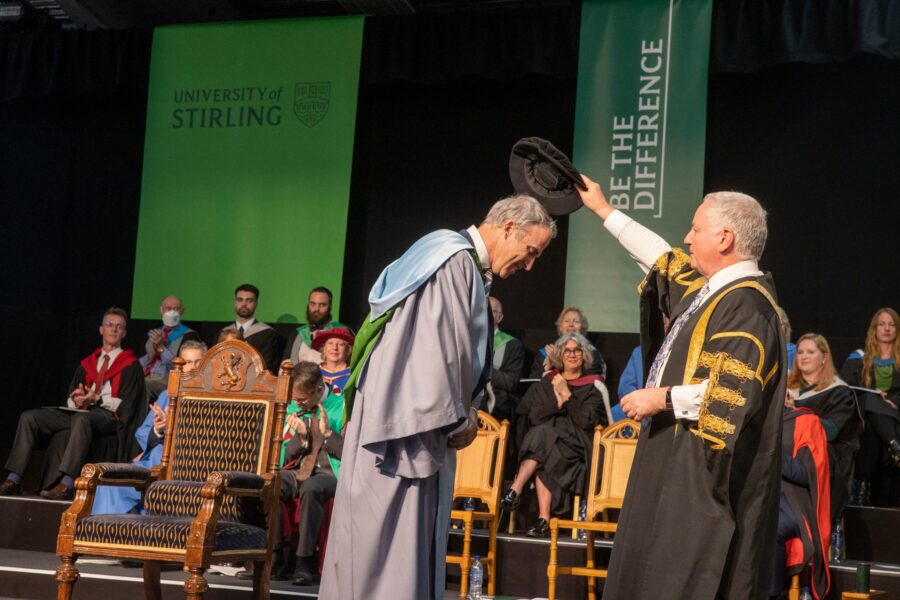 "There is much synergy between the mission of the Lewis Pugh Foundation to draw attention to the environmental crises playing out in our oceans – such as overfishing, wildlife decline, global warming and plastic pollution – and the impactful research being conducted in this area at Stirling. I look forward to working with the University in the future."
As his South African fans know, Lewis draws attention to the plight of the world's vulnerable ecosystems by taking on mammoth swim challenges and he was the first person to complete a long-distance swim in every ocean across the world.
"In a career spanning 35 years, he has pioneered more swims around famous landmarks than any other swimmer in history with his feats including the North Pole, a glacial lake on Mount Everest and the English Channel. He is the United Nations Patron of the Oceans; and his dream is to protect 30% of the world's oceans by 2030," said Stirling University.
A huge thank you to the University of Stirling in Scotland for granting me an honorary doctorate. Learning and research are the basis of all our work to protect the planet and the oceans for future generations. pic.twitter.com/3vtCRvzL6k

— Lewis Pugh (@LewisPugh) June 29, 2022